Tips for a Stress-Free Holiday Move
The Holidays are stressful enough, throwing a move into the mix isn't easy. Holiday moves are more common than many people realize — after all, is there really such a thing as a "good time to move"?
If you'll be moving this holiday season, here are a few tips to make your move a little easier and a lot less stressful.

Go Mini's Is Here to Help Relieve Your Moving Stress
Donate
If you are moving, chances are you'll come across items that are no longer needed. Spread some Holiday cheer by donating gently used items to your local charities. During these cold months, families are in need of warm clothes. If you have any extra toys laying around, those are also greatly appreciated.
Invest In A Moving Container
Winter weather can be unpredictable, so you don't want to schedule your packing and move for just one or two days. With a moving container, you can pack up your home over the course of a few weeks and move when you're ready.
If it does start to snow or rain the day of your move, you can rest assured that all of your belongings are sitting safely in the container.
Use What You Already Have For Protective Packaging
Speaking of towels, sheets, and blankets, these can be used to protect your valuables. Pack up vases, electronics, and glassware between these items to save on packing materials and better protect our environment.
Pack Wisely
To make things easier on you when you arrive at your new destination, pack your decorations last. You should also make sure to label these boxes to make it easier to find. Once you arrive at your destination, you can easily get started on decorating.
You are going to want to pack your essentials last as well. This way, everything you need for night one will be easily accessible. This will help you avoid digging around your container late at night.
Salt and Shovel Your Driveway
If you live in an area that gets a lot of snow, make sure to shovel and salt your driveway. The good thing about a storage container is that it'll take up some space in your driveway, cutting down on the amount of time you need to spend shoveling.
Protect Your Floors
If you'll be walking back and forth from your container, make sure to cover the floors in your home with plastic tarps from your local hardware store. Especially if you had just salted your pathways in preparation for snow.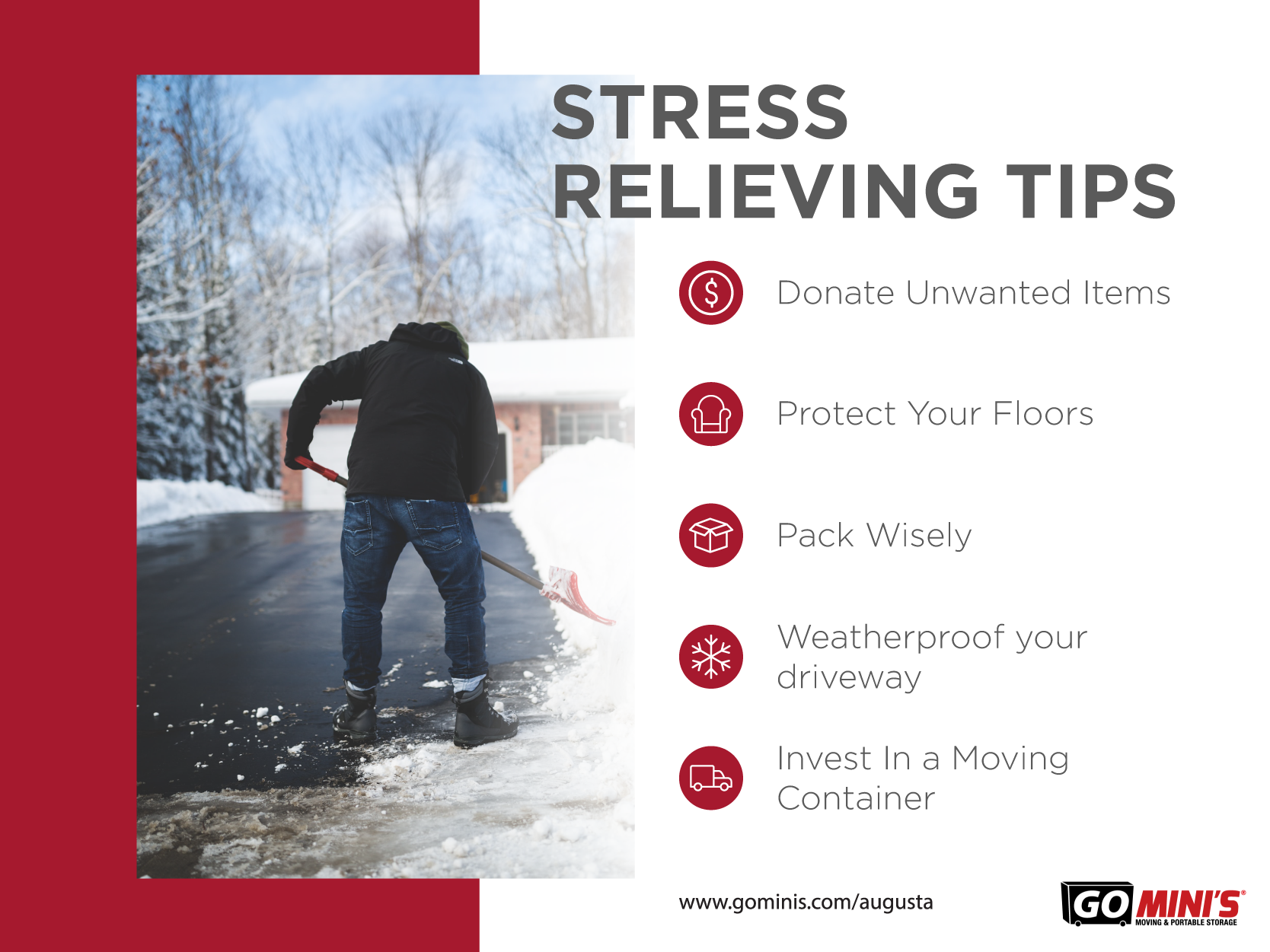 Go Mini's of Augusta. is committed to minimizing your worries and maximizing your storage space. We can work with your needs and your schedule to ensure you have the best storage experience.
Give us a call at 706.722.5275 to reserve your unit today, or get an instant quote online.
Posted By
Categories: