Moving Containers in Sycamore
Making Relocation Easier in Northern Illinois
Are you getting ready to pack up and move your belongings to a new home or building? The logistics can become a headache quickly. You must schedule with a moving company, drive a rental truck, and supervising packing. It's a painstaking process. Go Mini's of Northern Illinois offers a different kind of moving experience. We serve residential and commercial customers in Sycamore and Northern Illinois. Enjoy free quotes, "no timeline" rentals, and container pickup and drop-off. You'll also love the thoughtful design of our moving containers. We developed everything about our services with the customer's needs in mind.
Looking for extra storage space near you? Call us at (815) 569-6468 or get a free quote online now!
Rent our moving containers for many different reasons:
On-Site Storage
Local Moves
Building Renovation
Emergency Restoration
School Storage
No matter how you use your moving container, our goal is to make the renting process as easy as possible. Tape off your desired drop off location on your property and we maneuver it into position. Our drivers are careful and precise!
3 Moving Container Sizes for Different Needs
Go Mini's of Northern Illinois provides 3 different sizes for containers. We are unique among moving container companies in offering a 20-foot unit. This option delivers extra value. This lets you avoid renting two containers when you just needed a little bit more room.
Our 12-Foot Container works for apartments, partial moves, or small homes.
Our 16-Foot Container suits apartments or smaller homes with 3 to 4 total rooms. Larger renovation projects may need this size as well.
Our 20-Foot Container is a great fit for large homes with 5 to 7 rooms. They also work well for large-scale relocation projects like business moves.
Check out our Container Size Calculator for an estimate of what size may work best for you.
Why Our Drop-Off Moving Containers NEAR YOU Beat RENTING Shipping ContainerS IN ILLINOIS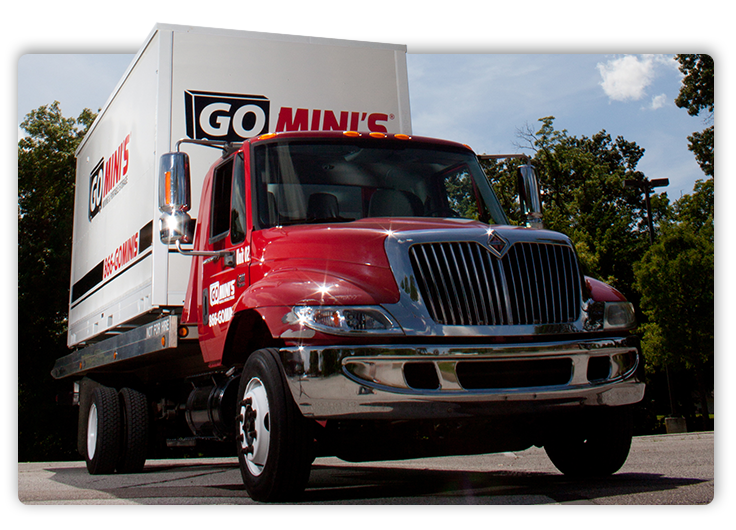 ​Shipping containers are sometimes a popular choice for on-site storage and relocation. But shipping containers in Illinois work best for industrial and commercial freight. They are not intended for the needs of homeowners or facilities managers. Our moving containers in Sycamore, DeKalb, Aurora, and beyond make moving and storage easier for individuals.
Features that make our portable moving storage superior to shipping containers:
Ventilation for humidity
Padded wheels to protect concrete and driveways
Eight inches of clearance to prevent flooding while ensuring easy access with no need for a ramp
Well-placed tie down points to secure items
Built from galvanized steel; more resilient to corrosion compared with weathering steel
Get a quote online for portable storage units in northern illinois or give us a call at (815) 569-6468 now!