Westchester Portable Moving Containers
Moving Services in White Plains, Elmsford & Westchester County
Looking for a cost-effective alternative to a traditional moving company in Westchester that can take the hassle out of your move? Look no further than Go Mini's of Westchester County, NY and our portable moving containers. Our moving container company is backed by a great reputation, and we designed our moving containers with you in mind.
Get your free, instant quote today by dialing (914) 752-2197. Our Westchester moving container company is your convenient and hassle-free solution!
Moving Locally? Moving Container Companies IS the Way to Go!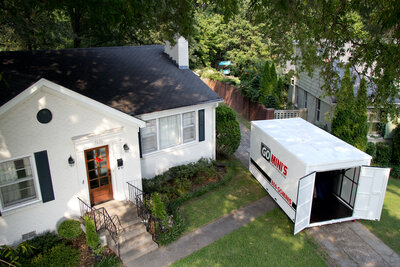 Throughout the moving process, we understand that timelines may need to be adjusted and that it's not always easy to estimate the amount of space you'll need when loading up to relocate.
Our flexible moving container rentals and convenient drop-offs and pick-ups relieve a large source of your moving stress. You can pack, load, and move on your schedule without worrying about due dates or late fees with our moving container company.
We've created a process that is so unlike other moving companies, you'll never want to bother with traditional local movers or DIY moves again.
Designed to keep your worldly possessions safe on your schedule, our moving containers combine the usefulness of a storage container and control of a moving truck, without you having to drive.
To learn more or have your questions answered, reach out to our Westchester portable moving container company today at (914) 752-2197. Or get your free quote online.
Benefits of Our Moving Containers
Many people wonder why they should choose our portable moving containers over other moving companies in Westchester County.
From the flexibility of choosing a container size that's right for you to packing and loading on your own schedule rather than someone else's, there are several reasons Go Mini's of Westchester County, NY is the smart choice.
Keep reading for more information on the benefits of our moving containers, or browse through reviews from our happy customers.

Moving Container Sizes to Fit Your Needs
No matter how much space you need, we have three sizes of storage containers that offer the flexibility you're looking for. Choose from our 12-, 16-, and 20-foot units, depending on how much room you need.
A quick phone call with one of our trained professionals will leave you feeling confident that you've selected the option that's best for your situation.
Pace Yourself with Open-Ended Container Rentals
Let us know where to be and when. We'll show up with your portable moving storage container and leave it securely in place for you to load at your leisure. You're not limited on time – fill the container at your own pace.
Whether you need to keep it at your location for a day, a week, a month, or even longer, we're happy to accommodate! Not sure how long you'll need it? That's okay, too. Our reservations are open-ended.
We Drop Off and Pick Up Your Moving Container
When you're ready for your unit to move, give us a call. Whether you need the container relocated to your new home or stored at our secure facility, you won't have to lift a finger. We'll arrive at your home or business and carefully transport your Go Mini's container from Point A to Point B.
Much like when you loaded the container with your possessions, take your time unloading as well. We work at your pace, not the other way around.
Do you have any questions about our moving containers? Call our moving container company at (914) 752-2197 and we'll be happy to help. Or request your free, instant quote online.
What Moving Container Size Do I need?
Our containers come in three lengths: 12-foot, 16-foot, and 20-foot.
12-foot moving container. This is ideal if you're moving a couple of rooms' worth of belongings.
16-foot moving container. Are you moving 3-4 rooms' worth of items and belongings? This is the moving container for you.
20-foot moving container. If you're moving 5-6 rooms' worth of belongings, this is the right one for you. Our 20' container is our largest size and not many moving container companies offer a container this large.
You're also welcome to use our helpful and interactive online storage calculator. Or, you can give our friendly team a call at (914) 752-2197. They'll know which moving container is right for you.
Our moving container company Offers Safe, Secure Moving Storage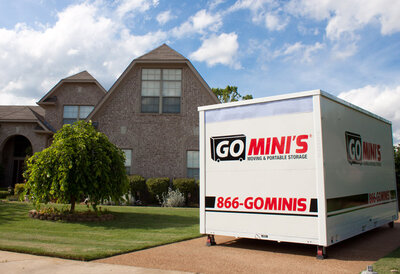 Beyond the flexibility our moving container company offers to property owners, we're a top choice for those seeking reliable protection for their valuables during their local move in White Plains, Elmsford, and throughout Westchester County.
The superior design of our moving storage containers provides peace of mind not often found when moving.
Our portable moving containers include:
Padded wheels to keep your driveway scuff-free and make for a smoother ride for your possessions.
Tie-down railings that allow you to secure large or heavy items, preventing damaging shifts within the container.
Galvanized steel exterior which prevent corrosion, keeping the entire container safe from the elements.
Steel-welded framing provides the ultimate support for your container and valuables.
Elevated containers keep all items several inches off the ground, preventing water seepage while still being low enough for easy loading without a ramp.
Ventilation and pressure-treated flooring minimize moisture build-up and humidity.
Storage options allow you to choose exactly what you'd prefer – keep the moving container at your property, have it relocated to your new property, or store it at our climate-controlled indoor facility.
Choosing our mobile moving units instead of a traditional moving company in Westchester will be one of the best decisions you make.
We're invested in providing simplicity in your personalized moving service, offering you more flexibility and control. Trust in our local experts to make your next move easy.
For maximum convenience with your next move, consider a local moving container from Go Mini's of Westchester County, NY. Call our moving container company at (914) 752-2197 or get an instant online quote today!