Denver Portable Storage Containers for Rent
Experience the Advantage of Renting Our Mobile Storage Units
Temporarily storing personal items can be a hassle. Offsite self-storage can leave you worrying that your valuables may be compromised, or that you won't be able to access them at a time convenient to you.
It also involves transporting your items back and forth, dealing with short-term contracts or minimum rental requirements, and other stressors you don't need. Rentable mobile storage containers offer the ideal solution.
Our team at Go Mini's of Denver, CO can help keep your residential or commercial possessions secure in our rentable storage units. With us, you can rest assured that your items are protected regardless of why or how long you need a unit. Our rentable storage units come in three sizes for your convenience.
As a locally owned and operated moving and storage company in Denver, we love helping our neighbors find solutions to suit their needs. We provide some of the industry's leading quality rentable storage containers.
Renting temporary on-site storage containerS near you is as easy as calling (303) 578-2849 today!
Portable On-Site Storage ContainerS FOR Rent Near You
While many of our customers opt for our largest container—which, at 20 feet long, delivers 29% more cubic space than the largest PODS® unit available—we provide various storage containers to fit virtually any need.
Our rentable storage units feature several built-in elements to ensure your personal possessions are protected and damage-free.
Some specifications for our onsite storage containers include:
Size Options: We offer varying lengths of 12-, 16-, and 20-foot containers, offering a better value than many of our competitors.
Standard Height: All of our rentable units are 8 feet tall, regardless of the length.
No Ramp Needed: Our containers are designed to sit 8 inches off the ground—high enough to stay safe from water seepage yet low enough for easy loading.
Ventilation: All of our containers are vented to keep out moisture.
Tie-Downs: Railings are mounted in our units for the option to tie down oversized items or hang clothes.
Regardless of your situation or the amount of bulky furniture you have, our rentable storage containers can accommodate you. Whether you need to store overflow office items temporarily or you're moving to a new home, we have portable storage containers available to suit your situation.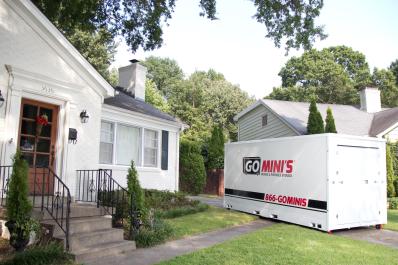 Can I Use a Go Mini Container as a Storage Unit?
Yes, you sure can! At Go Mini's of Denver, CO, we offer storage solutions that suit your exact needs. With us, you have the option to:
Have your packed storage container stored at our secure facility,
Moved to a location of your choice, or
Simply have it stored at your current location.
This is where the flexibility comes in! You might need to have us store your container for a few weeks or even a few months before you need to access your belongings.
This means you won't need to have us drop off the container at a local self-storage facility where you'd need to unpack then repack. We can store it for you!
Pretty convenient, right? That's why we're here! As homeowners ourselves, we know how stressful packing things up for storage can be. We absolutely love making our clients' lives easier.
Choose the Right Size Rentable storage Container for You
As a leader in the industry, we offer multiple sizes to suit customer's preferences or situations. There is no one-size-fits-all storage unit near you, and we won't recommend using the largest container if you don't need it. We can assist you in choosing the perfect size unit for your exact needs.
The sizes we offer include:
12-Foot Option – If you're moving out of or into an apartment or smaller home with two or three rooms, this option is probably ideal for you.
16-Foot Option – We recommend our 16-foot container for a home with three or four room's worth of furniture.
20-Foot Option – Our 20-foot unit is built to hold possessions for homes with five to seven rooms.
All of our storage containers are 8 feet tall and ready for you today! If you're still unsure of the size you need, we would be happy to help! This calculator allows you to input the number of possessions you want to relocate or store and determine the unit size that will work best.
Rentable storage containers: A Superior Experience Compared to Competitors
With so many rentable storage options in Denver, it can be challenging to weed out quality from quantity. We might be slightly biased, but we think Go Mini's of Denver should be your first choice. Why? We're so glad you asked!
Some benefits of renting portable storage containers with us include:
Extra space: Storage units allow you to free up much-needed space and store items from your home or office. You can temporarily rent our units to hold items on your property or in another location for as long as you need.
Convenience: With a rentable storage unit, you can get convenient, on-site storage for all of your personal or professional possessions. Forget having to travel to a different location to check on your items or recover something from the unit. The container is right there for you!
Commercial organization: Purchasing extra inventory or office furniture is standard when businesses are trying to grow and hire more employees. On-site storage units give business owners in Denver the freedom and convenience to store inventory or temporarily hold items during a reorganization or renovation.
Security: When you place your items in a storage container, you shouldn't have to worry about their safety. Our on-site storage units keep your valuables in a secure, moisture-free space that's out of the way but still accessible.
Flexibility: Go Mini's of Denver, CO gives you the ability to choose your unit's location—either on your property or in one of our off-site, indoor facilities.
We would love to help you securely store your possessions for as long as you need. For more information about our portable STORAGE containers for rent or to start the rental process, call us at (303) 578-2849.