Top Four Reasons We're Better
Easier

Delivery Options

Nicer

Containers

More

Space

Bigger

Savings
Storage Containers for Rent in Denver, CO
Mobile Storage and Moving Containers in Aurora, Englewood & Highlands Ranch
If you are looking for temporary storage in Denver, you have come to the right place! Go Mini's of Denver, CO offers convenient options in the form of portable storage and moving containers for rent in the Denver area.
Whether you are in need of a general storage space or are planning your next move, our team can bring one of our storage containers to your location and pick it up when you no longer need it. You can schedule a storage container rental ahead of time, so that it's ready when you need it.
call us at (303) 578-2849 or get a quote online for Denver storage containers rentals.
What Areas Do You Serve in Denver?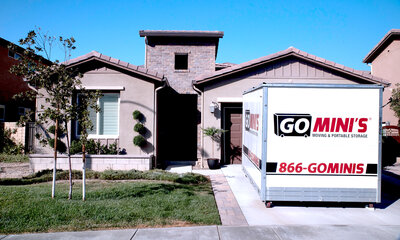 We deliver our moving and storage containers to homes and businesses across the Denver region, including cities such as:
Aurora
Brighton
Lakewood
Littleton
And beyond!
We can even bring the container to your new location if you are moving or take it to our secure Denver storage facility if you are in between homes.
Looking for mobile storage Contain in denver, co? Call us at (303) 578-2849 or get a free quote online now!
Why Choose Go Mini's of Denver, CO for Your Storage & Moving Needs?
Are you looking for an easy way to move or store in the Denver area? Do you need a container larger than 18 feet and one that doesn't damage your driveway? Then we're the local portable moving and storage company for you.
Homeowners and commercial property owners across the region trust Go Mini's of Denver, CO for all of their storage and moving needs.
When you choose us, you can keep your storage units in Denver for as long as you need to. Take your time with your move. Don't stress if renovations take longer than scheduled. We can pick up or transport your moving container when you are ready.
Cost-Effective Storage Containers For Rent Near You
No matter the extent of your portable storage needs, our Denver team is willing to provide you with the most cost-effective and convenient solutions you are looking for.
We set ourselves apart by offering storage units with:
Security
Additional storage space
Eight to nine inches of ground clearance (no ramp required)
Sturdy railings to hang clothes and tie down items
Padded wheels to protect your property from damage
What Size storage and Moving Container Do I Need?
We have three storage and moving container sizes to suit your needs. Whichever one you need just depends on how much you need to store or move!
We have three options for mobile storage in Denver:
12-foot container. Our 12' container is ideal if you need to store or move a couple of rooms' worth of belongings.
16-foot container. Do you have 3-4 rooms' worth of belongings to move or store? Our 16' moving container is the one for you.
20-foot container. This is our largest container and we're one of the few portable moving companies to offer a container this larger. If you need to store or move 5-6 rooms' worth of times, this is the ideal one for you.
You're also welcome to utilize our interactive online storage calculator to assess which container you should rent.
Get a quote online for portable storage Containers for rent in denver or give us a call at (303) 578-2849 now!
Cities We Serve:

Arvada
Aurora
Bennett
Boulder
Brighton
Broomfield
Byers
Castle Rock
Centennial
Commerce City
Deer Trail
Denver
Englewood
Erie
Franktown
Greenwood Village
Henderson
Highlands Ranch
Idledale
Lafayette
Larkspur
Littleton
Lone Tree
Louisville
Louviers
Morrison
Parker
Sedalia
Strasburg
Thornton
Watkins
Westminster
Wheat Ridge
ZIP / Postal Codes We Serve:

80002
80003
80004
80005
80007
80010
80011
80012
80013
80014
80015
80016
80017
80018
80019
80020
80021
80022
80023
80026
80027
80030
80031
80033
80045
80102
80103
80104
80105
80108
80109
80110
80111
80112
80113
80116
80118
80120
80121
80122
80123
80124
80125
80126
80127
80128
80129
80130
80131
80134
80135
80136
80137
80138
80202
80203
80204
80205
80206
80207
80209
80210
80211
80212
80214
80215
80216
80218
80219
80220
80221
80222
80223
80224
80226
80227
80228
80229
80230
80231
80232
80233
80234
80235
80236
80237
80238
80239
80241
80246
80247
80249
80257
80260
80264
80265
80266
80290
80294
80299
80301
80302
80303
80304
80305
80310
80453
80465
80516
80601
80602
80603
80640
"Your service and care were impeccable!"

"Amazing company"

"Great service! Highly recommend!"