Portable Storage Containers in Spring Valley
Spring Valley RESIDENTS RELY ON GO MINI'S
We at Go Mini's of Bergen and Hudson Valley are here to help you if you need to keep your stuff in a manner that is safe, practical, and economical. We at Go Mini's of Bergen and Hudson Valley in the Spring Valley region will assist you by giving you access to high-quality portable storage containers, whether you are relocating, remodeling, or in need of general storage space.
Our storage unit specialists will assist you in choosing the ideal storage unit for you from among portable storage containers of various sizes. Additionally, we provide flexible options to meet your precise needs. Do you need our help storing your container? We can achieve it. Alternately, you could keep the container on your property itself.
Book an appointment online or AT (845) 318-1149 TO SCHEDULE A DELIVERY OR TO LEARN MORE ABOUT OUR STORAGE CONTAINERS IN Spring Valley AND the SURROUNDING AREAS.
Why Choose OUR STORAGE CONTAINERS IN Spring Valley?
These are some of the reasons that stand out from their competitors in the Spring Valley area. A few things help differentiate us: our storage containers and customer service.
The Benefits of Our Portable Storage Containers
At Go Mini's of Bergen and Hudson Valley, our portable storage containers:
Are low to the ground (with no ramp required)
Rest on padded wheels to ensure the protection of your property
Offer 29% more cubic feet than PODS®' largest container
Maximize both space and insulation
Provide more tie-down points and sturdy rails to hang clothes
Are engineered to ensure the safety and protection of your items
Our World-Class Customer Service
We are a locally owned and run business. You won't reach a corporate contact center when you phone for a price, a question, or to schedule a delivery; instead, you'll speak with a member of our local team.
The person who answers the phone is the one you need to speak with. This enables us to assist you with finding the solution you require or an answer to your inquiry.
At Go Mini's of Bergen and Hudson Valley, you won't have a number attached to your name. Your first and last names will be used to refer to you. We'll pay attention to your needs and present you with a plan that meets those needs.
We go above and beyond to make sure you have a pleasant working experience with us, starting with the polite delivery driver and ending with our customer support representatives.
Search for trusted Spring Valley portable storage containers near you? Call us at (845) 318-1149 today for a free, instant quote. Or you can request your quote online.
CONVENIENT Spring Valley PORTABLE STORAGE CONTAINERS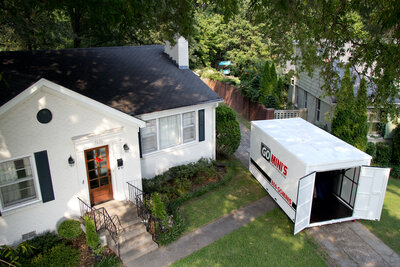 No matter how long you require our storage spaces, you won't have to be concerned. We at Go Mini's of Bergen and Hudson Valley can deliver and pick up your unit whenever you are ready because we are aware that relocating and renovations sometimes take longer than anticipated.
If you are moving, we can even transport it to your new home. If you are between homes in Spring Valley or the nearby areas, we can transport it to our safe storage facility.
What Are the Sizes of Your Portable Storage Containers?
Our mobile storage containers come in three lengths: 12-foot, 16-foot, and 20-foot. Each container is 8 feet high.
Wondering which of our containers is right for your storage needs? Here's some sizing info to help:
12-Foot Storage Container. Do you need to store a couple of rooms' worth of items? our 12' container is the ideal choice for you.
16-Foot Storage Container. Our 16' container can safely store three to four rooms' worth of belongings.
20-Foot Storage Container. Our 20' container is large enough to securely and safely store five to six rooms' worth of items and belongings. This is our largest container, and we're the only portable storage franchise offering a large container.
If you still need some help figuring out which container is right for you, you're welcome to use our online storage calculator. Or you can give our courteous team a call at (845) 318-1149.
Want to learn more about the possibilities Go Mini's of Bergen and Hudson Valley has to offer? Book an appointment with our professionals in Spring Valley now at (845) 318-1149.