New Orleans Storage Container Rental
Mobile Storage Units for Home or Business
Need more space, but just for the short term? When you need a temporary storage solution on your property, renting a portable storage container from Go Mini's of New Orleans, LA is the smart answer.
Residential onsite Storage Containers
Local Homeowners rely on us for their portable storage container rentals during home remodeling or cleaning projects. A portable storage container makes residential home remodeling projects cleaner and more efficient. Use our residential storage pods for any of the following projects.
Cleaning
Remodeling
Staging
We help businesses that are relocating or renovating their offices. We meet all kinds moving and storage needs like these on a daily basis.
On This Page:
Get a quote for your storage container! You can also get help estimating how much storage space you may need by using our storage Calculator tool.
Sizes We Offer
Our mobile storage containers come in 3 convenient sizes, which are:
In fact, our largest unit gives you more value for your money than our competitors because, unlike us, they don't offer 20' storage containers for rent near you. We pick up and deliver, so you never have to worry about transporting the storage unit yourself.
Rent for as Long as You Need
Our open-ended rentals mean you can take your time and keep the container as long as you need it, without worrying about late fees and due dates. Go Mini's of New Orleans, LA makes storage simple.
If you want the ability to move your stored materials, check out our portable moving containers. You can pack and load on your own schedule while our skilled drivers take care of transportation when you're ready!
For New Orleans on-site storage containers, call (504) 321-7596 or contact us online to request a quote.
On-Site Storage Containers for Rent
Our mobile storage containers are designed to provide flexibility and ease-of-use for every storage need. Each portable container comes with a variety of features and each is constructed from high quality galvanized steel.
About Our Containers
Containers are available in 12 foot, 16 foot, and 20 foot options
Containers are 8 feet tall
The containers have 8 inches of ground clearance to keep moisture out
Ramps are not needed for items that can be walked in
The mobile storage units come with railings and tie-down points
Units are designed with padded wheels to protect surfaces they are resting on
Container exteriors are coated with factory-baked paint to prevent sweating
How Temporary Storage Works
All you need to do to rent a portable storage unit is give us a call and schedule a time for drop off. When we arrive, we will arrange and position the unit in alignment with wherever you have marked off. You are able to keep the unit as long as you need.
Once you are done loading and/or storing items, give us a call to pick up the unit. Depending on your situation, you have three options: relocate the unit, temporarily store the unit at our facility, or return the unit.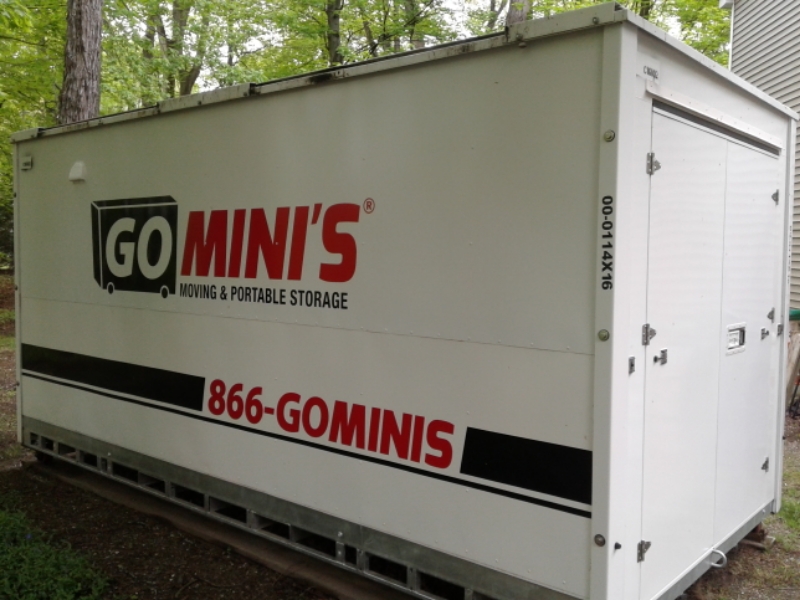 Reasons to Use Our Portable Storage Units in New Orleans
Our portable storage containers are a popular choice for storage because they provide a number of advantages to the consumer. Alongside the high-quality design of every container, we have listed out some of the reasons why people often select us as their go-to local moving company in New Orleans. If you want to learn even more about what makes us the best, visit our about go mini's of New Orleans page.
Simplifies Projects
Renovating or adding on to a home can be a major undertaking that requires a lot of shuffling furniture and objects around in the home. A portable storage container is for many people a faster easier way to clear up space for home projects.
Instead of worrying about items getting broken because they have all been stacked in a hallway or bedroom, you can relax knowing that everything is safely stored on-site but out of the way.
Security & Protection
Our units are designed from steel-welded frames with secure steel siding. Not all portable storage containers on the market are built with this much stability and strength.
Easy Process
Many people prefer using a mobile storage unit for the simplicity. There are no deadlines to worry about. Relocating the unit is taken care of by us. And renting a unit is a simple as a phone call.
Customer First Service
Our team strives to meet your needs and to make the process of renting convenient and affordable. From the first interaction to the last, you should feel prioritized through clear communication at every stage. But don't take our word for it, check out our customer reviews.
To rent a mobile storage container in New Orleans, call us at(504) 321-7596 or request a quote online!