Columbus Moving Container Rentals
Convenient Pack Yourself Moving Containers for Rent
Moving is undeniably an exciting time in your life – you're beginning a new adventure and have the chance to start fresh. Then, as the date looms closer, you find yourself stressed because there's so much to pack. You then have to decide how you're going to haul all your belongings from one place to another. Our highly-rated rental moving containers are an easy, and stress-free solution.
Fortunately, there are options available to make moving much less taxing, providing more room for the excitement you were initially feeling. You just need to know who to call. Go Mini's of Columbus, OH offers portable moving containers for rent, giving you the control and flexibility of a DIY move with the convenience of a full-service move.
Looking for moving containers for rent in Columbus? Call us at (614) 502-6821 or get a quote online!
Are Moving Containers Worth It?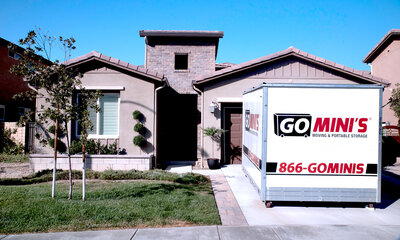 Yes, moving containers are worth it! Renting a moving container can save you stress, money, and hassle versus hiring movers or renting a moving truck.
You're in the "Driver's Seat"
With a portable moving container, you stay in control of how your items are packed, loaded, and handled, and you can take as much time as you need.
We Pick up and Deliver
Once your container is packed and ready to go, you won't have to deal with navigating narrow city streets or high-speed highways.
"Why?" - you might ask? Because we pick it up for you and deliver it to the location of your choice. Just give us a call at (614) 502-6821 and we'll take care of all the transportation, whether that's to your new home or our secure storage facility.
Our Moving Containers Also Work for Storage
It also doubles as storage space if your new home isn't ready yet, you're staging your home for sale or going through a home remodel.
We Offer A Stress-free Solution
Looking for an easy and stress-free way to move? Our Columbus portable moving containers are certainly worth it. But don't take our word for it - check out our reviews to see what our clients say!
Looking for extra storage space near you? Call us at (614) 502-6821 or get a free quote online now!
Pack and Unpack on Your Schedule
When you call Go Mini's of Columbus, OH, we'll bring a container to you and drop it off in the designated spot of your choosing.
You can take the time you need to fill the unit, whether it's a week, a month, or longer. It'll save you money by no longer needing to hire movers to fill a moving truck, and you won't have to worry about loading everything up in one night.

You'll Never Have to Drive a Moving Truck or Haul a Trailer
It can be nerve-wracking to navigate traffic and tight turns in one of those large, dated moving trucks. But since we'll pick your container up and safely transport it to your new address, you won't have to endure that stressor.
All we need is the address – when you arrive, your moving container will be there waiting for you.
What SIZES Do you offer?
With three sizes to choose from, you can decide whether you'll need a 12', 16', or 20' storage container for your valuables.
12-foot Moving Containers
This size is ideal for 2 rooms' worth of belongings.
16-foot Moving Containers
16' containers are perfect for moving 3-4 rooms' worth of belongings.
20-foot Moving Containers
Our 20' containers are for you if you're moving 5-6 rooms' worth of belongings. We're one of the few portable moving companies that offer a container this large!
Want to learn more or ready get a free, instant quote? Simply call us at (614) 502-6821. Or you can easily request your quote online.
Clean and Durable Moving Containers Keep Your Items Safe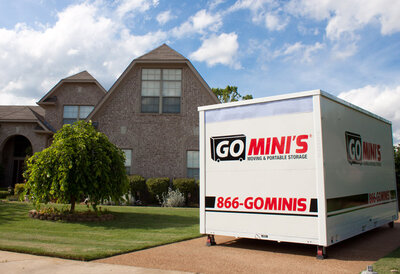 Our units come standard with:
Padded wheels to keep your driveway free of scuffs
Strategic ventilation to prevent damaging moisture or humidity
Sealed and pressure-treated flooring for moisture-resistance
Steel-welded framing and galvanized steel exteriors for durability
8" elevation to keep your items off the ground while still being easy to load
Mounted tie-down railings to secure bulky items
We combine storage and moving into one convenient process for a smooth and unhurried experience. Go Mini's provides quality moving containers and climate-controlled storage in Columbus.
Flexible Rental Options for Your Moving Needs
At Go Mini's of Columbus, OH, we understand that every move is unique. That's why we offer flexible rental options to accommodate your specific moving needs. Whether you're moving to a new home, renovating your current space, or simply need extra storage, our moving containers are the perfect solution.
With our convenient pack yourself moving containers for rent, you have the freedom to pack and unpack at your own pace. No more rushing to meet moving truck deadlines or dealing with the hassle of driving a large vehicle. Our containers are delivered right to your doorstep, allowing you to focus on what matters most - your move.
Our clean and durable moving containers are designed to keep your items safe and secure throughout the entire moving process. With multiple sizes available, including 12-foot, 16-foot, and 20-foot containers, you can choose the perfect size to fit your belongings.
Not only are our moving containers a stress-free solution, but they also offer the added convenience of storage. If you need a temporary storage solution during your move, our containers can be kept on-site or at our secure facility until you're ready to unpack.
Experience the ease and convenience of our flexible rental options for your next move. Contact Go Mini's of Columbus, OH today to learn more and reserve your moving container.
Not sure which size you need? Check out our helpful storage calculator or call us at (614) 502-6821 for help!