Why We Are Better Than The Competition
When finding the right storage solution for your move, renovation, or extra storage needs, you want what best fits your situation. While going with the biggest brand or a traditional method seems like the easy choice, you could be missing out on important benefits.
You've thought about a self-storage unit or a rental truck, but what about a portable storage company? We'll show you how, when compared to traditional storage and moving options, it's easy to see the pros of portable storage. And when placed side by side with other portable storage companies like PODS or UNITS, how Go Mini's stands out from the rest.
Whether you're concerned about size, safety, convenience or price, Go Mini's checks all the boxes.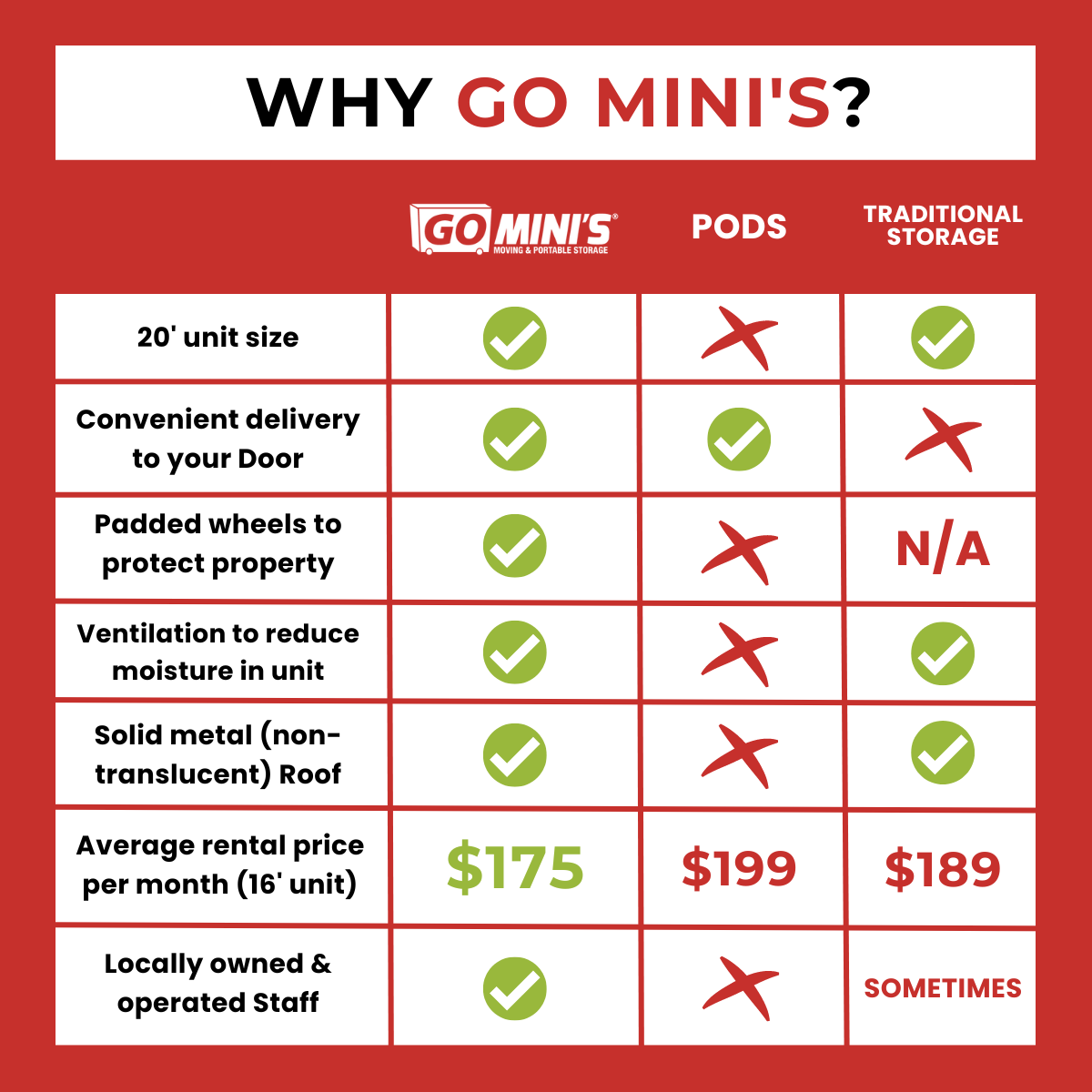 Self-storage units vs. Go Mini's
What's the difference between a self-storage unit and Go Mini's? A self-storage unit is located at an indoor/outdoor facility where you can store your items. These units are typically in a row of hundreds, side by side with locks on them.
Go Mini's is a portable storage unit. That means our containers can be placed right where you need them for quick and easy access to your items, 24/7. The containers aren't just stationary. Once you're packed up, we can transport your portable container to your new location or our local storage facility.
Pros and cons
When deciding between a self-storage unit or a portable storage container, there are some pros and cons to consider.
Self-Storage Units
Pros:
Same monthly fee no matter how long you need it
No wait time
High level of security
Cons:
Multiple trips to pack and unpack your unit
Additional truck rental
Limited entry hours for accessing your things
Risk of leaks, pests, and molds from poorly maintained facilities*
Even if your belongings are stored in a private vault within a self-storage facility, there is a high chance that the mold, mildew, or pests from other people's items could spread to yours! Keeping your own unit clean won't guarantee your valuables go undamaged.
Portable Storage Units (Go Mini's)
Pros:
Delivery to and from your location
Different size options
No truck rental necessary
Take your time loading and unloading
Store on and offsite
Cons:
Some notice is required before retrieving your items
May have to store onsite if there isn't enough space on your property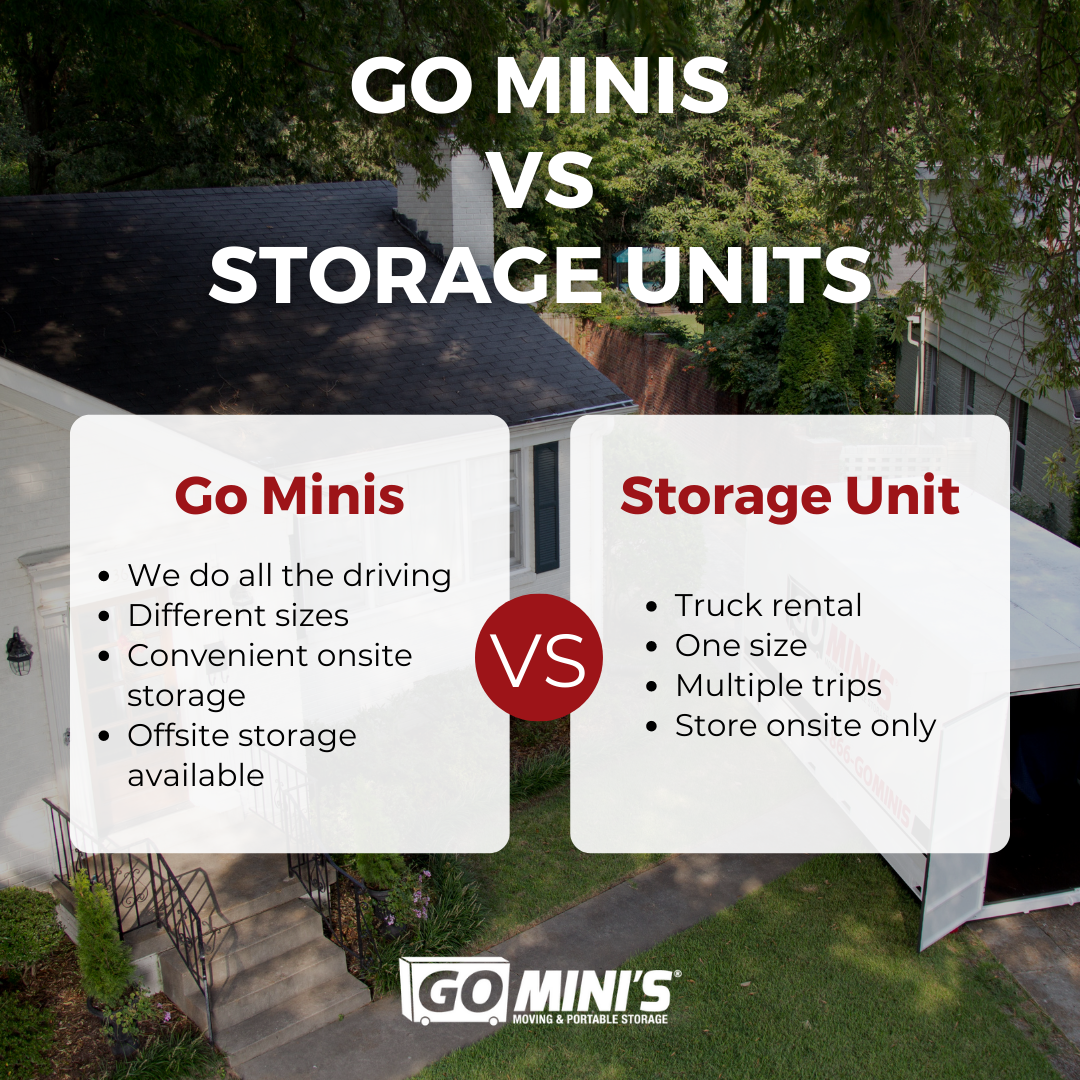 Compared to PODS
When comparing Go Mini's to PODS®, one of the biggest things to note is the size difference. Our biggest container is 20 feet, which is 29% larger than the largest container PODS® has to offer. This means 235 more cubic feet of storage when you choose Go Mini's. With PODS®, you would need to rent two containers to match that size.
Not only do we offer a 20 foot container, but we also offer 16' and 12' options. Let's see the difference between Go Mini's 16' and 12' container sizes compared to PODS®.
Our 16' container is 31 cubic feet larger than a PODS® 16' container.
Our 12' container is 17 cubic feet larger than a PODS® 12' container.
We ensure that every detail of our containers perfectly fits your storage needs, with 25% more tie-down points in our 16' unit compared to PODS®. The more secure your valuables are, the safer they stay in transit.
Compared to UNITS
Looking at Go Mini's and UNITS, what's the difference?
Size
Like PODS®, UNITS only offers two container sizes: 12' and 16'. Go Mini's of Augusta offers 3 sizes, 12', 16', and our largest option, a 20' container.
Features
Go Mini's offers several necessary features that UNITS don't:
A reliable ventilation system to protect your belongings from high moisture levels and mold.
Extra railing and tie-down mounts for keeping your valuables safe and secure during transportation.
Compared to rental trucks
For any move, having to load and unload your belongings all in one day can be chaotic. While rental trucks provide self-managed transport of your things, Go Mini's offers transport and secure, indefinite storage.
With no rush to return a truck, you'll have plenty of time for a stress-free transition. As an added bonus, Go Mini's are ground level, meaning easy packing and unpacking only a few steps from your front door. No more annoying and unwieldy rental truck ramps.
Once you're ready to move, leave the driving to our professionals. If your new location isn't ready, we can take your unit to our own local facility for safekeeping. Either way, Go Mini's handles all transportation of our units — delivery, pickup, and returns — so no one has to worry about driving the rental truck.
A Better Customer Experience
Here at Go Mini's of Augusta, we're proud to call this area home, just like our customers. With a local team that knows the region and a single point of contact throughout your entire rental process, you'll never get lost in the sea of a large corporation.
We know you're busy, which is why we keep our rental process simple and convenient for any schedule. With online booking and digital contract signing, there's no need for a trip to our office. And with touch-free delivery, there's no need to be home when your unit arrives.
Not sure how much storage you need? Talk to our staff or take advantage of our online storage calculator after business hours. You can even avoid an extra trip to the store by renting or purchasing packing supplies directly from us.
Most of all, our goal is to make our customers happy. With a Google rating of 5 out of 5, it's a goal we're honored to continuously accomplish.
Here's what our customers have to say about working with Go Mini's: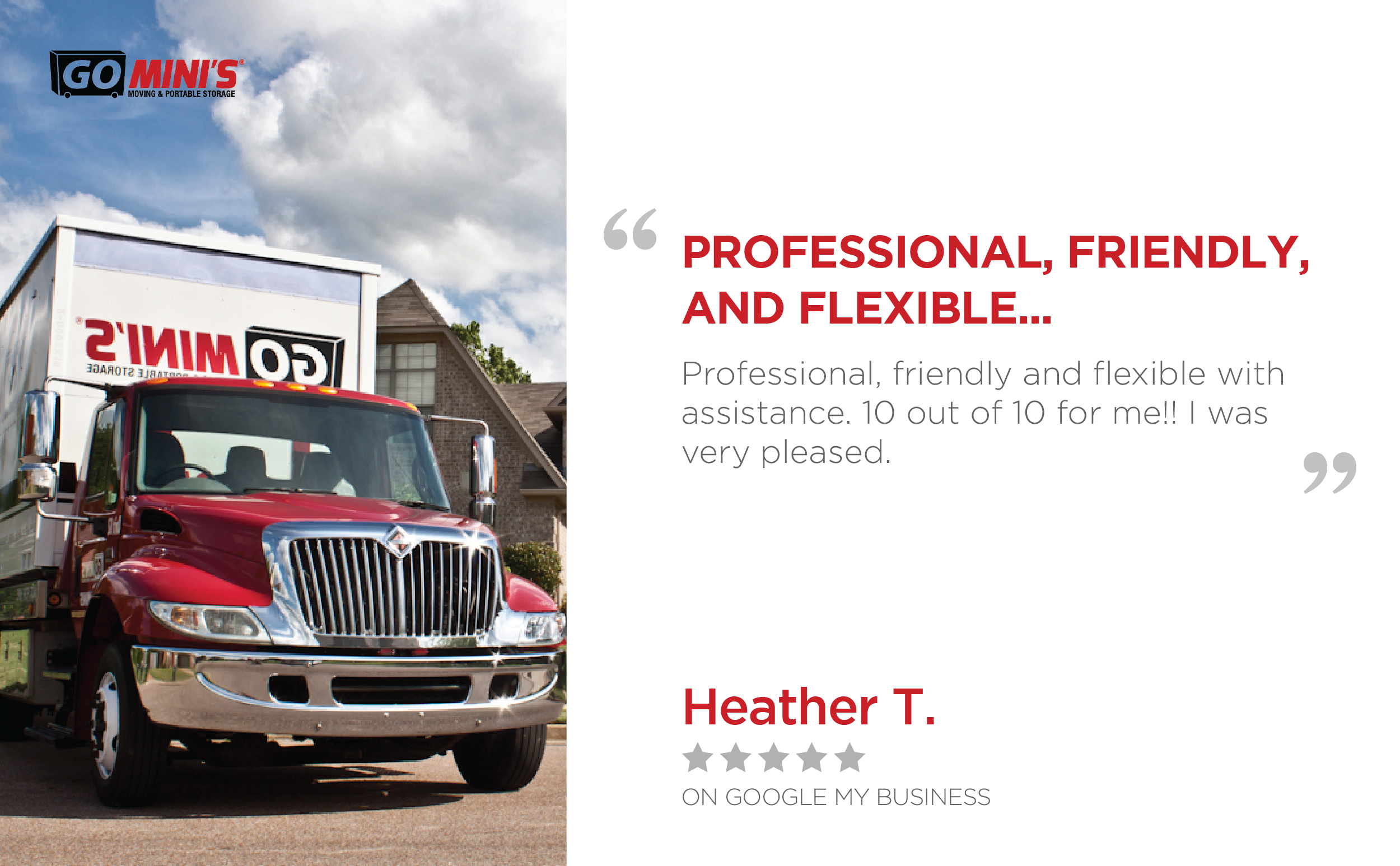 Whether you are moving or storing excess items, Go Mini's is here to help. Contact us today by visiting our website or calling us at 706. 659. 9747.
Posted By
Categories: