Using the Go Mini's Storage Calculator
Go Mini's offers simple and affordable portable storage solutions, but sometimes calculating the right amount of storage space you need, isn't all that simple. Our interactive storage calculator helps to provide you with a container size suggestion based on the number of large and bulky items you need to place into storage.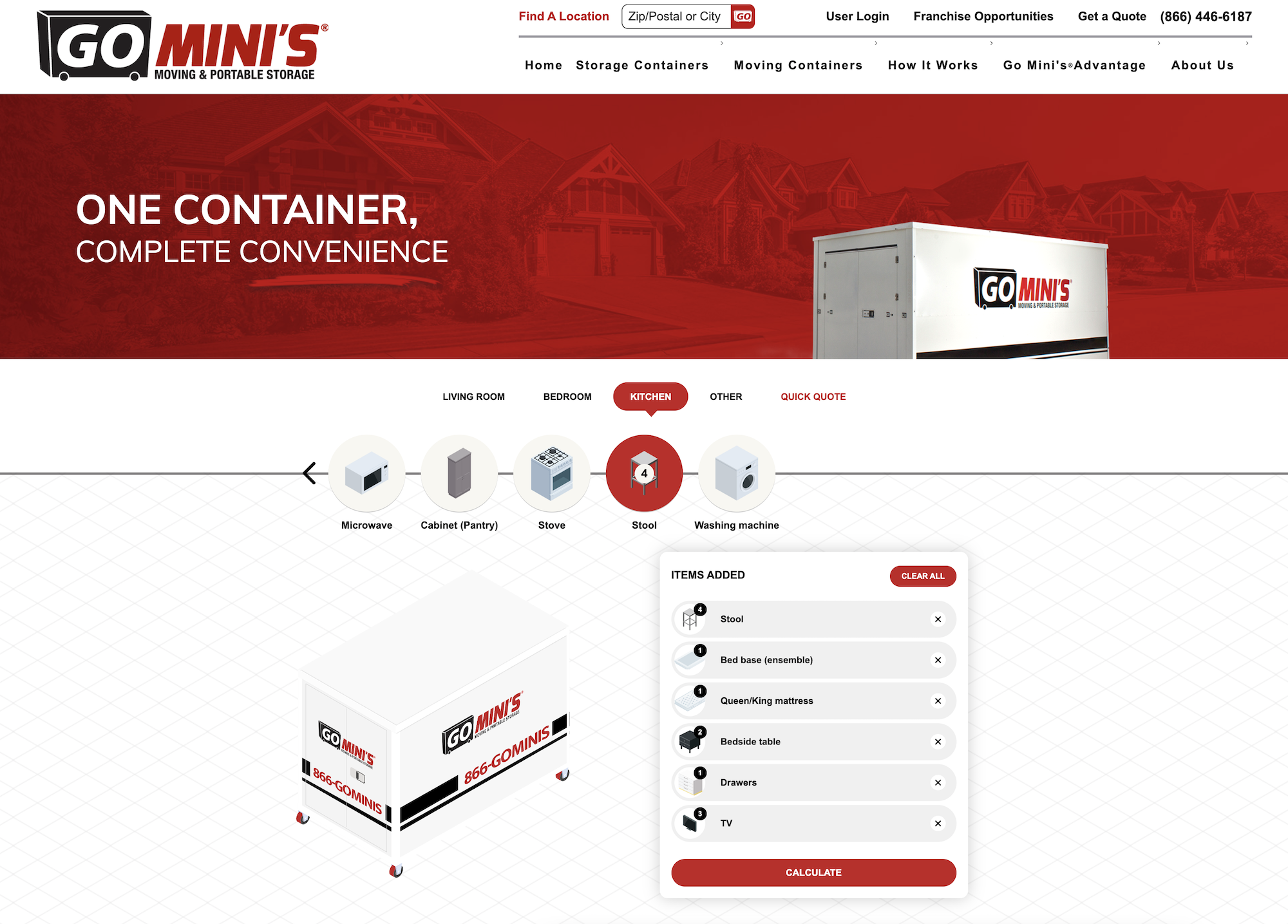 Once you've landed on the storage calculator page, you can toggle through the various rooms listed across the top and add items to your list.
Based on average size calculations for these items, we're able to make a suggestion on the best container size option for your rental storage needs.
Once you've added all your items to the list click calculate and then the size suggestion will be calculated, based on your inputs.
Once you've calculated your storage needs, you can click book now or quick quote (at the top of the calculator) to get a quote or reserve your Go Mini today.
OUR CONTAINERS
Go Mini's offers 3 size options, with our 20-foot container offering more storage space than any of our competitors.
12 Foot Containers are ideal for loading a small apartment or 1-2 furnished rooms
16 Foot Containers are typically suited for larger apartments or small homes, holding 3-4 furnished rooms.
Our largest, 20 Foot Container can hold up to 5-6 furnished rooms, making it a great option for a whole-home renovation or your next D.I.Y. move.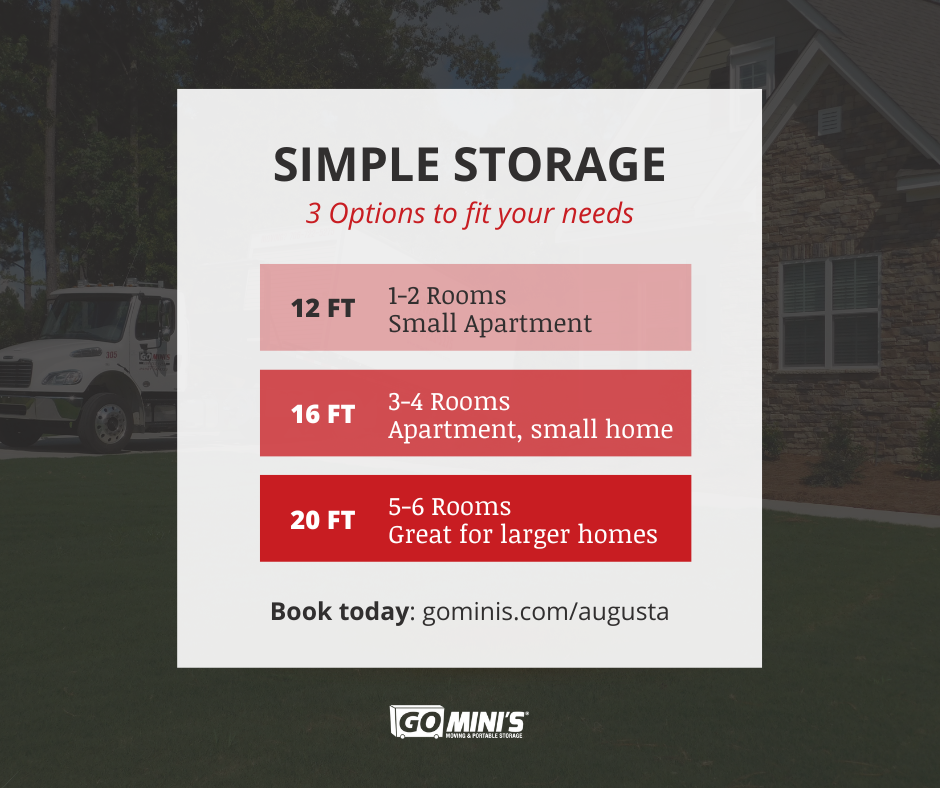 GO MINI'S CONTAINER FEATURES
Customers love Go Mini's for its affordability, ease, and convenience, but that's not all. Our Go Mini's containers includetons of interior features to protect you and your items during loading and transport.
Our containers offer more interior tie-down points to help secure items for transport

A low entry makes loading your container easy but helps protect items from standing water at ground level

Ventilation helps maintain airflow and reduce mildew inside your container

Padded wheels protect your driveway

Our steel containers reduce excess moisture and odor that can often be common in other container types
PACKING AND LOADING TIPS FOR YOUR GO MINI
Once your container is delivered, here are a few packing and loading tips to keep in mind.
Pack as many items inside boxes as you can

Load the heaviest items on the bottom

Pack your container from back to front

Be sure to use tie-down points to secure items for transit

Wrap and protect fragile items

Remove any non-allowable items from your container

DO NOT pack food or scented products in your container

Avoid using boxes from your local grocery or liquor store, only use boxes that are new or have been stored indoors in a dry space
Looking for more tips and tricks for loading your Go Mini? Check out our ultimate packing guide or these tips for making the most of your Go Mini.
Ready to book? Contact us today for a quote or to schedule your container delivery.
Posted By
Categories: