Simi Valley Portable Storage Containers
Convenient Solutions for Moving & Storage
When it comes to options for moving and storing belongings, companies in the industry tend to be either national brand names that are not attentive or friendly or they are local businesses that lack the quality or flexibility that one needs.
Go Mini's of Ventura County, CA stands apart as an alternative because we are a locally owned and independent portable storage company in Simi Valley backed by a national brand known for high-quality storage containers.
This means you benefit from the familiarity and care of a local business while enjoying the industry-leading quality provided by our galvanized-steel portable storage containers. Our customers love our services and we'd love the opportunity to serve you.
If you need Mini Storage in Simi Valley, look no further. Call (805) 836-2715 or get an instant quote online to set up a container rental today!
How Our Portable Storage Rental Works
Delivery on your chosen day
Placed where you have marked off
Load at your own pace
Keep as long as you need
Notify us if you are relocating
We will pick up and move your container
Some Reasons to Choose Our Portable Storage Containers in Simi valley
Here are some reasons why people continue to make Go Mini's of Ventura County, CA their first choice for moving and storage in the area.
Our mobile storage units are ventilated to reduce humidity
Our containers are built from galvanized steel, offering strength and security
Mobile storage is often one of the most affordable or cost-efficient options
People tend to find portable storage is the best solution for renovation projects
People tend to enjoy the flexibility of working on their own timeline for loading and storing their possessions
How We Stand Out in Simi Valley For Self Storage
You have a few different local options when it comes to finding self-storage. And we've mentioned a few of the benefits you'll enjoy renting from us. But how do we stack up compared to our top competitor, PODS®?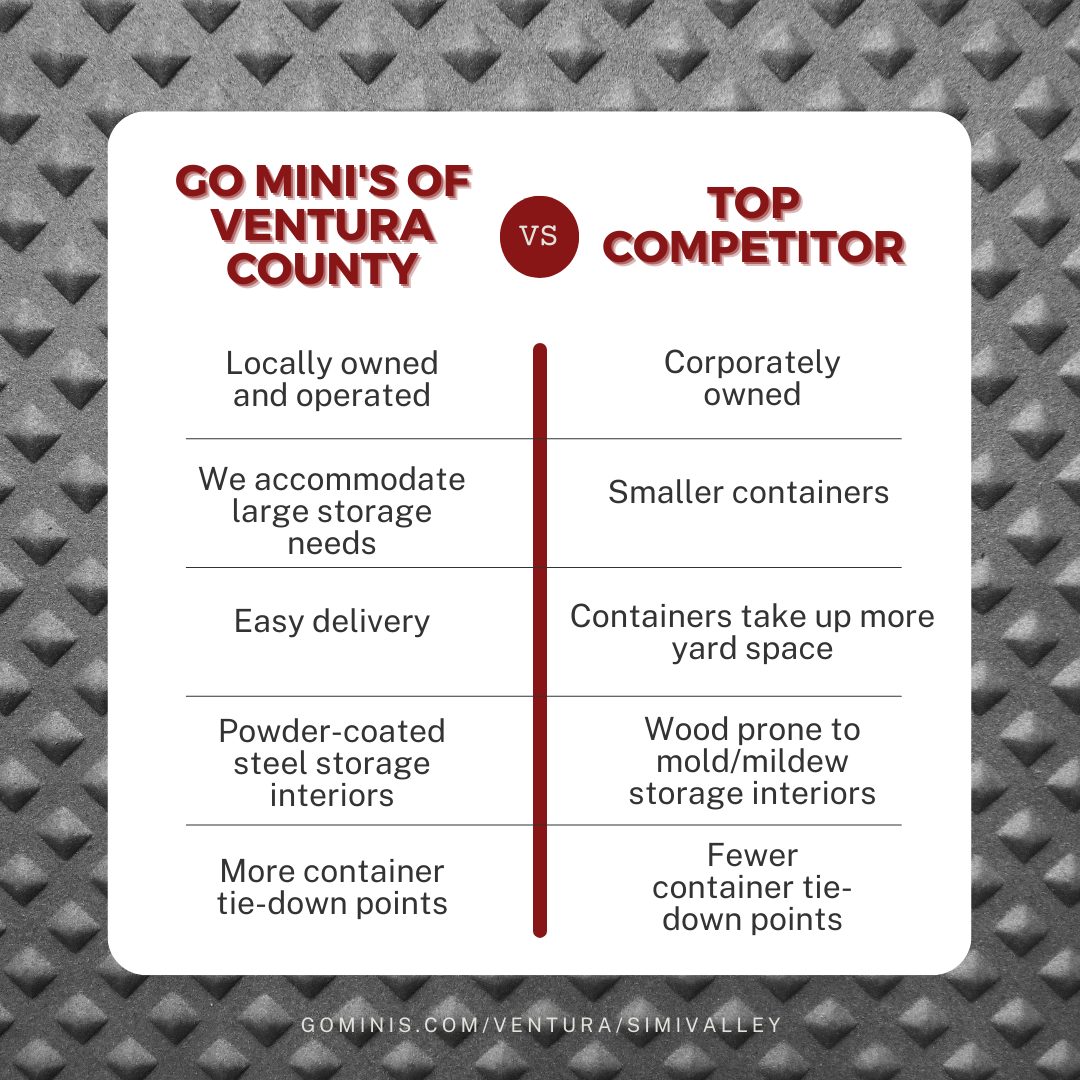 We proactively take steps to make sure we're ahead of the game.
Storage Container Loading Recommendations
It is smart to use as many same-size boxes as possible. Make sure to avoid overloading to prevent damage. Our Simi Valley portable storage containers come in 12-foot, 16-foot, and 20-foot sizes.
It is smart to keep possessions well padded and protected inside boxes. It can also be helpful to add extra duct to to the bottom of heavier boxes.
The heaviest items should be loaded first. (Washing machine, couches, tables, appliances). The heaviest boxes should be placed at the bottom. As heavy items are loaded, it is a good idea to keep the weight balanced between left and right. Lastly, Go Mini's storage containers have plenty of tie down points and straps to help keep everything secure inside.
Looking for self storage in Simi Valley? Give us a call at (805) 836-2715 or get an instant quote online today!