Portable Storage and Moving Containers in Thousand Oaks
Mobile Moving & Storage Containers for Rent - Get a Free Quote!
Need to move or store items in Thousand Oaks? At Go Mini's of Ventura County, CA, we offer safe and reliable storage and moving containers for rent. Whether you need a container for a few days or weeks or months, we're here to help.
Our highly-rated storage and moving containers are also raised off the ground to protect your valuables from moisture and pests. You can rest assured that your things are in good hands! Plus, we provide delivery and pick-up with no hassle. Simply tell us where to drop it off, when to pick it up, and we'll come by when you're ready. Who knew moving and storing could be so simple!
Searching for moving or storage container rentals in Thousand Oaks? We have a solution for you. Get your free, instant quote online or by dialing (805) 836-2715.
The Benefits of Our Storage and Moving Containers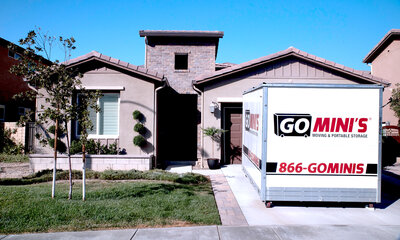 Are you a little stressed out about moving or finding a place for storage? We help make storage and moving easy.
As homeowners like you, we know how stressful moving and dealing with storage can be. That's exactly why we offer safe, convenient, and easy moving and storage container rentals.
How exactly do we make moving and storage easy? At Go Mini's of Ventura County, CA:
We Offer Storage Savings. We're the only portable moving and storage franchise that offers a 20-foot-long container. This is perfect if you have five to six room's worth of belongings to move to store! You won't need two separate rentals.
We Handle The Driving. With us, you won't need rental trucks or trailers. We drop off the container, you load at your pace, and we'll pick it up.
We Offer Moving & Storage Solutions. Do you need to store your belongings before moving into your new place? We can help. Our rentals are month-to-month and you can rent the container for as long as you need. We can store it for you or you can store it at your home.
We Offer Free, Instant Quotes. part of the hassle with moving and storage is figuring out which option you need and how much it'll cost. To help make it that much easier, we offer free, instant quotes.
We Offer Transparent Pricing. All pricing is discussed with you up-front. There won't be any hidden fees (this includes insurance, fuel, etc.)
Does this all sound too good to be true? This is how we help our customers. Trust Go Mini's of Ventura County, CA to help with your move or storage needs.
Get your free, instant quote online or by giving us a call at (805) 836-2715 today. We look forward to serving you!