Moving Container Company in Houston, TX
Affordable Moving Pods Near You
Whether you're ready to renovate or plan a move across town, we want to eliminate the stress and frustration during your moving process. To make your transition as easy as possible, we satisfy our customers by delivering the best solutions based on your budget, needs, and time-frame.
Go Mini's of Houston, TX are experts at offering top-of-the-line portable moving container services. All our Houston moving storage containers are designed to ensure maximum convenience. We deliver our units to your desired location, whether a home or business property, and you can take as much time as you need to load up your personal belongings. When you're finished packing, give us a call and our professionals will safely transport your belongings to our local storage facility or your new address.
Get in touch with professional movers near you today! Dial (713) 766-1620 or get a quote online now!
Why Choose Us for Your Local Houston Move?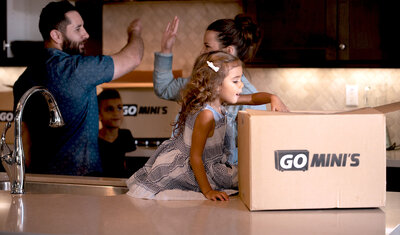 At Go Mini's of Houston, TX, we make moving easy.
From our ability to work around your schedule to the moving containers themselves, our goal is to help ease your through your moving season.
Why choose us to help with your local Houston move? A few reasons include:
Our Moving Container Sizes. We have solutions for any move, no matter how small or large. Our containers come in three sizes - 12', 16', and 20'. Most of our competitors do not offer a container as large as 20'.
Our Reputation. We're backed many positive reviews. Our customers especially love us for our responsiveness, high-value services, and professionalism.
Our Storage Options. Need somewhere to store your possessions before moving into your new place? We offer storage solutions, too. We can either store your container at our facility or on your property
Our Custom Options. Need your moving container for a couple months? No problem. With us, you get to have your container for as long as you need. We'll pick it up and move it when you're ready.
IIf you're looking for an easy moving experience, look no further than Go Mini's of Houston, TX.
To learn more about us or to get a free, instant moving container quote, call us at (713) 766-1620 today. We look forward to serving you!
Moving Container Sizes

Of all the options for temporary storage in Houston, Go Mini's is the best choice for meeting your needs, as we offer a variety of options to our customers. No matter the size of your move, we have a moving container for you. We offer three different size length containers to ensure you find the right fit based on how much is needed to pack for your move.
12-Foot Container
Our 12-ft length container is the perfect solution for small-purpose moving and storage. This would be ideal for someone moving an apartment, relocating an office, or moving a house with two or three rooms.
16-Foot Container
Our 16-ft length container is great for a move requiring temporary storage. Other common uses for this container include moving a home with three or four rooms, office re-locations, and large home remodeling projects.
20-Foot Container
Our largest container size comes in 20-ft. This is the best option if you are planning to move a larger apartment, office space, or a home holding five, six, or seven rooms of items.
Not sure which size you need? Either give us a call at (713) 766-1620 or you can use our online storage calculator.
You're welcome to check out our reviews to see why folks throughout Houston love us.To get your free, instant quote, call us at (713) 766-1620 today.
Moving Container FAQ
What if I don't know how long I'll need the unit?
That's totally fine! You can load the moving container at your own pace. There are no deadlines.
How far off the ground are your units?
Our units sit about 8 inches off the ground to keep moisture out. But they are low enough so that you will not need to use a ramp.
What are key features of Go Mini's Houston Containers?
Key features of our moving containers include:
Ventilation ports to reduce humidity and moisture
Sturdy interior railings for hanging clothes
Padded wheels for maximum protection on your property
Security-locked roll-up and swing doors to keep belongings safe
Multiple size length containers: 12, 16, and 20 feet
Do I need to pick up and drive the moving truck?
No! We will come to you to pick up the unit and move it to your new location.
Can you move my stuff from Houston to San Antonio?
We have locations in both Houston and San Antonio, so we do provide services between these two cities.
For more FAQs, you're welcome to visit our FAQs page. Or you can give us a call at (713) 766-1620 to speak with a live representative.
Rent a Container for Moving
Renting one of our pack yourself moving containers is all about putting you in control of your move. Instead of having to deal with the extra expenses, schedules, and uncertainties around hiring a moving company, you control the timing and loading process.
From college students looking for temporary storage in between semesters to military families searching for military movers in Houston, our team can help. When you rent a portable container, you can decide whether you want to hold it on your property, keep it at our facility, or stage it at your destination.
At Go Mini's of Houston, TX, we believe storage should never be limited. Providing convenience and quality is always our goal. Give us a call today and discover why we're trusted above other moving container companies near you.
Learn more about our moving pods today. Give us a call at (713) 766-1620 or get a quote online now!