Moving Containers in Columbia, TN
Convenient & Secure Portable Storage Units
Have you set a date to move into a new home or commercial building, but you haven't found a moving company you trust to help? Our portable storage company provides portable moving container rentals near you.
At Go Mini's of Columbia, TN, we offer moving containers in Columbia that work for virtually any size move. Whether you have a one-bedroom home or six-room property, we can accommodate your needs with durable and safe containers.
Call (931) 259-4710 or contact us online to request a quote on a convenient & secure moving container in Columbia today!
The Many Benefits of Our Portable Moving Containers
Not only are our portable containers ideal moving options, but they also double as:
Renovation storage – When you start a renovation project, you might think simply covering your possessions with a tarp will protect them from construction debris—until it doesn't. You can rent one of our moving containers in Columbia to house your belongings and keep them safe.
Emergency flooding solution – After a devastating flood, you'll need a place to protect your furniture from further water damage. Go Mini's can help!
Temporary storage – Whether you need temporary storage for a move or to keep important files, we have the options to suit your situation.
On-site storage – Do you want to store important personal and professional items but still want to have access to them? Keep our storage container on-site to access what you need when you need it.
Inventory storage – If you're running out of room in a storage closet or outdoor utility unit, we can easily store overflow inventory.

Regardless of your need, our local team can find the container size to match your situation and help you move your belongings smoothly. Our pack-yourself portable moving containers come in 12-, 16-, and 20-foot unit options, making our products the most spacious in the industry.
Contact us online or call (931) 259-4710 to receive your quote on a dependable moving container in Columbia today!
Which Shipping Moving Container Do I Need?
At Go Mini's of Columbia, TN, we offer three shipping moving containers. Our moving containers come in lengths of 12-feet, 16-feet, and 20-feet. Each is 8-feet high to help make loading and unloading easy. If you're wondering which one you need, you aren't alone!
Continue reading to see which container is right for your move:
12-Foot Moving Container. Our 12-foot container is our smallest size and ideal if you're moving a couple of rooms' worth of items.
16-Foot Moving Container. Our 16-foot moving container is our middle offering. This container is ideal for you if you need to move three to four rooms' worth of belongings.
20-Foot Moving Container. This is our largest container and we are the only portable moving franchise to offer a container this large. It's big enough to fit five to six rooms worth of belongings. This options allows us to help you avoid needing to rent two containers from another company.
If you're still not 100% sure which shipping moving container you need, you're welcome to use our online storage calculator. Or, you can always speak to one or our team members at (931) 259-4710.
Want a free, instant quote? Simply call our courteous team at (931) 259-4710. Or you can request your quote online. We look forward to serving you!
Why Choose Go Mini's Over Traditional Moving Companies?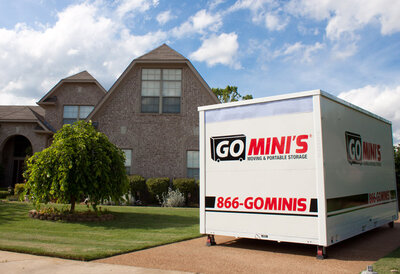 Your local move is in good hands with Go Mini's of Columbia, TN.
Our rental moving containers in Columbia provide benefits that both similar portable container providers and moving companies struggle to match.
Columbia, TN customers choose us over others because our units offer:
Convenience – Our moving containers are convenient and give you as much time as you need to load your possessions. Plus, you can leave them on your property or have them stored at our temperature-controlled facility.
Security – When you rent a container from us, you get a galvanized steel unit designed to keep moisture and would-be thieves out.
Affordability – A significant reason we're a preferred moving unit provider for local moves is that you get larger containers at a price that won't break the bank.
Request your quote on a reliable moving container in Columbia by calling (931) 259-4710 or contacting us online today!
Expert Tips on Utilizing Your Moving Storage Container Effectively
Initiate the packing process with your heaviest and largest items such as appliances and furniture. Placing these at the bottom of your container creates a stable base. Remember, it's advisable to break down bulky furniture to save space and prevent damage.
Once this base is established, proceed with medium-sized items. Distribute them evenly across the container to maintain balance, utilizing both ground and vertical space. Thoughtful stacking is the secret here, placing heaviest items at the bottom, with lighter ones on top.
Small items and boxes can fill any leftover spaces. It's of utmost importance to secure everything tightly to avoid movement during transit. Fragile items should be wrapped with protective packing materials such as bubble wrap, packing paper, or even old linens. Using blankets and padding will prevent scratches and dents on your furniture.
While packing, remember to keep essential items that you may need urgently near the door of the container for convenience. This could include tools, kitchenware, or crucial documents.
In summary, the task of efficiently packing a moving storage container may appear overwhelming at first, but with meticulous planning and patience, it can be effectively managed. Adhering to these guidelines will help you maximize space, minimize potential damage, and make your moving experience considerably smoother.