Top Four Reasons We're Better
Easier

Delivery Options

Nicer

Containers

More

Space

Bigger

Savings
Portable Storage units in Columbia, TN
Affordable Portable Moving Containers
The portable storage specialists at Go Mini's of Columbia, TN want to save you time and money whenever you need convenient storage for moving!
We offer reliable storage containers in Columbia that are similar to PODS®, but bigger and better.
We deliver. You load. We pick up. It's that simple. Renting one of our portable storage pods near you can save you the trouble of having to rent your own moving truck and load and transport your belongings on a more restricted time schedule.
Our team is proud to provide secure storage solutions to residents of Columbia, Franklin, Murfreesboro, and the surrounding areas.
Call (931) 259-4710 to reserve your mini storage in columbia. We provide hassle-free quotes at no cost to you!
Convenient Storage Containers to simplify your move
It's our goal to be the first portable storage moving service that comes to mind whenever you're relocating or renovating in Columbia, TN, or surrounding areas.
Area residents and businesses choose us because:
Our storage containers have 29% more cubic feet of space than the largest PODS®
Our storage units feature more tie-down points
Each unit has smooth interiors
Our team wants to offer everyone in the area convenience in the form of a portable storage container in three spacious sizes.
It may be difficult to imagine a stress-free moving or storage experience, but we can make it both possible and affordable.
Searching for easy & convenient mobile storage units near you? Count on us! Give us a call at (931) 259-4710 or get your quote online.
Moving Locally? We can help!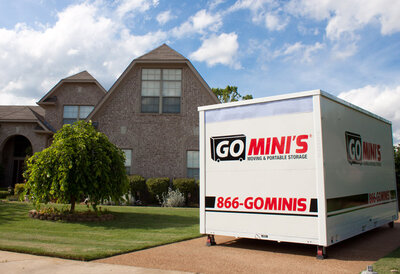 Searching for a convenient and hassle-free way for your local move? Our Columbia, TN moving containers are just for you.
What Size Are Your Moving Pods?
We offer 3 moving container sizes for your convenience: 12-foot, 16-foot, 20-foot.
Wondering which moving container is right for you? Check out our size info below:
12-foot moving container. Our 12-foot Go Mini's moving container is perfect if you have a couple of rooms' worth of items and belongings.
16-foot moving container. Our 16' moving container can hold 3 to 4 rooms' worth of belongings.
20-foot moving container. Are you moving 5-6 rooms' worth of items? This is the container for you. Our 20' moving container is our largest size. We're one of the few portable moving companies to offer a size this large.
If you need more help determining which moving container you need, you can use our helpful storage calculator. Or just give us a call at (931) 259-4710!
our Columbia, TN portable moving containers can help make your move easy. Get your free, instant quote online or call our friendly team at (931) 259-4710.
Cities We Serve:

Ardmore
Arrington
Auburntown
Belfast
Bell Buckle
Bon Aqua
Bradyville
Brentwood
Centerville
Chapel Hill
Christiana
Clifton
College Grove
Collinwood
Columbia
Cornersville
Culleoka
Cypress Inn
Duck River
Eagleville
Elkton
Ethridge
Fairview
Five Points
Fosterville
Franklin
Goodspring
Hampshire
Hohenwald
Iron City
La Vergne
Lascassas
Lawrenceburg
Leoma
Lewisburg
Linden
Lobelville
Loretto
Lutts
Lyles
Lynnville
Milton
Minor Hill
Mount Pleasant
Murfreesboro
Nolensville
Normandy
Nunnelly
Only
Primm Springs
Prospect
Pulaski
Readyville
Rockvale
Saint Joseph
Santa Fe
Shelbyville
Smyrna
Spring Hill
Summertown
Thompsons Station
Unionville
Wartrace
Waynesboro
Westpoint
Williamsport
Woodbury
ZIP / Postal Codes We Serve:

37014
37016
37019
37020
37024
37025
37026
37027
37033
37034
37037
37046
37047
37060
37062
37063
37064
37065
37067
37068
37069
37085
37086
37089
37091
37096
37097
37098
37118
37127
37128
37129
37130
37131
37132
37133
37135
37137
37140
37149
37153
37160
37161
37162
37167
37174
37179
37180
37183
37190
37360
38401
38402
38425
38449
38450
38451
38452
38454
38455
38456
38457
38460
38461
38462
38463
38464
38468
38469
38471
38472
38473
38474
38476
38477
38478
38481
38482
38483
38485
38486
38487
"Thank you for letting us use a storage unit during the Christmas Holidays at our Mental Health Center in Austell, GA."

"Go Mini's portable moving was the right answer for our move. We were able to move our entire 3-bedroom house in one of your 20 foot containers. It was delivered clean and on time..."

"What a great way to move. It was easy, convenient and we could load as we packed so our house was not such a mess."