Portable Storage Container Rentals in Columbia, TN
Convenient & Affordable On-Site Storage Container RENTAL
Trying to find an on-site storage building that is flexible, convenient, and affordable? It can be a challenge. Many storage building companies are difficult to work with for various reasons. They will not have availability when you need it. They take far too long to respond to questions.
At Go Mini's of Columbia, TN, we're proud to offer affordable storage container rental near you! We offer three different container sizes so that you only rent what you need. Our storage solutions in Columbia, TN are convenient, portable and we'll bring them to you!
Need spacious and secure storage units in Columbia, TN? Call (931) 259-4710 to get started!
Storage buildings in Columbia will pile on hidden fees. Go Mini's of Columbia, TN offers a different experience altogether. As a trusted local storage company, we strive to provide fast, friendly, and responsive customer service every time.
But that's not all. Our high-quality and secure portable storage containers in Columbia are clean, well-priced, and reliable. Check out our reviews to hear it first-hand from our clients!
Learn more about renting storage units in Columbia, TN by calling (931) 259-4710. Or get your free, instant quote online.
Temporary Onsite Storage columbia, TN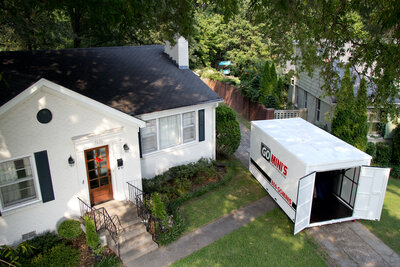 We designed our portable storage containers for storage on your property. This makes them accessible and convenient for loading and unloading.
We can also keep your loaded storage container at our secure storage facility until you need it. Most of our customers prefer the convenience of keeping it nearby, though.
When choosing where to place your portable storage in Columbia TN, select a spot that is:
Flat and level as possible
Accessible to our skilled drivers
Safe and secure, while also easy for you to access
Paved, though gravel, dirt, or grass can work
Compliant with any HOA or city regulations
We have secure storage containers for rent near you for your next move or renovation project. Call (931) 259-4710 for a free quote!
What Size Storage Contain Should I Get?
The size depends on how many rooms' worth of belongings you need to store.
12-foot Storage Container
Our 12' storage container is perfect for storing 2 rooms' worth of belongings.
16-foot Storage Container
Our 16' portable storage container is ideal if you need to store 3-4 rooms' worth of belongings.
20-foot Storage Container
Are you storing 5-6 rooms' worth of belongings? Our 20' container is for you.
This is our largest container. And we're one of the few portable storage companies that offer containers this large.
How much is a storage container?
The cost of a storage container rental will vary widely by container size and duration of the rental. We'll be happy to consult with you over the phone and offer a free quote or you can use our online storage calculator!
Still aren't sure which one is right for you? No worries at all. Give us a call at (931) 259-4710 or use our helpful storage calculator to assist!
MOBILE STORAGE RENTALS Designed for Versatility
We offer mobile storage rentals in Columbia, TN, and the surrounding areas. Our containers suit the needs of moving and/or temporary storage. The various features provided ensure that your experience is as smooth as possible.
We even offer 20' storage containers for rent. To get that much storage space, you'd have to rent more than one of our competitors' containers.
Here are some facts about our portable storage units:
They come in three different basic options. 12-foot, 16-foot, and 20-foot.
Every container is a standardized 8 feet in height.
Our units feature ventilation to prevent humidity and moisture buildup.
You'll find tie-downs throughout the unit for easier preparation when moving.
Each unit has a galvanized steel frame.
Our units have factory-baked paint which helps reduce sweating.
Our mobile storage rentals are also designed with wheels that prevent damage to asphalt or concrete. You don't have to worry about the unit leaving a mark on your driveway.
Searching for a Columbia portable storage container that's tailored to you? Get your quote online or give us a call at (931) 259-4710!
The STORAGE CONTAINER Rental Process
The three phases of renting a portable storage unit in Columbia are straightforward.
Phase One: We drop off the unit at your location. If you would like placement to be precise, you can lay tape down for the driver to know exactly where to drop the unit. We will do our best to fit your container exactly where you need it.
Phase Two: Load the container at your own pace. Keep it as long as you need. We do not enforce timelines so that you can enjoy the flexibility of keeping items in storage as long as needed. If you would like to keep your container at an off-site location, speak with one of our team members. We can often accommodate these requests.
Phase Three: Depending on your situation, we will either pick up your unit to move it, or we will take back the empty unit. We take care transporting the unit if you are moving across town.
LOOKING FOR A PORTABLE STORAGE CONTAINER RENTAL? Call (931) 259-4710 to rent a portable storage container in Columbia, TN!