Portable Storage Containers in Schenectady
Portable Storage Container For RenT - Call for a Free Quote!
Do you need secure, portable storage containers in Schenectady? You don't have to worry about finding a storage facility or even hiring movers. At Go Mini's of Albany, NY, we've got you covered! We offer convenient and cost-effective portable storage solutions - no hidden fees.
Plus, we bring the mobile storage containers straight to your door as soon as possible so that you can start using them right away. We're locally owned and operated here in Schenectady so our friendly staff is available for any questions or concerns. With us, you can have peace of mind knowing that your belongings are safe, sound, and easily stored.
Searching for portable storage containers near you? Give us a call at (518) 255-8409 for a free, instant quote. Or you can request your quote online.
The Benefits of Choosing Our Mobile Storage Container Rentals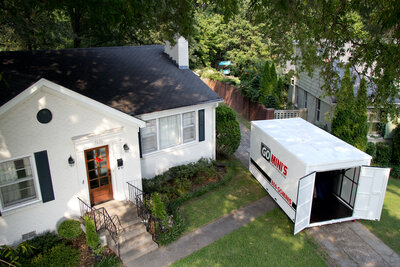 Trying to find a local storage facility can be daunting.
At the same time, so can figuring out how to get all your belongings to said storage facility. We offer a convenient, secure solution - portable storage containers.
Why choose us for portable storage? At Go Mini's of Albany, NY:
We Offer More Storage & More Savings. We're the only portable storage and moving franchise that offers a 20-foot-long storage container. Our competitors' largest container averages 16-feet-long. This means you get more storage and more savings with us.
We Deliver World-Class Customer Service. We're locally owned and operated which means you're speaking our local team members, not our corporate office. We proudly deliver that personalized experience.
We've Uniquely-Engineered Our Storage Containers. Our storage containers rest on 8" polyurethane wheels. This helps protect your driveway and property by keeping the unit raised up off the ground. They're also well-ventilated and built with galvanized steel
Endless Rental Time. Need our storage container for a few weeks? Or need it for a few months? Or not sure how long you'll need it? With us, that's no problem because we give you total flexibility over the storage container rental.
If you're looking for secure, convenient, and world-class portable storage containers for rent, you've come to the right place.
Get your free, instant quote by requesting one online today. Or, speak with our courteous staff by dialing (518) 255-8409. We look forward to serving you!