Storage Containers for rent in Patterson
portable Storage Container rentals
Are you relocating properties? Are you renovating an office or room in your home? Are you dealing with repairs or flooding and need to put your belongings in a safe place temporarily?
If you answered yes to any of these questions, Go Mini's of Putnam & Dutchess County, NY is your portable storage solution! Our portable storage company offers secure, portable storage containers throughout Dutchess County, NY.
You're welcome to check out our reviews to see why our customers love us.
Looking to rent storage containers? We bring the container to you! Get your free, instant quote online or call us at (845) 834-8532.
Which Storage Container is Right for Me?
Our storage container rentals come in 3 convenient sizes: 12-, 16-, and 20-feet.
12-foot storage container. This is our smallest container and it's large enough to fit 1-2 rooms' worth of belongings.
16-foot storage container. Our 16' storage container is the one for you if you need to store 3-4 rooms' worth of belongings.
20-foot storage container. Our 20' container can fit 5-6 rooms' worth of items and belongings.
The Benefits of our 20' Portable Storage Containers
The 20-foot unit is unmatched in the industry – offering 235 cubic feet of space more than the largest PODS® container.
Our 20-foot storage container is the perfect size for fitting all the belongings of a single-family residence, it is a very popular choice.
There is no reason to rent two medium-sized storage containers when you can save money and effort by storing everything in one container!
Use Our Storage Calculator for Extra Help
Still not sure which portable storage container is right for you? Don't sweat it. You check out our interactive and helpful online storage calculator.
Or, just give us a call at (845) 834-8532. Our friendly customer service team is ready to help find your ideal container.
To Learn more about our portable storage containers for rent in patterson Call (845) 834-8532 or get a quote now!
Wondering What Makes Our Storage Containers Better?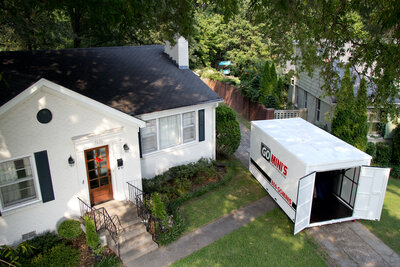 Our storage containers are built from top-quality materials with your accessibility and security in mind.
Each portable storage container features:
A galvanized steel-welded frame that is weatherproof, insulated, moisture-free, and mold-resistant
Secure steel siding and industrial-grade locks
Padded wheels to protect the surface underneath each mobile storage unit
8-9 inches of ground clearance to make entering and exiting hassle-free
8-foot ceiling clearance to help stack boxes and lift large pieces of furniture
Railings and tie-down points
An exterior coated with factory-baked paint that won't 'sweat'
Our rental storage containers in Patterson are perfect for your sort-term or long-term storage needs. Get your free quote today by dialing (845) 834-8532.
A Streamlined System for Storage Container Rentals in Patterson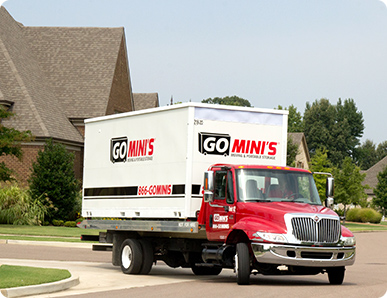 Renting a portable storage unit is very simple.
After you submit your request, we will deliver the container at the scheduled time and drop it off precisely where you want it.
Once you finish loading up your belongings, you can keep it where it is for as long as you want.
Alternatively, our team can transport the container to your final destination, or securely store it at our Go Mini's facility. We firmly stand behind our "move at your own pace" motto.
Unlike expensive and rushed moving van rentals, our portable units are cost-effective and can be used as convenient storage for prolonged periods, such as a business or home renovation.
Our storage containers are a fast and easy way to clear up space during office cleanings, home projects, restoration work, or redecorating.
Instead of piling everything into a basement, attic, or corner, you can feel secure knowing your things are safe from theft and decay in our sturdy storage containers.
At our local storage solutions company, we go above and beyond to make temporary storage affordable and seamless.
Call (845) 834-8532 or contact us online to order one of our portable storage containers today!