Portable Storage Containers for Rent in Clearfield, UT
Storage Unit Rentals Near You
Have you finally decided to begin that home renovation or remodeling project? Rent a mobile storage unit to keep your possessions safe and secure during your project! Dust and paint can damage your personal items, which is why you don't want them in a construction zone.
When you need to store office furniture or household belongings, call Go Mini's of Layton, UT. We deliver our affordable and flexible temporary storage containers in Clearfield and nearby. We serve both residential and commercial customers.
Take your time, since our rentals are open-ended, with upfront pricing, and no due dates. When you're done, give us a call and we'll pick up the empty container and haul it away. With our storage units, you know your possessions are secure and protected.
Renting a temporary storage container in layton is easy! Call our team at (801) 896-8835 or get a quote to get started.
What Is a Portable Storage Container?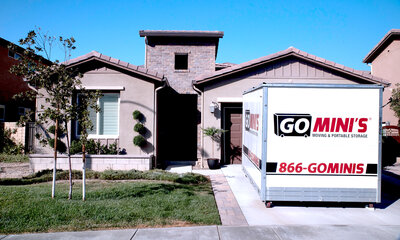 Our Clearfield portable storage containers offer secure, temporary onsite storage for many scenarios. We offer three convenient sizes to suit your storage needs.
Rent our small container to store furniture from one bedroom during home remodeling. Or choose the medium or large size for a whole home's worth of belongings while staging your house for sale.
Our portable storage containers meet your needs with design features including:
8ft height on all units, in lengths of 12ft, 16ft, or 20ft
Secure galvanized steel exterior with a coat of factory-baked paint to prevent sweating
Sealed and pressure-treated floors to prohibit moisture
8in ground clearance for easy, ramp-free loading
Padded wheels to protect your driveway
More interior tie-down points than our competitors
Clearfield Mobile Storage Options to Suit Any Need
Go Mini's of Layton, UT is a locally owned and operated moving and storage company in Clearfield. We're here to offer cost-saving and flexible options to meet your exact needs.
We support our neighbors during cross-town moves, remodeling projects, or damage restoration. We provide guidance and temporary storage near you when you need custom storage solutions.
Looking for extra storage space in Layton? Give us a call at (801) 896-8835 or get a quote online today!
How We Compare to Other Mobile Storage Companies
We provide some of the industry's highest quality storage containers that deliver.
Just some of the things that set us apart include:
More storage: Go Mini's is the best in the business when it comes to extra storage. Our 20-ft unit offers 29% more cubic feet of storage space than the largest PODS® unit.
Complete organization: Our temporary storage containers provide a safe, secure storage space. Businesses can store seasonal inventory. Offices can keep workspaces free of clutter with a Go Mini's storage unit.
Flexibility and convenience: Do you want control over the placement of your unit? Do you prefer zero timelines and schedules when it comes to how long you can keep your container? Go Mini's of Layton, UT gives you options for both! Keep the container as long as you need it. It can stay on your property or at our secure indoor facility.
Protection: Do you worry about safety and security with a temporary storage container? With Go Mini's, you won't have to! Our units feature galvanized steel construction and pressure-sealed interiors for strength and durability.
Our portable storage rentals in Clearfield are the smart alternative to self storage. Call us when you need short-term storage for your most prized and valuable belongings.
Our containers include built-in features to protect your personal possessions. You can't go wrong renting a temporary storage near you from Go Mini's of Layton, UT.
Call us at (801) 896-8835 or get a quote online for storage units near you today!
Frequently Asked Questions
How Much Furniture Fits in a Portable Storage Container?
There's no denying our portable storage units are spacious!
Keep scrolling to see how much furniture you can fit in our containers:
12-foot Container. Our 12ft container fits one to two rooms' worth of furniture.
16-foot Container. Our 16ft container fits three to four rooms' worth of furniture.
20-foot Container. Our 20ft storage container fits five to six rooms' worth of furniture.
Keep in mind, this is the total number of rooms—not only bedrooms. Include your living room, kitchen, dining room, and other spaces when planning your storage needs.
How Much Does a Portable Storage Container Cost to Rent?
Go Mini's of Layton, UT charges a flat monthly fee and a transportation fee each time we move the container. You won't have to worry about late fees, surge pricing, or anything like that, and our rentals are open-ended.
We also offer three convenient container sizes. Most customers can rent one unit sized for their needs. This saves them money over our one-size-fits-all competitors. Get your
free instant quote online
right now!
Will the Portable Storage Containers Keep My Belongings Safe and Secure?
Yes! Our mobile storage units feature steel-welded frames and galvanized steel siding. Factory-baked paint prevents sweating. Sealed and pressure-treated interior surfaces keep everything dry. And ventilation prevents excess humidity in the units.
Each container has 8 inches of ground clearance. This keeps your belongings high and dry while allowing for easy loading without a ramp. The containers have either swing doors or roll-up doors and secure locking features.
Searching for hassle-free portable storage units in Clearfield? Call us at (801) 896-8835 or request your free, instant quote online!
Why Choose Go Mini's of Layton, UT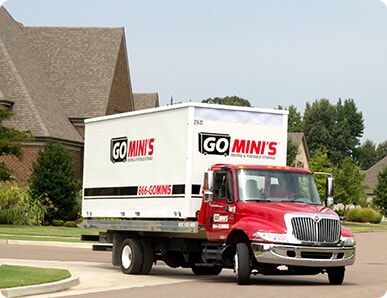 When you work with our rental team, we ensure a customer-focused process tailored to you.
Need to store commercial holiday decorations or overstock inventory for your business? Want to create more space during a home improvement project? We have unmatched products and storage solutions that surpass industry standards.
Customers continue to choose us because:
We offer three storage container sizing options, including 12-, 16-, and 20-foot containers.
We hire professionals who enjoy working with you to find exactly what you need.
We partner with Hire A Helper to find reputable movers who can support you during your move.
You will receive a customer experience that prioritizes your specific situation. Discover for yourself how our portable storage units are the best in the business. Go Mini's helps you to store overflow office equipment or move across town with ease.
Don't go with just any storage container rental company in Clearfield. Trust our team to provide you with the options and services you need for your local move or project. We can help keep your belongings safe and put you in control of your packing timeline. We make your experience hassle-free.
For more information about our portable storage rentals in Clearfield, call us at (801) 896-8835.