Portable Moving & Storage Containers in Fremont
Safe & Convenient Moving Company With Containers
Moving to a new home? Or do you need safe, easy, and secure storage? Go Mini's of Bay Area, CA is here to help! Our portable storage and moving containers in Fremont give you the flexibility and convenience of storing your items securely during the move.
With us, you'd rent your moving and storage container on a month-to-month basis. We have plenty of inventory, giving you flexibility to use your container for however long you need.
Looking for safe and hassle-free moving or storage solutions? Give us a call at (925) 361-3939 for a free, instant quote. Or you can request your quote online.
Why Choose Our Fremont Storage & Moving Containers?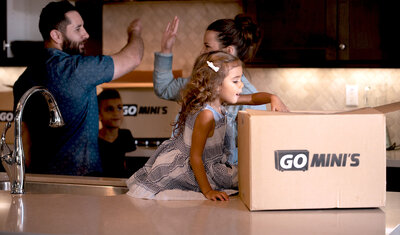 As homeowners like you, we know how trying moving season can be. We help make storage and moving easier.
Moving and storage is stressful enough without having to find a provider. We offer safe, secure, and easy-to-use portable moving and storing solutions. Our moving container company is part of the solution, not part of the problem.
At Go Mini's of Bay Area, CA:
We Offer Free, Instant Quotes. When it comes to looking for moving or storage options, you probably want to find quotes and pricing info ASAP. That's exactly why we offer free, instant quotes. With us, you'll get answers within minutes, not hours or days.
We Offer Flexible Options. With us, we tailor our services to your needs by offering open-ended rentals. Do you need your moving and storage container for a couple weeks or a few months? No problem - you can have it for however long as you need.
We Pick Up & Deliver. No rental trucks, no middlemen, no finding a storage unit. Doesn't that sound nice? We'll deliver the container to the address of your choice and pick it up whenever you're ready.
We've Creatively Engineered Our Containers. Our containers are on 8" polyurethane wheels to help protect your driveway and property. They're also made of galvanized steel to help prevent You're valuables will be safe!
We offer More Space, Bigger Savings. We offer a 20-foot-long container which gives you more space and even bigger savings. We're the only national storage and moving container franchise that offers a container this large.
Would you like to learn more or would you like a quote? Simply give us a call at (925) 361-3939 today. Or you can request your free, instant quote online.