Mega Guide: Packing and Organizing Your Go Mini
Happy 2022 everyone! Let this be a year of fresh starts and new homes. If you are making a move any time soon we want to make sure that you have everything you need. Packing and organizing your items is essential for your move. That's why we have created the ultimate guide to help with packing and organizing your Go Mini.
Packing Tips
Before you can fill your Go Mini you want to make sure that everything is packed correctly to minimize the risk of items breaking in transit, especially if you are relocating valuable items during your move.
Declutter

Before you start packing, go through everything in your house and decipher what you want and don't want. Consider taking your gently used items that you no longer need to your local thrift stores.
Make An Organization System

We understand that everyone likes to organize differently. So here are a few suggestions to help you get started.
Color code your moving boxes.
Label which items go to which room.
List what each box contains.
Pack heavy and light items in separate boxes.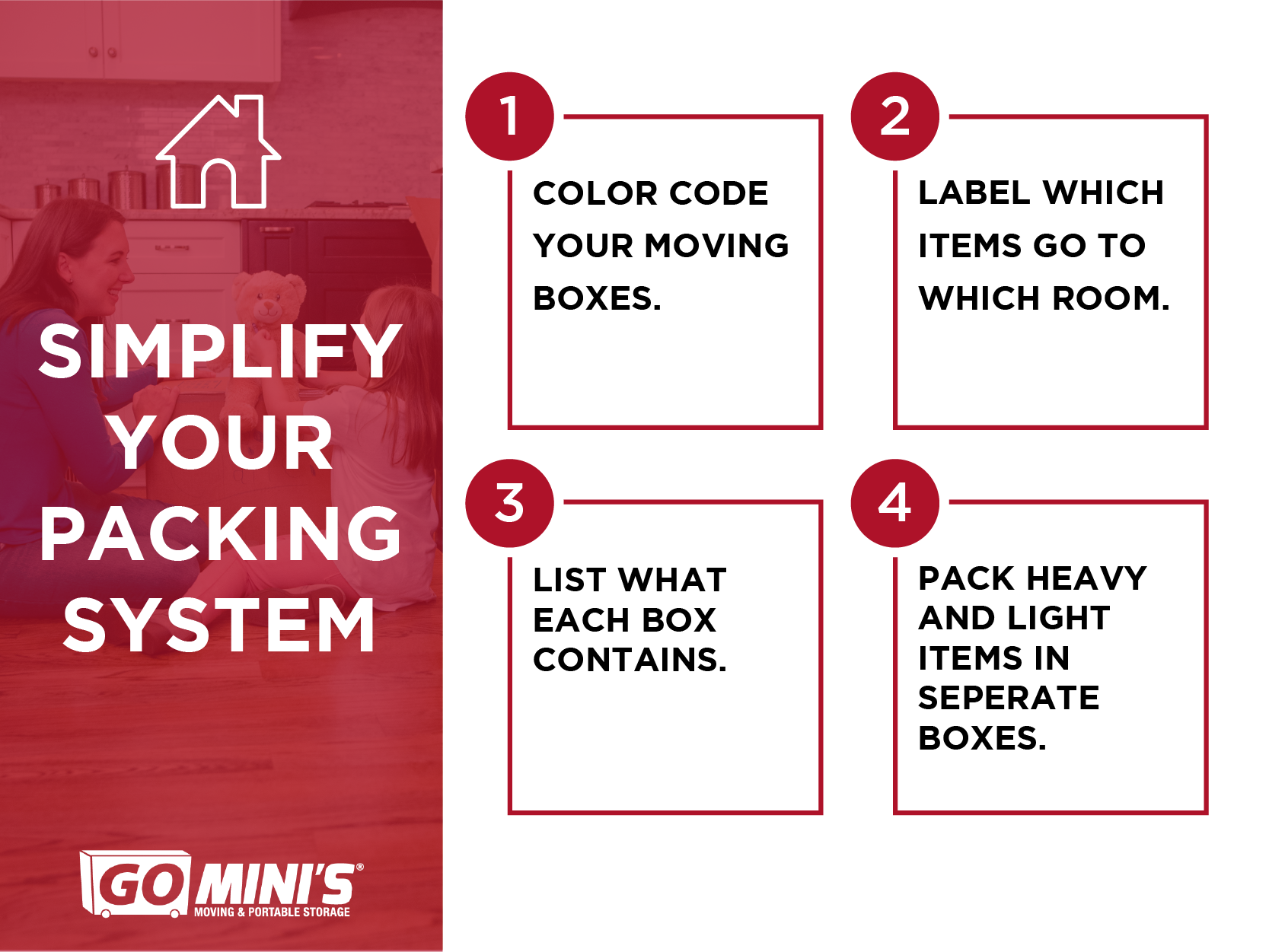 Don't Over Pack Or Leave Empty Space
If you are packing a box with heavy items you don't want to over pack. You want to make sure that you are still able to lift your boxes and are able to carry them to your Go Mini. With that being said, don't leave empty space in your boxes if they are not filled. Take some packing paper or bubble wrap and fill the rest of your box up to minimize shifting when you move the boxes and during transit.
Double Up On Your Tape
To ensure your boxes are sturdy add an extra level of tape to keep your boxes sealed during moving day.
Pre-Organization
Before you go to load your Go Mini's container there are a few packing tips you need to know.
Container Sizes
Go Mini's offers three container sizes so that no matter how big or small your move may be, we have you covered. Our containers come in three lengths – 12, 16, and 20 feet and we are the only national portable storage franchise to offer 20-foot containers.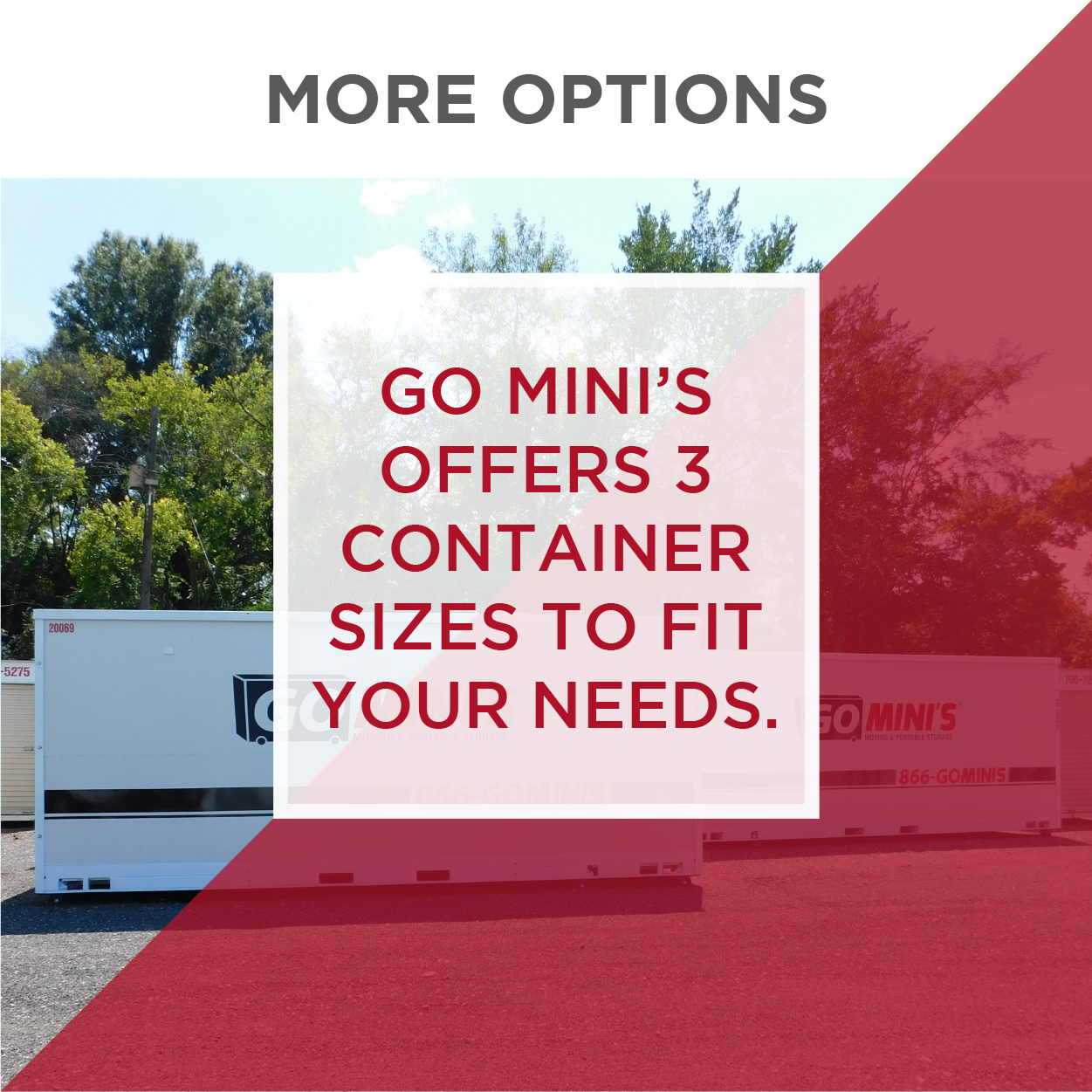 Packing Materials
When packing it is essential to have the correct material to keep your items safe. Make sure you avoid:
Flimsy Boxes
Boxes that have been stored outside and exposed to moisture
Wood Crates
Newspaper
If you don't have the correct materials needed, no worries, Go Mini's has everything you need. Go Mini's supplies:
Room Kits
Boxes
Packing Peanuts
Packing Tape
Glass & Dish Packs
Mattress Covers
And More
Loading Your Container
Once you have safely and securely packed your boxes it's time to load your boxes into your container. Believe it or not, there is a right and wrong way to load your container.
Pack Necessary Items Last
Although essential items are people's go-to to pack first, this isn't always the best idea. These items should be packed last and here's why.
Items loaded into your container first will be the hardest to access. Consider packing a "necessities" box and loading it last or even carrying it with you in the car so it easy to grab as soon as you arrive at your destination.
Weight Distribution
It is important to distribute the weight of heavier items like furniture or large boxes in your container. This keeps the container from shifting and ensures it can be loaded properly onto our truck for transport.
Use Tie-Down Points
Our Go Mini's containers include several interior tie-down points along the walls. Be sure to secure heavy items using ratchet straps, bungee cords, or rope to keep them from shifting during transit.
Maximizing Your Space
Make the most of ALL space, a small opening between your furniture makes a great place for smaller boxes to go. This will also give stability to your taller pieces of furniture. Speaking of taller items, make sure to place sheets or pillows in between your items and the ceiling of your container, to avoid scuffs and scratches if they are close to the ceiling.
Think of loading your container like a giant game of Tetris, and remember the more items you can pack and secure in boxes, the better!
Don't Rush
Moving is stressful and it can be tempting to rush through the task, but take it slow! Here are some things you should avoid when trying to cut corners:
Ready to get started planning your D.I.Y. move? Get a free quote or get in touch with our team to schedule a container delivery today.
Posted By
Categories: