Convenient Storage for Quick Home Improvement Projects
Go Mini's portable storage containers offer a great solution for your temporary storage needs. From completing home improvement tasks before listing your home to creating on-site storage for your next home project, Go Mini's can help!
Temporary Storage
Storage for Furniture and Household Items
If you are completing any large renovations, it is likely that in addition to storing your current items, you may have new items arrive that need to be installed or placed in your home as part of the update.
Timing the perfect delivery window can be tricky and construction timelines are often fluid. If these items arrive before you are prepared to install them, a Go Mini provides the perfect on-site storage solution. This allows you the flexibility to order furniture, appliances, materials and more, as you find them and ensure that they are on-site and ready to go when installation day arrives.
Selling your home
When selling your home, many agents will advise taking the time to prepare your house by making a few quick updates so that it looks the best it can for showings and open houses.
An easy way to do this is to declutter and remove items that are not necessary in each room. Consider a portable storage container to store all of these items. Our containers can be delivered to your home to easily load your items and then taken to our secure storage facility for holding, so that they are not a distraction to potential buyers during showings.
After you sell your home, we can even deliver your portable storage container to your new residence so you can easily unload it and get settled there.
Yard sales
Whether you're looking to plan a yard sale ahead of your move or you're looking to lighten your load, be sure to keep Go Mini's in mind. As you are planning your yard sale, use Go Mini's portable storage to store your items without having to use space in your home or garage. For more yard sale tips, read more tips here.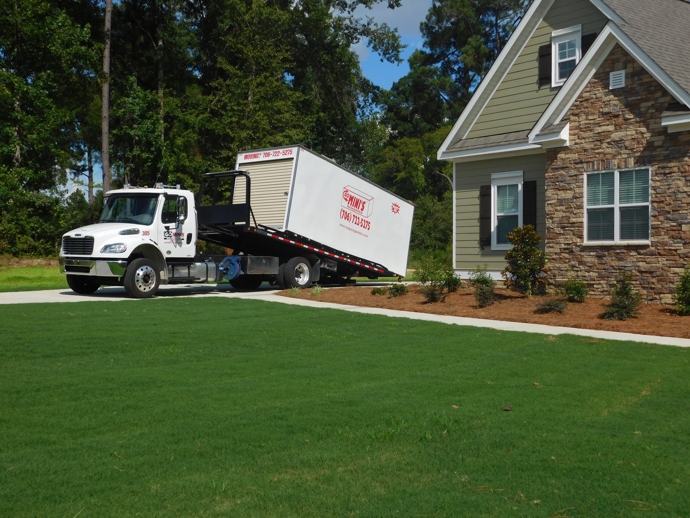 Home Improvement projects
Some large-scale home improvement projects require your belongings to be out of those rooms. When completing larger projects, especially ones that involve multiple rooms in the house, finding suitable storage can often be a struggle. If you have short-term storage needs and need easy access to your items throughout the duration of your project, be sure to give Go Mini's of Augusta a call.
Flooring
Replacing the flooring in your home can make a huge difference, but it also comes with a long list of preparation tasks before you can get started. Among them is cleaning out any of the rooms you are updating. This is where our convenient portable storage containers come in handy.
In addition to providing a safe, dry place for your furniture and home decor items, our storage containers are a great option to store your project materials if you are planning to go the DIY route. If your flooring project requires rental of small equipment and tools to get the job done right, a Go Mini's container is a great solution to keep the items locked away and safe when you aren't using them. You can also store bulk materials ahead of installation.
If you're preparing for a flooring upgrade in your home you can read here for more information about preparing for hardwood floor installation.
Painting
If you are having multiple areas of your home painted, it may be easier to completely remove your personal items from those spaces. By placing your furniture and items in a portable storage container, you eliminate the possibility of anything being damaged.
Exterior renovations
For any exterior projects, including cleaning or refinishing your garage flooring, a portable storage container is a great temporary replacement for your garage storage. This temporary storage can also be helpful if you are building or replacing a shed or outdoor storage space.
Whether you are a hardcore DIY-er or a budding weekend warrior, having the tools and resources you need to get the job done is key to success. Go Mini's portable storage is proud to offer convenient, on-site storage solutions to homeowners, contractors, and restoration companies across the CSRA. Ready to tackle your next project? Contact us today to schedule the delivery of your best-fit storage option.
Posted By
Categories: