RENOVATION RECAP - Summer Updates for Columbia County Schools
Go Mini's partnered with Columbia County Schools to provide on-site storage solutions for various renovation projects at schools across their district this summer.
Go Mini's is no stranger to renovation projects, in both the residential and commercial spaces. We had another opportunity to partner with local school boards to provide simple, on-site storage solutions for their schools as they work during the summer months make updates ahead of their students' return in the fall.
Last summer we partnered with Columbia County Schools, providing 35 containers for furniture and fixtures storage during their HVAC, Mechanical, Ceiling, and Lighting upgrades. We were honored to hear from them in early 2020 as they prepared for summer renovations at several other area schools ahead of the 2020-2021 school year.
One of the key benefits for these schools is the ability to have the storage on their property, giving them the flexibility to load and unload containers on their schedule, as the renovations move through various areas of the school.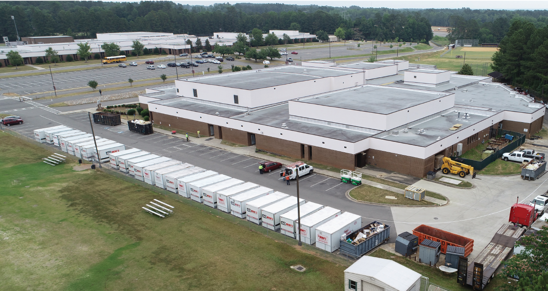 But don't take our word for it, here is what Robin, a facilities and maintenance operations admin for Columbia County Schools, had to say:
"This summer Columbia County School District's Facilities Maintenance & Operations Department ordered Go Mini portable storage containers from Ellefson Transportation Group for several projects across the district.
We renovated Riverside Middle and had to move the entire school out and back in using around 40 containers.
We relocated Columbia County Alternative School from Evans to Grovetown using around 10 containers.
We renovated the flooring at Greenbrier Elementary and needed 3 containers to store new school furniture deliveries.
Rachel and the Go Mini's crew managed each of these projects with no issues and quick turnaround times. Their willingness to meet our short notices and quick demands was phenomenal. The staff even worked after hours some days to satisfy our requests. We were completely satisfied and look forward to partnering with them on future projects."
Planning a Renovation? Go Mini's Can Help!
Augusta Go Mini's offers 3 convenient, on-site storage options to ensure we have a solution for your project storage needs, regardless of the size of your project. Our containers are durable, ventilated and weatherproof with easy-to-load walk-in access. Using Go Mini's is as easy as 1-2-3. You Call. We deliver. You load. And when you're done, we'll pick-up your empty container as soon as you're ready!

If you're planning for your next home renovation, commercial space update, or just need convenient on-site storage for your business or home, contact us today to see which of our containers is the perfect fit for you!
Posted By
Go Mini's of Augusta
Categories: