Localized Portable Storage Solutions from a Nationally Recognized Brand: The Go Mini's Advantage
In the world of moving and storage, having a familiar face can make all the difference. That's where Go Mini's comes in. While we operate on a national scale, our services are delivered with a distinctly local touch. We believe in maintaining clear, consistent communication and providing personalized service to all our customers.
A National Brand with a Local Touch
Since our locations are owned, operated, and managed by storage and moving experts local to your area, you get the advantage of a national network with the benefit of working hands-on with local experts throughout the entire process.
Your Local Go Mini's Team: Familiar Faces, Reliable Service
One of Go Mini's standout features is our commitment to providing a single point of contact throughout your entire experience. Whether you're using Go Mini's for moving, storage, or renovations, this means you'll be working with the same drivers and customer service team from start to finish.
There's no need to worry about confusion or miscommunication regarding your items, their location, or their expected delivery time. Communication is key, and we ensure that you're always in the loop.
But don't just take our word from it. Hear from one of our happy customers:
"Go Mini's of South Denver were amazing. They have the best customer service I have come across in a long time and treat the [container] like it is their own things in there. They were so helpful and positive. The [unit] was so clean and ready to go… They truly made things a thousand times less stressful. Thank you so much for everything."
— Tricia, Go Mini's of Denver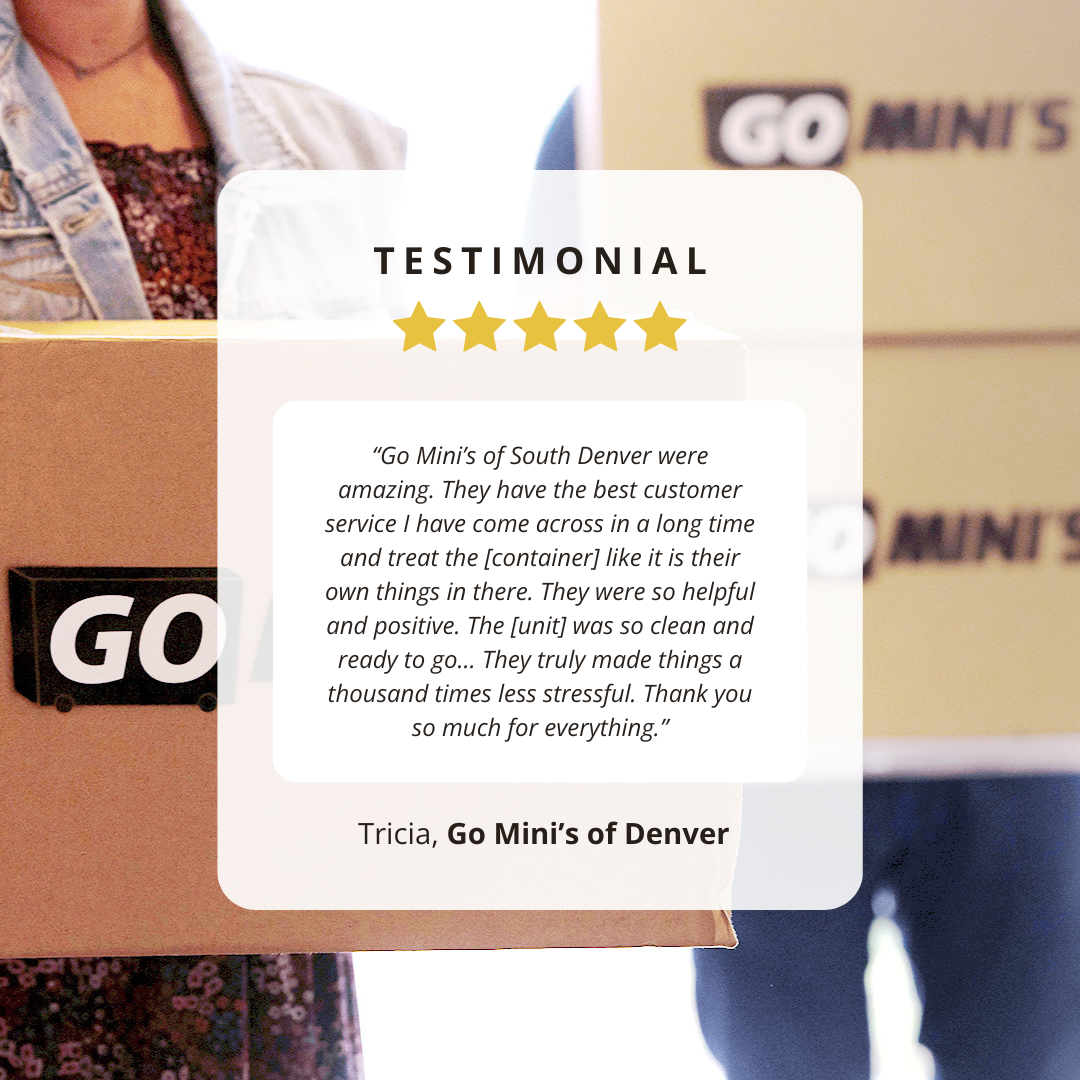 The Power of Local Knowledge
Our franchises are run by local teams who are familiar with their area, including weather conditions, traffic patterns, and other factors that could impact your move, container delivery, or storage. This local expertise allows us to provide a level of service that's tailored to your specific needs and circumstances.
Supporting Local Businesses
When you choose Go Mini's, you're not just getting quality service — you're also supporting local businesses. Our franchises are owned, operated, and managed by people in your community. By choosing us, you're helping to support local economies and contribute to the success of small businesses.
Simplified Communication: No Call Centers, No Hassle
We believe that clear, direct communication is key to a successful moving or storage experience. At Go Mini's, you can call your local team and speak to them personally — no need to phone a call center. You can speak straight to the team that will be managing your storage or relocation needs. This ensures that any questions or concerns you have are addressed quickly and accurately, without the frustration of being passed around from person to person.
Hear how Go Mini's straightforward communication helped Alex's restoration business:
"As a restoration company, we rely on prompt and reliable service and Chicagoland Go Mini's always goes above and beyond expectations. They're our go-to storage container company!"
— Alex, Go Mini's of Chicagoland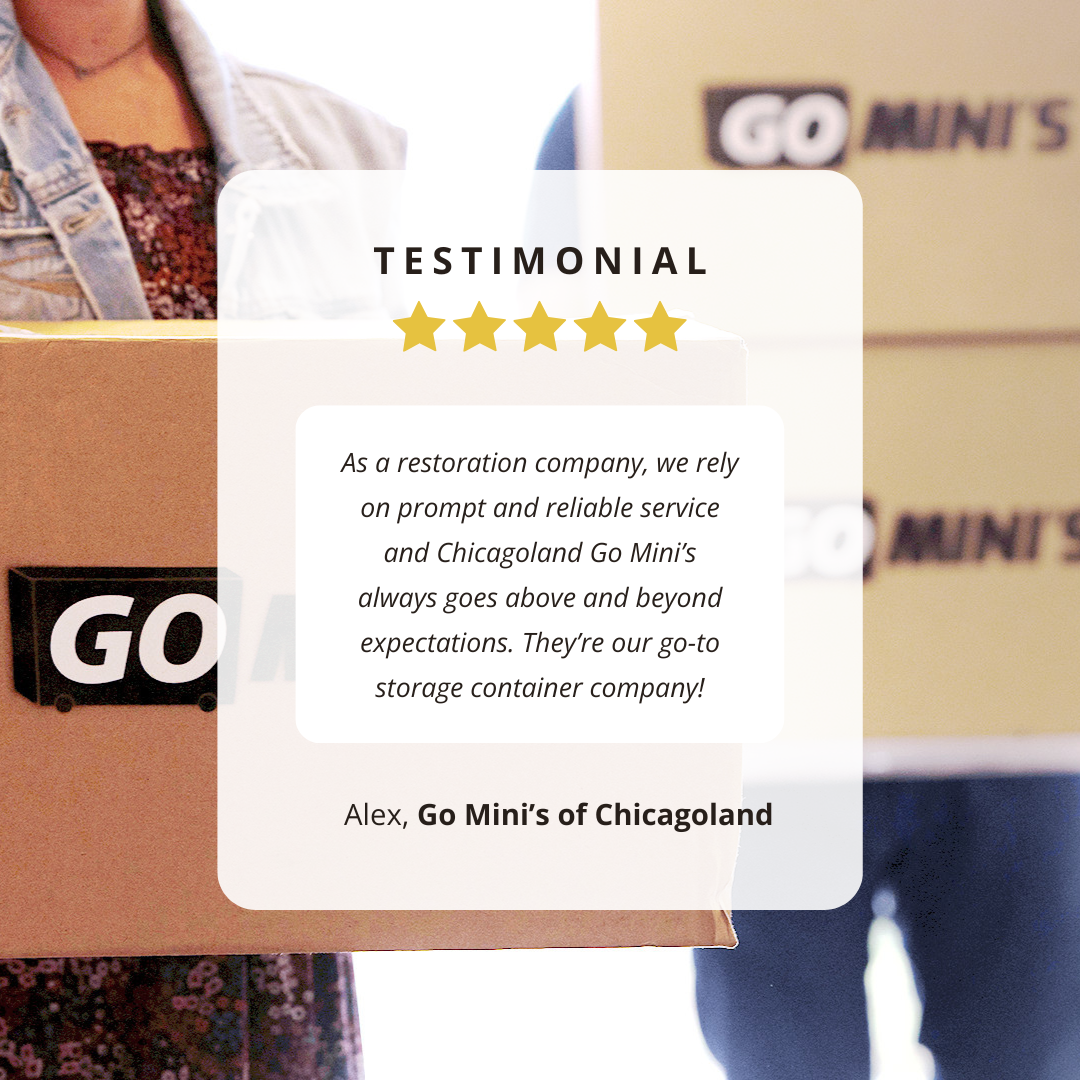 The Go Mini's Advantage
In addition to the benefits that come from working with a local team of moving and storage experts, Go Mini's offers the advantages that come with working with a national network of storage experts.
Reliability of a National Brand: Go Mini's is a national brand you can trust. Our reputation for quality service and customer satisfaction is backed by years of experience in the moving and storage industry. Go Mini's has been in the moving and storage business since 2002 and has served customers from 39 states and growing! We have the network, experience, and processes needed to make your next move a great one.
Tailored Services: Our local teams don't just offer a one-size-fits-all solution. With access to Go Mini's resources, they're able to customize moving and storage services to fit your specific requirements, ensuring you get the best possible service.
Don't take our word for it, here's what one of our happy customers had to say about her experience with Go Mini's of Chicagoland:
"From beginning to end my service was executed with perfection! All my items arrived safely and unmoved from how I packed them… They had great pricing and were able to customize based on my unique needs. I highly recommend this company! You will not regret it!"
— Nat, Go Mini's of Chicagoland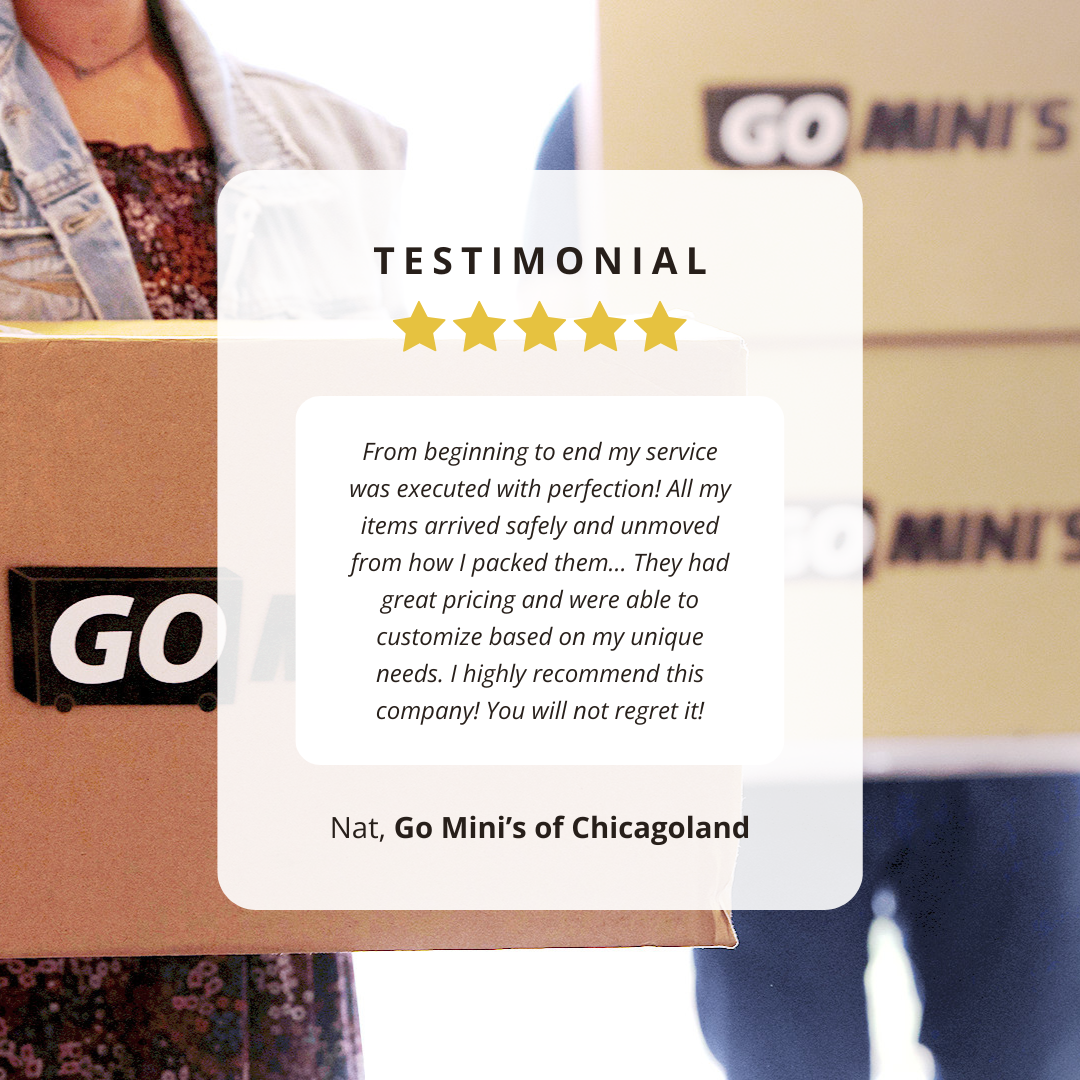 Peace of Mind: With the backing of a national brand and the personal touch of local moving and storage experts, you can enjoy peace of mind knowing you've chosen a service provider who genuinely cares about your moving or storage needs and who has the resources to get the job done right.
At Go Mini's, we go beyond typical customer service. Your local team is committed to serving you with full transparency. We pride ourselves on our transparent and upfront pricing — no hidden fees, just exceptional service. You can even opt in to get text or email alerts about your container's delivery and schedule it right over phone or text. You have visibility throughout the whole process — delivered to you by your local owners and operators.
See how Go Mini's transparent service provided Melissa with a first-class experience:
"My experience was first-class from start to finish. The service provided was EXACTLY what was promised. Alva and Jason both called at different times to let me know estimated time of delivery or pickup... I highly recommend Go Mini's. You won't be disappointed."
— Melissa, Go Mini's of Denver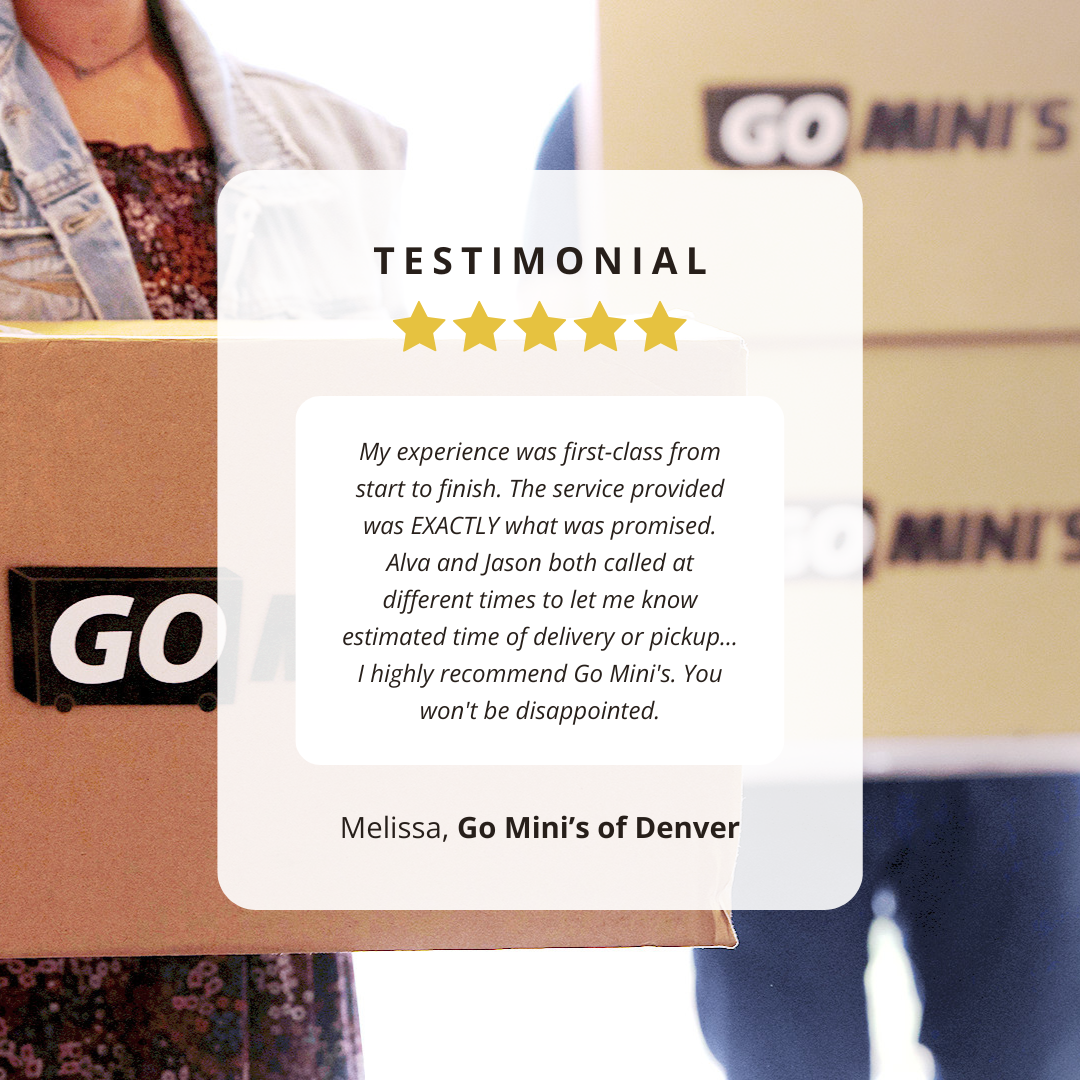 Ready to Experience the Go Mini's Advantage for Yourself?
At Go Mini's, we take pride in blending the reliability of a national brand with the personalized touch of a local business. What sets us apart in the moving and storage industry is our unwavering commitment to clear communication, personalized service, and unmatched local expertise.
Ready to experience the Go Mini's difference? Contact us today to get started!
Posted By
Categories: