Thinking of Downsizing? Ask These Questions First
Many of us have entertained the idea of a smaller home, but deciding to actually downsize your house is a major lifestyle change that can present new challenges. If you're considering the big move, here are a few questions you can ask to determine if downsizing is the right step for you.
DOWNSIZING VS. RIGHTSIZING
Downsizing is great for those looking to move to a home with less space for a lower cost. There are a variety of scenarios when a smaller home might be the best option.. For example, downsizing has been a practical option for those interested in cutting costs.
Rightsizing your home is the process in which you are not necessarily choosing your home for a smaller space but for a better fit for you. This may mean a smaller space but, but maybe it's moving into a ranch style home, or eliminating rooms you never use. You really want to focus on the home that has the right layout for you.
BENEFITS OF RIGHTSIZING YOUR HOME
More disposable income
When moving to a smaller space you are more likely to have disposable income. Lower mortgage payments or maybe no payments at all. This allows that money to go towards other lifestyle activities like vacations, retirement funds, college expenses, or paying down debt.
Better Location
One of the key benefits to rightsizing might be a better location. This could mean closer to the things you like to do, closer to family, or maybe even closer to your favorite travel destination. Sometimes a change in location can mean sacrificing space for proximity.
Less maintenance
Rightsizing can also mean finding a home that requires the level of maintenance you can upkeep. This allows you to spend less time cleaning, making repairs, and keeping your home in tip top shape. You can start spending that time on the things you want to do, instead . Some communities even offer maintenance free living and regular chores like lawncare and exterior maintenance are managed by the HOA.
Less stress
Who doesn't want to have less stress on their shoulders? With less space comes less responsibility. Say goodbye to tidying up spaces that aren't even used or repairing things you can't get to, and say hello to spending more time with friends and family.
A fresh start
Sometimes, when you move it's a great opportunity to start over with a new place, new scenery, and new friends. Starting over can sound scary to some people but look at it as a new adventure. This new chapter in your life will bring a lot of great memories with it.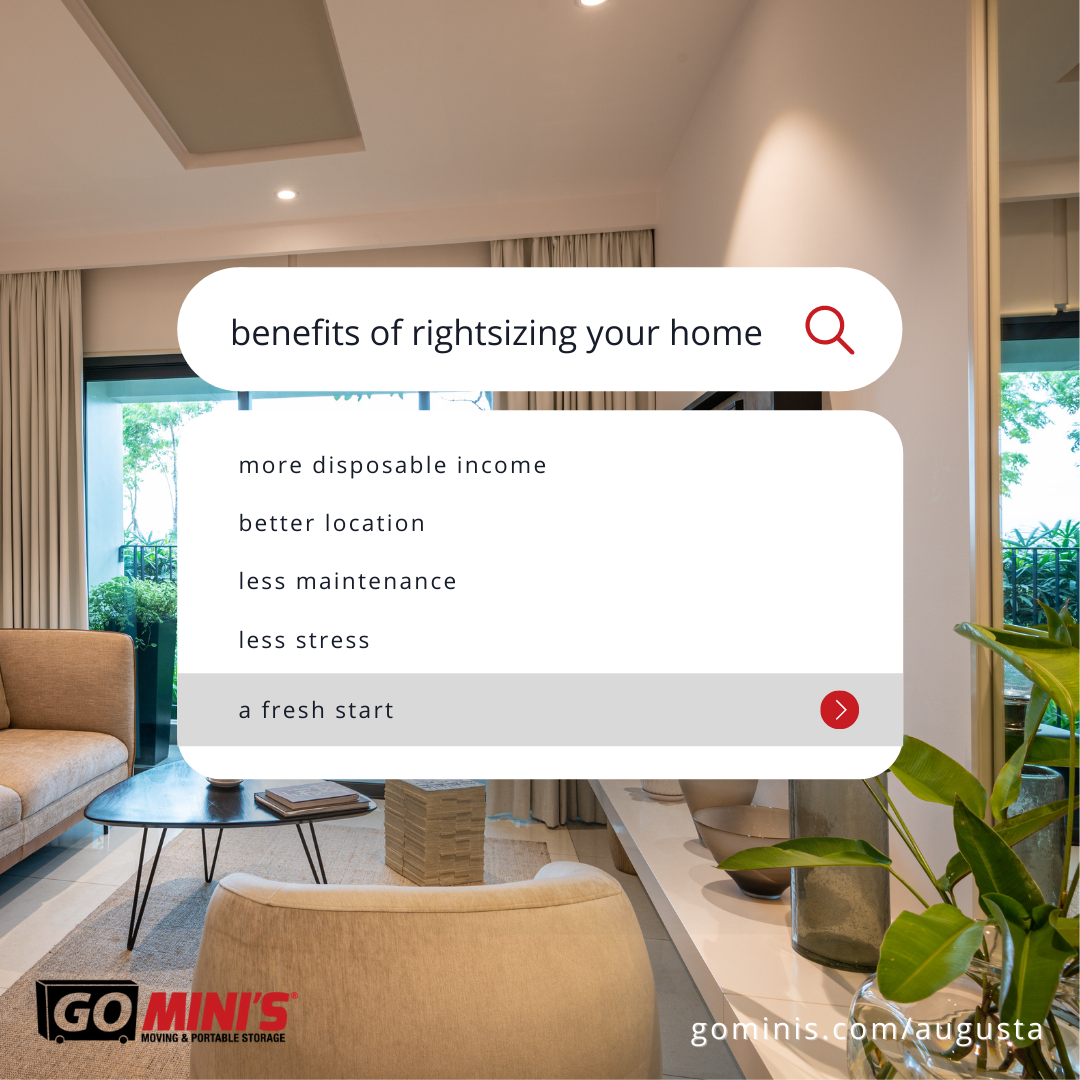 HOW DO YOU KNOW IF IT'S TIME TO DOWNSIZE?
Making this decision involves answering some important questions.
Why are you looking to downsize, and what do you want out of your move?
There are many reasons for downsizing, each correlating with a different set of expectations. Many people make this transition once their children have moved out, looking for a home that requires less upkeep.
Others want to give up the long days of cleaning and yard work for something simpler and accessible throughout old age, like a condo in the city with walkable green spaces.
Verbalizing why you're moving and what you're looking for will help you figure out if and how you should downsize.
Can you afford the process?
While downsizing should save you money in the long run, there are still associated costs upfront. It's important to make sure you're in the right financial position for this move. Before downsizing, consider all of the potential expenses. For example, your home may not sell for as much as you hoped, or your furniture might need replacing if it no longer suits your home.
What does your house mean to you?
For many people, a house is more than a house. It's a lifestyle, an expression of self, a symbol of family, community, or status. While people often feel liberated after downsizing, some may feel they have regressed or may miss the memories and familiarity of their old home and neighborhood. Figuring out what is important to you can help determine how you'll be affected by the move, what you're willing to give up, and if downsizing is a good idea.
HOW CAN YOU PREPARE FOR THE MOVE TO A SMALLER SPACE?
Just because you're not moving yet, doesn't mean you can't start preparing. Any steps you take toward downsized living now will make the transition easier later.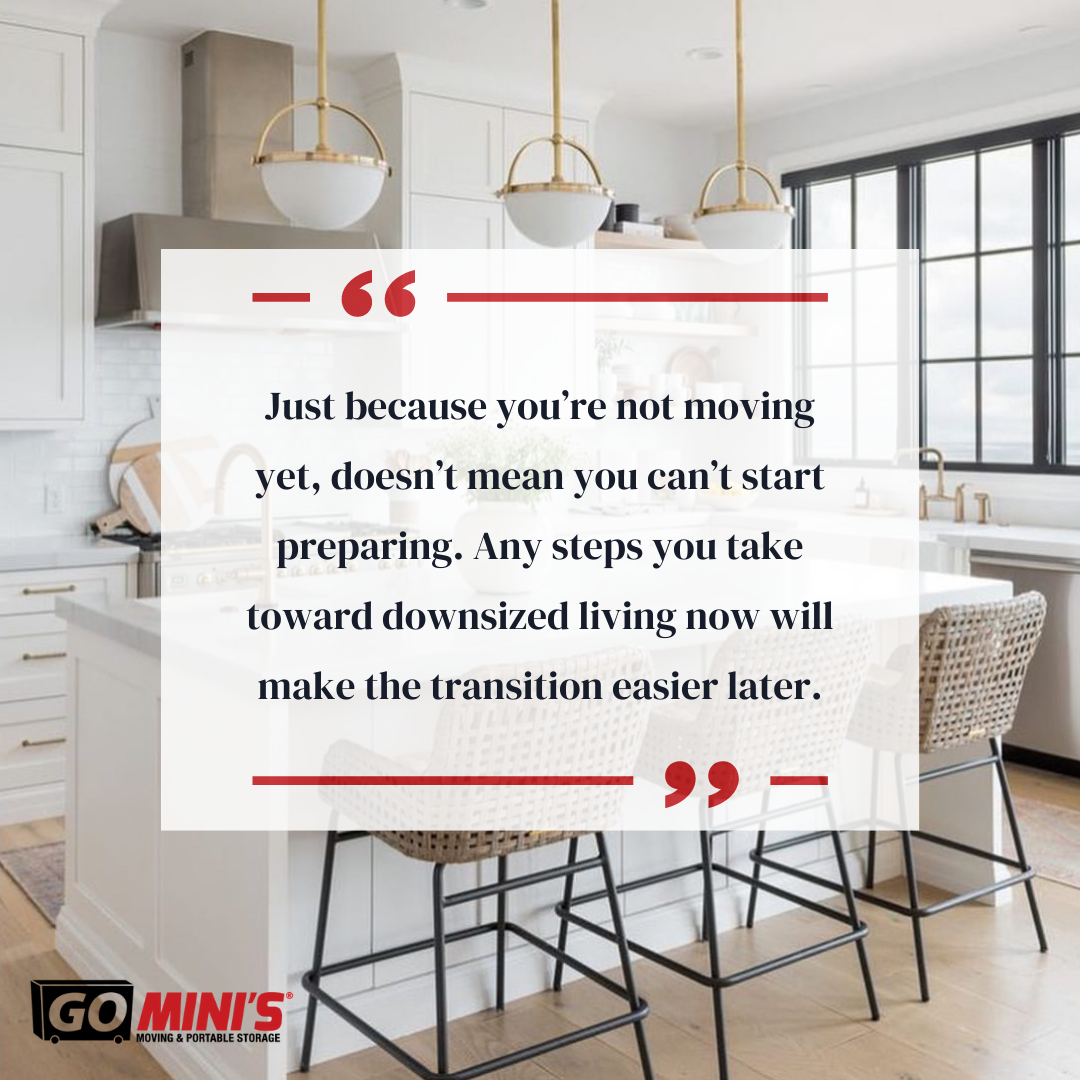 Figure out how small you're willing to go.
There are varying degrees of downsizing and it's important to figure out which is best for you. Do you just want fewer rooms to take care of or are willing to go all-in? Those unsure can experiment with smaller spaces by renting a space before buying.
Get started
No matter what location you choose, you're going to need less stuff. By paring down your possessions in advance, you can take your time finding the best way to lighten your load, rather than having to trash items at the last minute.
Sort everything into piles:
Have your kids clear out their closets and find good homes to adopt beloved items you can't keep. Sell your nicer pieces online or hold a yard sale then donate whatever is left. Let go of duplicates and anything you keep around "just in case."
Plan out your furniture
A downsized home is going to require a new style and a new set-up. Once you have an idea of where you're going, measure your furniture and plan where to put each piece. Likely, there won't be space for your king-size bed or eight-person dining room table, but selling those will give you extra money for buying furniture that better fits your new home.
Research smart storage solutions
Less storage in a smaller home means getting creative in how you hide things away. Tablecloths can make messy boxes disappear, ottomans can open up to store extra blankets, and your favorite serving bowl can be repurposed as decoration. Once you've narrowed it down to the bare minimum, discover crafty storage spaces for your miscellaneous things.
HOW CAN GO MINI'S HELP?
With our safe and secure portable storage containers, Go Mini's can support even the most prepared downsizer. Our containers come in a variety of sizes to fit your needs.
Facilitating a Self-Move
Moving yourself is a great way to save money during this already expensive process, and it's easy with the help of Go Mini's storage containers. With our convenient transfer services, you can load up the rented container and have it easily moved from one house to the next.
Providing Extra Storage
If you're struggling to get rid of a few last items, but your moving deadline is growing close, a Go Mini storage container is a great way to extend that timeline. Rather than having to donate pieces you love but haven't found space for, you can keep them around for a little longer until you find the best solution. Even if you're keeping your items in storage at our Go Mini's facility for an extended period of time, Go Mini's allows you to grab whatever you need within 24 hours of notice.
With some planning, preparation, and help from Go Mini's, downsizing can truly be the liberating path to a relaxed lifestyle in your new home.
Posted By
Go Mini's of Augusta
Categories: