Why You Want to Splurge On Good Moving Supplies
There are plenty of tips out there on the safest way to pack items in your boxes to protect them during transit, however, what you might not realize is the importance that the boxes themselves have on the successful outcome of your relocation.
Breaking Down the Boxes
Did you know that there are different kinds of moving boxes? Boxes for clothes, boxes for dishes, TVs, and even books? Having the right kinds of boxes makes packing easier and also helps to ensure the security of your items.
Wardrobe Boxes
Wardrobe boxes make it easy to transport hanging clothes from one place to another. A wardrobe box is constructed with a hanger bar so that you can transfer shirts, blouses, and suits directly from the closet into the box without folding or wrinkling your clothes.
These boxes come in several heights to additionally accommodate longer items such as dresses and pants. Their structure makes them easy to load and unload from your container and the uniform shape helps to maximize your storage space.
Book Boxes
These heavy-duty boxes are reinforced with thicker walls for heavier applications. These are ideal for packing and protecting electronics, book collections, and appliances. Book boxes are sized appropriately so they are easy to lift once they are packed, which is great for small, dense items.
Dish Pack
Dish pack kits include the components to build compartmentalized boxes. These boxes are ideal for dinner plates, salad plates, saucers, and bowls. Many kits include foam padding to enclose and isolate each piece to ensure safe transit. Dish pack kits are made with thick, sturdy walls to keep things from being crushed and the bottom from falling out.
File Boxes
File Boxes are a great packing solution for home offices. Keep all of your documents organized and safe during your move by packing them separately from the rest of your office items.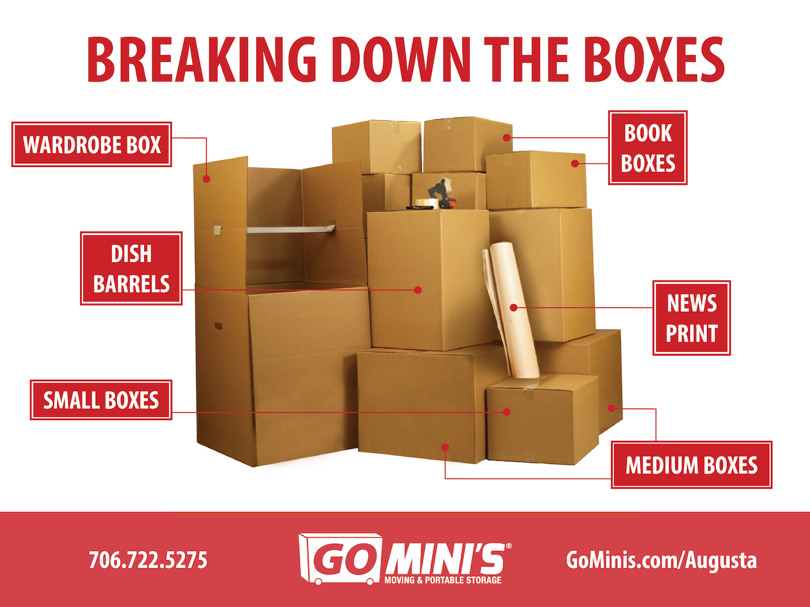 Additional Supplies
In addition to boxes, here is a breakdown of packing supplies you'll definitely want to add to your pre-move shopping list:
Newsprint: Unprinted news wrap can be used to protect fragile items during a move.

Bubble Wrap: Bubble wrap can be used to protect fragile items and to fill gaps in your boxes.

Furniture Pads: Furniture pads are used to cover and protect large furniture and appliances.

Packing Tape: High-quality box tape will ensure your boxes stay closed and items stay taped during transit. Make sure you have plenty of it on hand when packing the house.

Markers: Make sure to label each box to keep track of where your items are stored.

Reusable Totes: An environmentally conscious alternative to traditional cardboard boxes are plastic reusable totes or bins.

Small Plastic Bags: These are great to store and sort small items together such as hardware for shelving.

Mattress Bags: A thick, clear plastic that helps protect mattresses from being punctured or ripped while they are being moved.
Where To Get Moving Supplies
While it is important for most homeowners to trim costs where they can for their moving budget, it is not recommended to cut corners on the packing supplies. Many blogs and articles will recommend the reuse of other people's boxes. While we certainly support recycling efforts, boxes with unknown pests or substances could potentiallywreak havoc on the items you place in those boxes. Additionally, packing supplies left out in the elements can become a nesting ground for bugs, mold, and mildew.
If possible, source your packing supplies from your moving company or purchase them from a local packing supply store. This ensures that the supplies are in good condition and will meet the movers' standards as they move you. If you're looking to save money, we recommend getting slightly used boxes from someone you know who has kept them dry and out of the elements.
Interested in learning more about our container options or adding some additional packing supplies to your existing delivery? Contact us today!
Posted By
Categories: