Home Design and Renovation Trends for 2020
New Year. New trends.
As we enter another year, many people set out to accomplish resolutions, tackle major projects, and make improvements across many areas of their lives. The new year brings that sense of a fresh start and an optimistic outlook for what you can accomplish over the next 365 days.
If one of your major 2020 goals is to make some updates throughout your home, we've rounded up some of the top décor and renovation trends to have on your radar as you work to prioritize your home projects.
Go BOLD or Go Home.  
When it comes to making design updates spaces are trending towards bold. Realtor.com says that "small but bold spaces" will be on the rise in 2020 with spaces like powder rooms, laundry rooms and office nooks showcasing exciting décor elements like patterned wallpaper or unique fixtures and finishes.
Speaking of bold, many brands such as Pantone, Behr and Sherwin Williams announced their colors of the year for 2020, a great way to find some inspiration for bringing trendy elements into your space.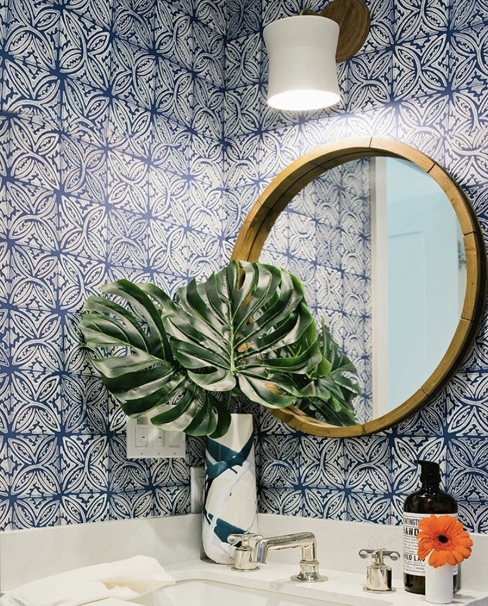 Photo Credits: Design by Kate Lester Interiors, Photo by Lauren Pressey
Home Wellness Trends
With the increased focus on health and wellness, it's no surprise that "home wellness trends" are on the rise. According to the Home Improvement Research Institute, things like water and air purification systems are becoming higher priorities for buyers and are climbing on the list of home updates people are looking to make in their homes.
Surface Updates Take Priority
The Joint Center for Housing Studies at Harvard University published a report outlining home improvement trends across the U.S. This report cited surface updates like flooring, ceiling tiles, and paneling as the largest annual improvement expenditure for homeowners in 2019 with over 5.3 million homeowners investing in surface updates last year.
Wood Accents
Houzz published their predictions on design trends for the coming year which included several nods to using wood textures mixed with light and airy palettes to bring a natural feel into spaces. This is a trend that we saw on the rise in 2019 and experts expect it to continue into the new decade.
DIY is Here to Stay
With the maintained popularity of sites like Houzz and Pinterest, many experts believe that DIY projects and weekend warriors are here to stay. According to the senior director of customer insights at Lowe's, "74% of consumers do research to get as much information as possible before making a purchase," meaning they are relying on their own research and planning to work through these purchasing decisions, versus turning to a professional contractor to facilitate the projects.
Go Mini's is Here to Help
Whether you're a weekend warrior looking to knockout that living room refresh in 48 hours or a homeowner with a major home renovation on the horizon in 2020, Go Mini's of Augusta is here to help. Our on-site storage solutions offer the flexibility in scheduling for whatever your project requires and the extra space you need to store home furnishings, tools and more during your project.
Posted By
Go Mini's of Augusta
Categories: