Seasonal Storage Solutions for Your Business
It's that time of year! With consumers already making their long list of shopping needs for the holidays, retail businesses are working to compile extra inventory for the seasonal rush, often while lacking the necessary storage space. Instead of ordering less stock and losing business, take a look at just a few of the ways Go Mini's short- and long-term storage solutions can help your business prepare for the hectic holiday season.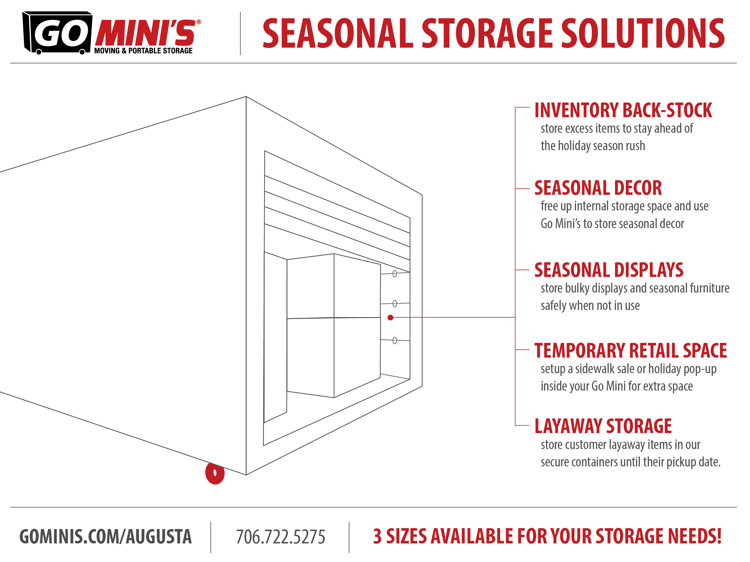 Build up inventory
November and December are known for two things: holiday cheer and a huge shopping season. With both Black Friday and Christmas to worry about, your store will need an extra large inventory to keep all of those customers happy during this peak season. With Go Mini's on-site storage, not only are you benefitting from the much-needed additional space, able to keep the supplementary stock safe and organized, but you have the bonus convenience of everything being right on hand.
Make room for seasonal decorations
Everyone loves an over-the-top holiday display, but with all of those bells and whistles taking up space, you'll need somewhere to store your year-round signs and displays until the new year. The extra space of a Go Mini's storage container provides somewhere to stash day-to-day signage, store regular merchandise while you flip your store for the holidays, or compile the perfect seasonal display well in advance without ruining your stockroom system. However you choose to use them, our short-term one-month rentals are perfect for helping out during the holidays.
Store displays in the off-season
Rather than having to buy new holiday decorations every year, your store can save money by holding on to what you have. Unfortunately, inflatable jack-o-lanterns and Santa Clauses are destined to bulk up your in-house storage. To keep these seasonal displays organized and out of the way through the off-season, invest in additional storage space with the help of Go Mini's long-term storage solutions. Whether you choose to store your items on-site in an easy-to-access storage container or relocate your packed container to our off-site facility, all of your holiday decorations will be safely stored and available to you when you need them.
Draw in a crowd
Storage containers can also function as a unique way to attract customers passing by when used for an outdoor showroom or sidewalk sale. Shoppers will be easily drawn inside after passing a festively decorated storage container showing off some of the exciting merchandise your store has to offer. After hours, the storage container can be securely locked to ensure no tampering, vandalizing, or theft occurs. For businesses interested in the allure of a festive pop-up store, a Go Mini's storage container is the solution, as it can be conveniently dropped off and picked up before and after the holiday season.
Have room for layaway
Offering layaway services to your customers is a great help during the holiday season. The question is, where are you going to store all of that already sold inventory waiting to be fully paid off? Because the items purchased using layaway are often large pieces of merchandise likely to take up a lot of space, a Go Mini's storage container is a great place for this additional stockpile. With our convenient and flexible placement options, the container can be parked right outside of your store, keeping those layaway pieces secure, organized, and easy to access.
What makes Go Mini's storage containers the ideal retail solution?
Not only can Go Mini's storage containers fulfill any of your business's additional storage needs this holiday season, our storage containers are built perfectly for providing retail solutions any time of year with benefits like:
12', 16' and 20' container options

Flexible and convenient on-site placement

8 foot tall ceilings, making it easy to stack boxes and store displays

Low to the ground doorways, perfect for protecting inventory from low levels of standing water, while making it easy to move boxes in and out

Interior tie downs for securing items to the inside of the container if need be

Secure latches with your own padlock to keep everything safe

On-going rental options for hassle-free short term storage. Your rental agreement is renewed every 30 days, no phone call needed, until you request your final pick-up.

Long-term storage solutions, ideal for keeping holiday merchandise or displays year-round.
With all the additional chaos of the holiday season, Go Mini's of Augusta can offer some much-needed peace of mind, providing somewhere to safely and conveniently store the extra inventory. The retail rush is right around the corner! Contact Go Mini's today to talk with a consultant about how we can best benefit your business.
Posted By
Go Mini's of Augusta
Categories: