How Much Will my "Mini" Hold?
When you're looking for storage or you are preparing to move, it's important to know how much space you will need to hold your items. Our website has a quick storage calculator that can help you determine what size container might be best for you, based on factors like number of rooms or large furniture pieces that need to go into the container. While the logistics of using the storage calculator are nice, we know that some people are more visual, so we thought we'd put the space options into perspective for you with some real life examples of comparable spaces!
Container Specs
Let's start with the dimensions and features of our containers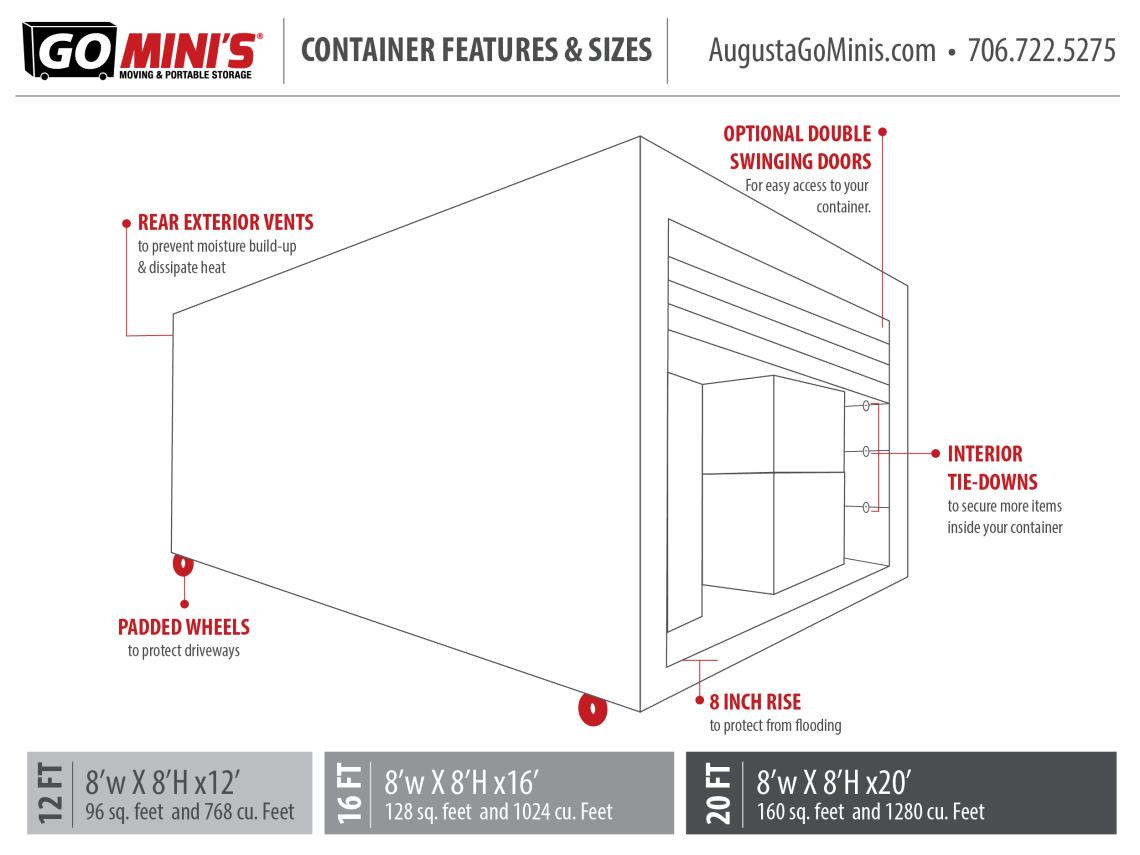 Our containers come in 3 sizes: 12', 16' and 20'
8'w X 8'H x12' – 96 sq. feet and 768 cu. Feet
8'w X 8'H x16' – 128 sq. feet and 1024 cu. Feet
8'w X 8'H x20' – 160 sq feet and 1280 cu. Feet
In addition to all this storage space they also include:
Padded wheels to protect your driveway
8" floor height to protect from flooding
Multiple interior tie-down points
Smooth and finished interior floors and walls
Optional easy-access double swinging doors
Vented to help dissipate heat and prevent moisture from collecting
FUN FACTS & SIZE COMPARISONS:
According to DormStormer, most college dorm rooms are less than 130 sq.ft. which means that our two larger containers have just as much, if not more, space than the average college dorm, and think about how much stuff college age kids manage to cram in there! For example, this rendering of a dorm room at Washington State University is almost the exact size of our 16 ft. container and there are two people living in it!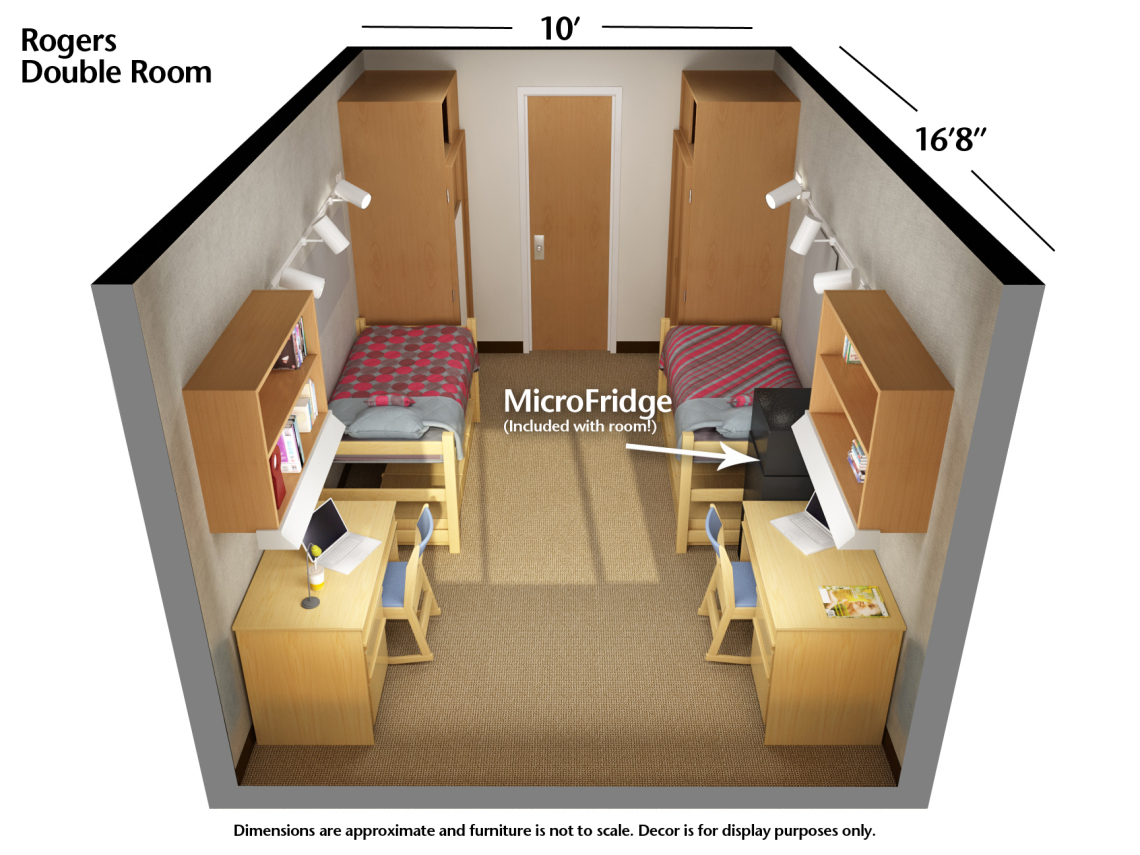 If you've been following the tiny house trend, you likely know that with a little extra planning you can do a lot to maximize a small space. Don't believe us? Check out these tiny houses that come in at roughly 100 sq.ft. of living space, making them just slightly larger than our smallest container, which comes in at 96 sq.ft.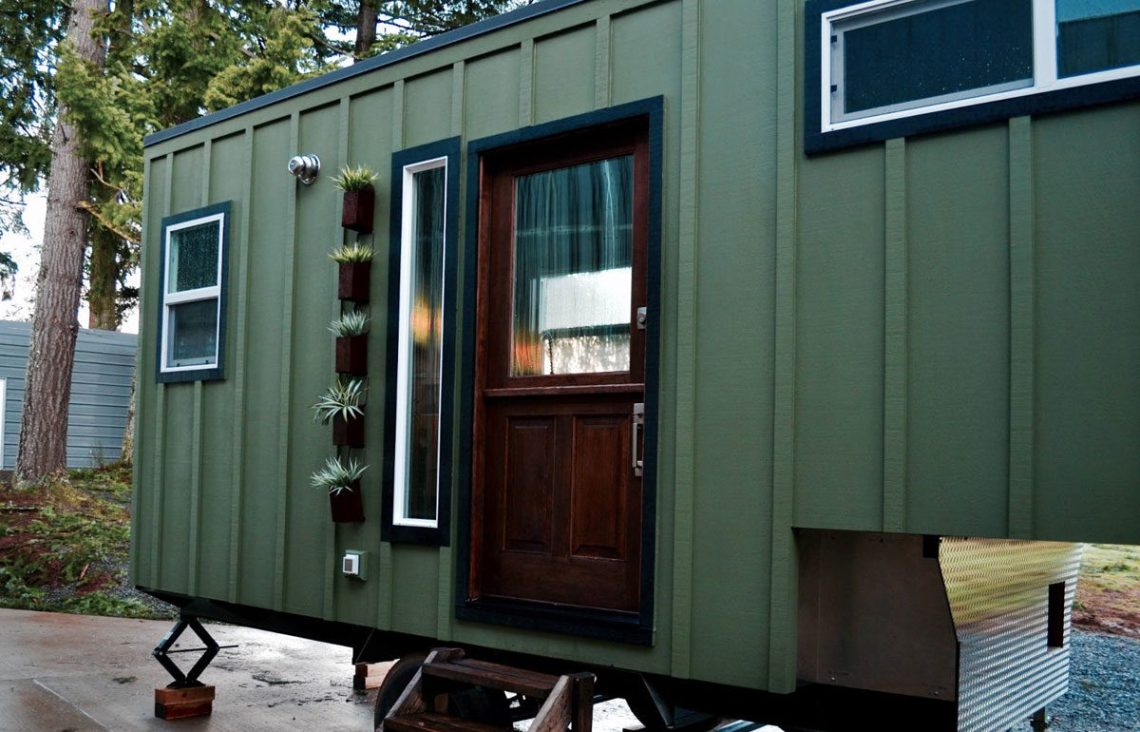 This tiny home, "The Aerodynamic" was featured on TinyLiving and built by TinyHeirloom who packed some serious style and functionality into this tiny living space.
For something closer to the size of our larger containers, here is a look at a 150 sq.ft. Tiny House, designed by Timbercraft.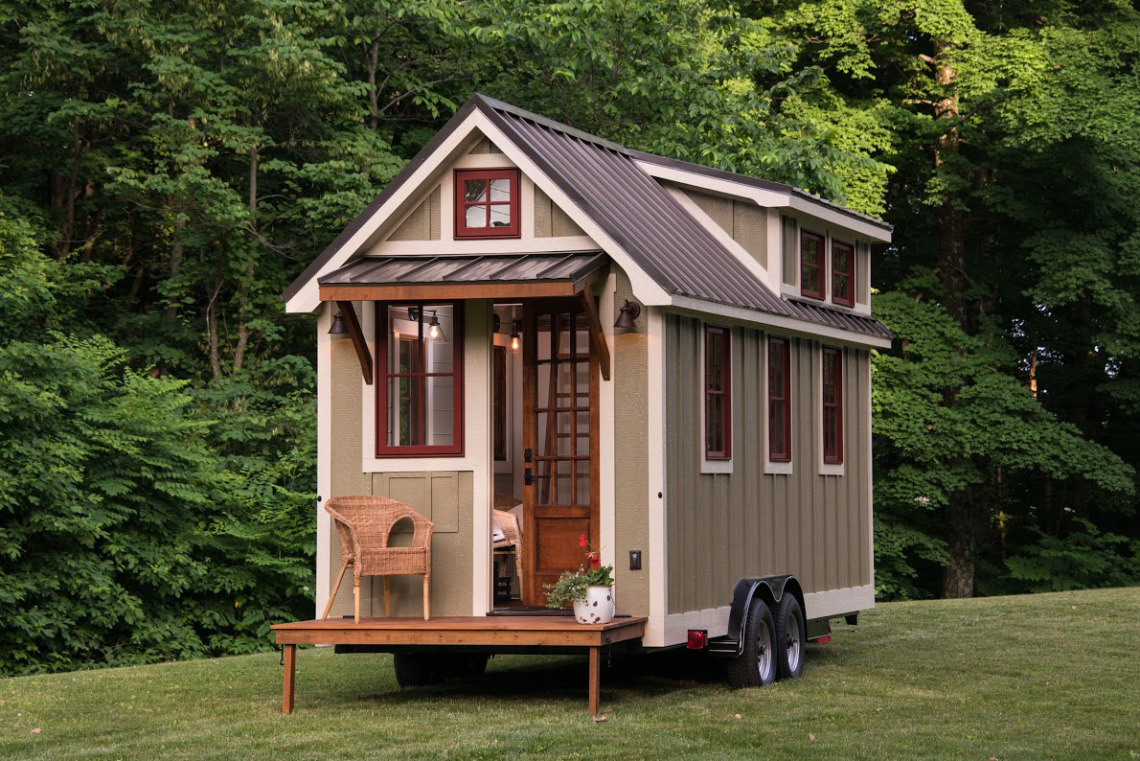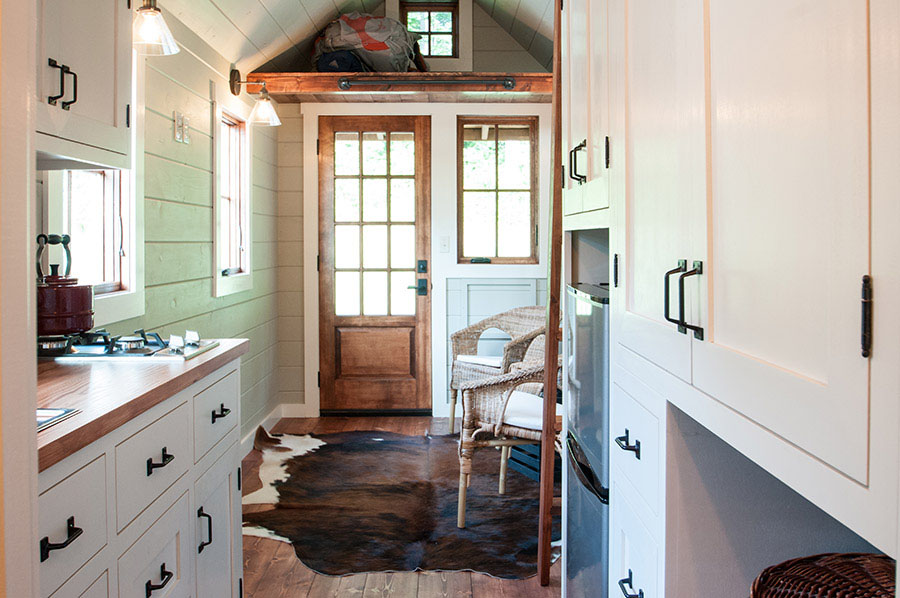 They managed to include a pretty amazing kitchen space and tons of functional storage in this tiny area, so you should definitely be able to maximize the space of our largest containers for all your storage and relocation needs!
It should also come as no surprise that many major city dwellers find themselves pressed for space. There's actually an entire collection of properties across New York City that are referred to as micro apartments, ranging anywhere from 400 sq.ft. to a compact 78 sq.ft. You can check out some of these tiny dwellings here.
MAXIMIZING THE SPACE IN YOUR MINI:
As with any space, making the most of your Go-Mini container is all about planning ahead and maximizing the available storage space. Here are 4 Pro-tips from our packing pros at our sister company, ADSI Moving Systems, to help you make the most of the space inside your container
Pack things in boxes:
If you want to maximize your space, packing things in boxes will help you standardize the shape of the items you need to pack making them easier to stack and organize than loose items of various shapes and sizes
Build Layers:
When you load your container, start in the back placing the largest and heaviest items on the bottom, this includes things like dressers and other bulky furniture items, next stack lighter boxes and uniformly shaped items on top. Finally, fill in with items that are not packed or are not a standard size.
Packing is Like Tetris:
Try to make the most of your space by leaving very few gaps and holes as you are loading your container. In addition to allowing you to fit more inside your Go-Mini, having tightly packed items will help stay in place and not shift during transit.
Use your tiedown points:
Our containers have tons of tie-down points so you can secure things to the walls of the container. This helps keep them from shifting but also allows you to pull things tightly up against the walls and eliminate empty space.
Ready to maximize your storage space? Contact us today and let's find you the perfect fit for your storage needs!
Posted By
Go Mini's of Augusta
Categories: