Newtown Portable Storage Units
Secure Portable Storage Containers
Are you in need of temporary onsite storage in Newtown or nearby? Maybe you're staging your home in order to get it on the market but don't know where to store the items cluttering up the area you're staging. Perhaps you're in between homes as you search for the perfect place to live. Or maybe you need somewhere to store your furniture temporarily while you paint or remodel your home or business. Go Mini's of Northern Fairfield and Litchfield Counties offers convenient, cost-effective portable storage containers for rent, delivering storage solutions for virtually any need.
Go Mini's of Northern Fairfield and Litchfield Counties combines and replaces the need to rent a truck and storage unit in Newtown or the surrounding areas. There are no deadlines for moving or storing your items. And, best of all, we come to you. Simply give us a call and let us know where and when you need a portable storage container. We'll deliver the container and come back to pick everything up when you're ready.
When you need a secure portable storage container in Newtown, reach out to us at (203) 601-7626 or request a quote online!
Go Mini's Units Are Designed for You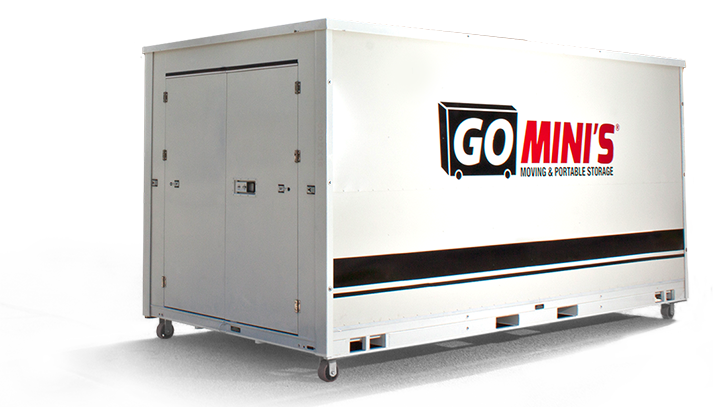 Our Newtown portable storage containers are raised eight inches from the ground. This height eliminates the need for a ramp and makes loading and unloading easier on your back while also avoiding potential flooding or water damage. Proper ventilation measures are also in place for all containers, keeping mold and mildew at bay.
Equipped with padded wheels to protect your driveway and steel sides to protect your valuable possessions, our containers are built with convenience and safety in mind.
We have three available sizes and convenient features to accommodate you:
Length – Our containers come in three lengths: 12-, 16-, and 20-feet
Height – All portable storage containers are 8 feet tall
Security – Tie-down railings are mounted in-unit to keep items secure
Venting – Proper ventilation keeps your items free of potentially damaging moisture
Choose the Right Size for You
Finding a one-size-fits-all storage unit in Newtown might be impossible, but with multiple sizes to choose from, we can help you confirm the best secure portable storage container for your situation.
Our Recommendations
12-Foot Container – Typically used for apartments or smaller homes with two or three rooms
16-Foot Container – Designed for medium homes with three or four rooms
20-Foot Container – Built to hold possessions for homes with five to seven rooms
Still not sure? Give us a call at (203) 601-7626 to determine the unit size that will best fit your needs.
Experience the Best in Rentable Storage
With so many options available for storage, it can be challenging to pick through and find quality solutions. Our locally owned and operated storage company in Newtown has proven again and again to be the smart choice for area residents and businesses.
Why should Go Mini's of Northern Fairfield and Litchfield Counties be your first choice?
Options – Free up space in your home or office with a storage unit. You choose the size needed, how long you rent for, and where your container is stored.
Security – Keep your valuable possessions close. Store your rentable container right in your driveway or at one of our secure facilities.
Transparency – Stop paying by the hour or worrying about overage fees for keeping your storage container too long. With Go Mini's of Northern Fairfield and Litchfield Counties, quickly receive a free quote with no hassle, knowing this time around, you won't get hit with surprise costs.
Experience – With 15 years of providing service, Go Mini's has become one of the fastest-growing portable storage and moving companies in North America with more than 200 locations in the United States, Canada, and Mexico.
For temporary portable storage in Newtown catered to your needs, give us a call at (203) 601-7626 or request a quote online!