Top 5 Home Décor Trends for 2023
Are you looking for home decorating trends to help get your home ready for the new year? 2023 is here, and many people are already sharing what styles and looks we will be seeing the most in the coming year. If you're considering making some changes to your home's décor, here are a few trends to keep in mind.
The return of wallpaper - think big, bold patterns in bright colors
Wallpaper is making a major comeback in the home décor world, and it is all about thinking big, bold, and bright. Homeowners are turning to wallpaper to bring texture, color, and pattern into a room all at once. From modern florals to natural textures, there are endless possibilities when it comes to wallpaper design. Thanks to advances in printing technology, these wide-ranging designs can now be digitally printed onto high-quality paper for improved durability and longevity in any space. Whether you're looking for something subtle or a statement piece guaranteed to turn heads, investing in wallpaper is an affordable way to transform an area of your home into something special.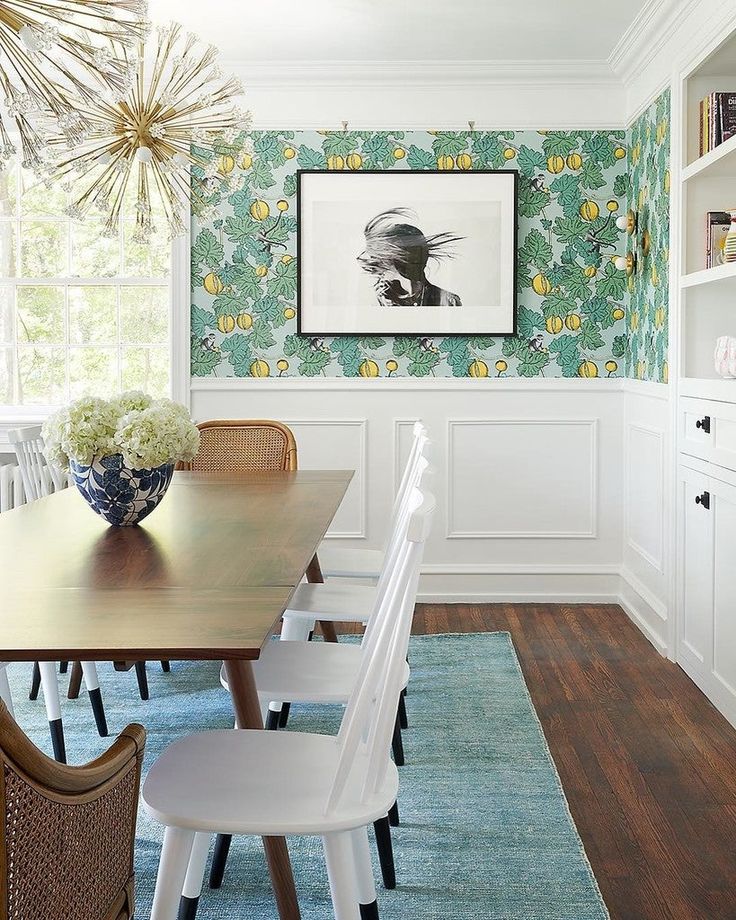 Image source: Article via Pinterest
More natural materials like wood and stone for a rustic feel
As the world becomes increasingly digitized, more and more people are looking to natural materials to help them connect with their homes in a more meaningful way. This is reflected in the 2023 design trend of implementing more natural materials like wood and stone into home decor. These materials add a rustic feel that can be warm and inviting, helping homeowners to feel grounded and connected in an increasingly chaotic world. Whether you're looking to completely renovate your home or just give one room a facelift, using natural materials can be a great way to achieve a cozy, timeless look.
Geometric shapes and patterns everywhere
In 2023, geometric shapes and patterns will be all the rage in home décor. Thanks to advances in printing technology, it has never been easier or more affordable to add geometric designs to your home. From wallpaper to flooring to furniture, there are countless ways to incorporate these patterns into your space. And unlike some other design trends, geometric shapes and patterns never go out of style. They are versatile and timeless, making them perfect for any room in your house. So if you're looking for a way to update your home without breaking the bank, consider using geometric shapes and patterns as your main source of inspiration.
Black is the new white - expect to see a lot of dark colors next year
Embrace the darkness! Dark home décor is an upcoming trend you can expect to see a lot of next year. After seasons of home enthusiasts and fashion aficionados following traditional trends, the focus is shifting towards darker colors like black, navy blue and charcoal gray. These colors offer style plus sophistication that can help transform any home into an oasis of tranquility; a welcome respite after a challenging 2020. Dark home décor items like furniture, curtains, and appliances such as refrigerators are increasingly becoming popular due to their versatility, elegance and versatility. Get ready to say goodbye to bright and airy home décor - black is truly the new white!
Velvet is making a comeback - look for it on furniture and accessories
Velvet is becoming an increasingly popular choice among interior decorators and design enthusiasts due to its luxurious feel, stunning colors, and durability. A great way to quickly spruce up a room and add a refreshing element of style is to introduce velvet in unexpected places. It can be used for both furniture pieces such as sofas and chairs, but also for accent pieces such as cushions and curtains. For those looking for a timeless yet sophisticated look, velvet is the perfect choice. With its resurgence in fashion, it has never been easier to find velvet materials at various price points with different styles to cater to individual preferences.
Go Mini's Makes home projects easy!
Thinking of taking on a home improvement project to implement some of these interior design trends? Go Mini's can help with portable on-site storage options to make the process easier and hassle-free. Our mini storage units provide a secure, convenient, and affordable solution for those looking to tackle any size home project. Whether you need extra space to store furniture during renovations or simply want to declutter your home, Go Mini's can help at every stage of the process.
Posted By
Go Mini's of Augusta
Categories: