Holiday Refrigerated Storage for Restaurants and Catering Companies
Is your business ready for this holiday season? We know that these next few months are about to get hectic and bring in a lot of traffic! Don't let the amount of orders get out of hand with limited refrigeration storage.
If you are worried about needing more refrigeration storage for your business, we've got you covered! Through our partnership with CoolIt! Storage, we offer 12' and 20' portable refrigerated storage solutions.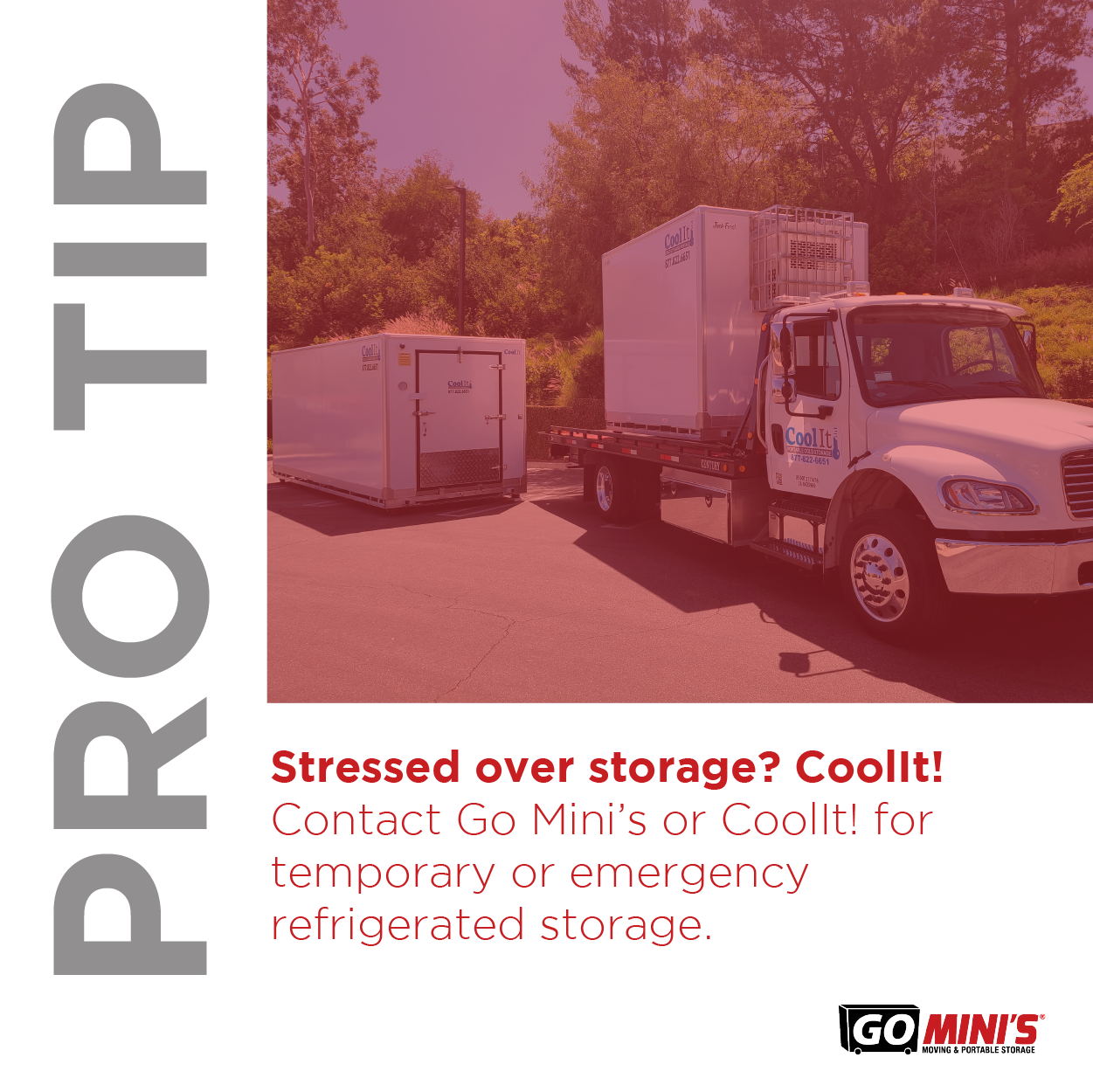 The Benefits of Renting a Commercial Refrigerator
The holiday season is a time to bring friends and family together, via meals, parties, and social gatherings, and that usually means catering companies, restaurants, bakeries, and even florists, see an up-tick in orders.
In a pinch due to refrigeration outages? Coolit! offers short-term, on-site refrigerated storage in a pinch. Reach out to our Augusta-based customer service team for additional details or to schedule an emergency delivery today.
CoolIt! Refrigerated Storage offers flexible leasing terms and quick and easy reservations. Whether you need it for one day or one month, once your CoolIt! is delivered, it's yours to use until you call us for final pick up. CoolIt! Of Augusta provides a simple and stress-free process for your refrigerated storage needs.
Holiday Services
If you are in the following industries, CoolIt! is a great solution for backup or overflow storage heading into the Holiday season.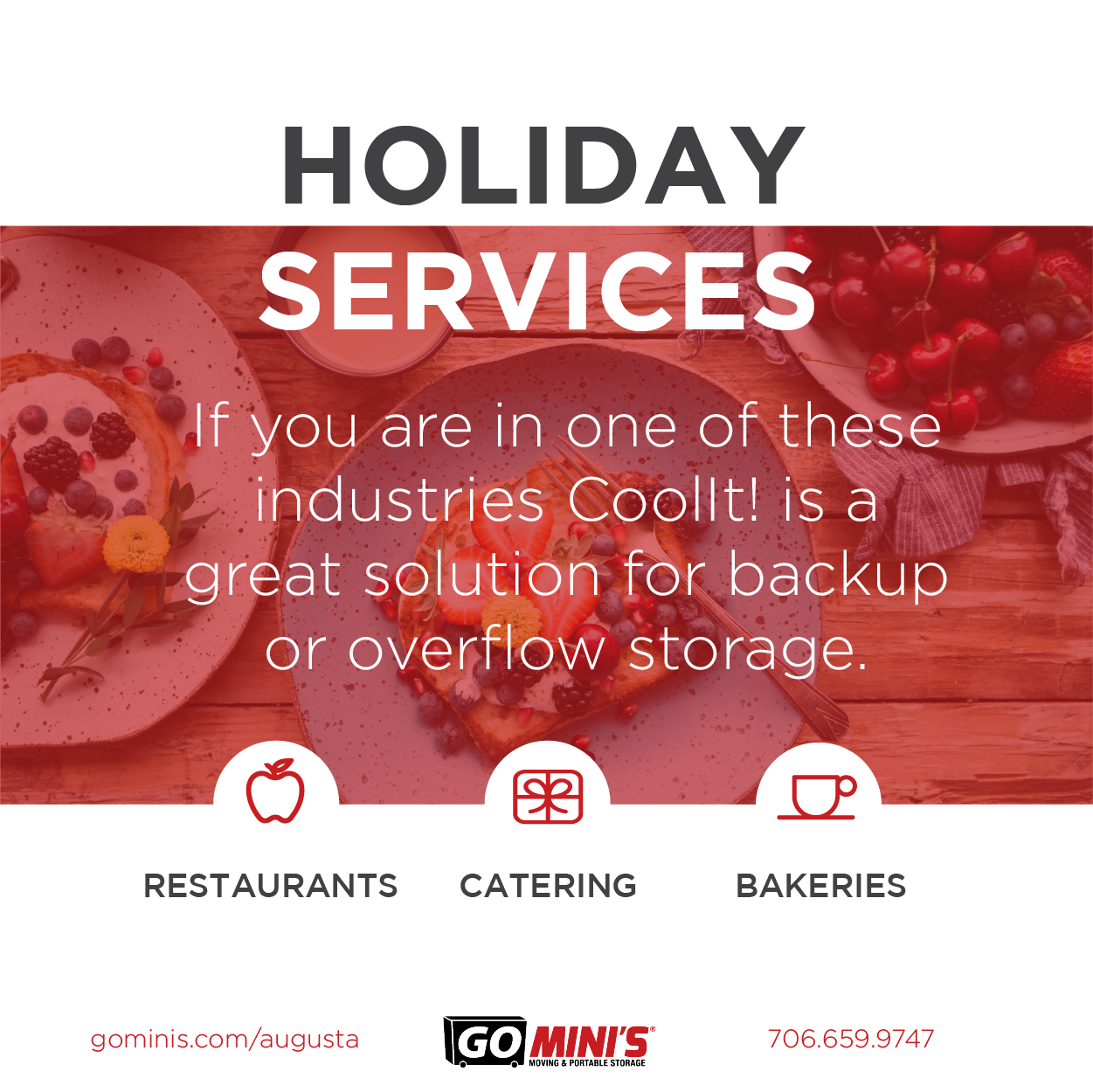 Restaurants
If you are in the restaurant industry, a refrigerator is a vital part of your business. Although you may already have your own refrigerated storage, you might need more. During the holiday season bookings for larger groups, take-out and catering orders are increased. This will leave you in need of extra storage.
Has your refrigerator ever needed repairs or gone out? Unfortunately, those worst-case scenarios end up happening more times than you would think. Lucky for you, you have a local option for temporary backup storage that is delivered fast. This way, you won't have to close or cancel important events due to an unforeseen emergency.
Catering
Holiday catering creates a spike in order volume. People typically assume catering just applies to parties but that's not always the case. Augusta locals are catering everything from family dinners to large-scale holiday events and everything in between. Have you ever seen a business gifted turkeys? We have.
With all of the potential business opportunities you want to make sure that you have ample refrigerated storage while preparing your catering orders. If you're worried you might run out of space, call CoolIt! today.
Bakeries
All this talk about savory foods but what about the sweets? Bakery goods are just as important as the turkey on a holiday like Thanksgiving, and don't get us started on Christmas treats. Pastries take skill and time to create. While awaiting pickup or sale, you want to ensure that these creations will stay fresh. Our 12' and 20' refrigerated units also come with add-on racking systems that allow you ample, easy-to-organize overflow storage for your refrigerated goods.
Is a Portable Cold Storage Container Right for My Business?
From weekend rentals and seasonal storage solutions to emergency refrigerator options, our CoolIt! Storage containers provide restaurateurs, caterers, and bakers plenty of options to keep up with increased holiday demand.
Interested in learning more? We are happy to walk you through container specs, leasing options, and delivery availability, just give us a call. Coolit! containers are delivered via our friendly Go Mini's of Augusta team and flexible options allow for your walk-in freezer or portable cold storage to be delivered to you and picked up when you're ready.
Give us a call at (877) 960-1377 for additional details about our walk in coolers or to schedule your delivery today!
Posted By
Go Mini's of Augusta
Categories: