7 Tips for Moving with Kids
Moving can be hard on everyone, and prepping for a move can bring long, exhausting days. Moving with kids can make moving even more of a challenge. It is important to include your children in the moving process, and we know just how to do it! Parents magazine has even more detailed tips for kids of all ages.
If you're wondering how to get through moving with kids, here are some great tips on how to keep all your family members involved in the big day.
Creating a Treasure box for your kid's items. Set aside a few boxes as you pack and let the kids decorate them and fill them with a few of their favorite items, and carry them with you to your new home. They will know where the box is during the whole move and will have it immediately when you arrive at your new house so they will have some of their trusty items to help them settle in right away.

Avoid packing their favorite items ahead of time. As tempting as it may be to start by packing all their stuffed animals and art projects, make sure to leave enough things to make them feel comforted. Especially if you have younger children, be sure to keep clear their favorite areas or any comfort areas like a chair they like to hide in or behind clear of boxes.

Pack a moving survival kit. Include must-have items like toilet paper and paper towels, as well as snacks, a few games, books, and other kid's items, and a change of clothes and toiletries for everyone just in case you don't get all your unpacking done on schedule. Make sure this box is packed last into your Go Mini's portable storage container so it can be the first box you unpack.

Set up your kid's rooms first. Most articles suggest setting up commonly used spaces first, but creating a place for your kids is a great place to start. This will allow them a quiet place to get away from the chaos and clutter of the move and they will have space to play without adding to the clutter and mess as you finish unpacking and organizing your new home

Give them fun projects at the new house: Kids probably can't help with all the heavy lifting, but that doesn't mean you can't come up with fun ways to keep them involved as you're settling into your new home.

Help them settle into the new neighborhood. Meeting new people and making new friends will be hard for everyone in your family, so make sure you help your kids get acclimated and meet new people too, especially if you are moving further away from friends and family. Attending community events or visiting the neighborhood playground or pool are great ways to meet other families in your area.

Help them transition to a new school. If your child is starting at a new school after moving, make sure to schedule a time to visit the school and meet their new teachers so they feel more comfortable on the first day!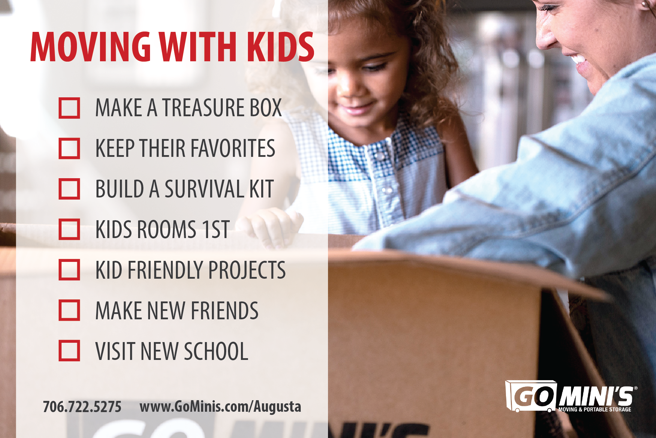 Planning a DIY local move? Go Mini's mobile storage units allow for a stress-free move. Moving is a lot of work, whether you're moving down the street or across town. We want to make your local move as easy and hassle-free as possible for you.
Call us today or request an instant quote online!
Posted By
Categories: