Renovation Recap: How Customers Use Go Mini's Storage Containers
Summer tends to be one of the busiest times of year for moving and storage companies. Many families take advantage of the "summer lull" if they are planning a relocation to avoid changing schools and disrupting various activities, mid-year.
Another group that capitalizes on that summer lull? Schools themselves. We were honored to partner with Lakeside Middle School and Columbia County Board of Education to provide on-site storage for their recent renovation project.
Once the school year wrapped up in May, we delivered 35 containers to Lakeside Middle School so they could begin loading them with furniture and other items as they prepared to renovate the school. Over the course of summer break, the school underwent an HVAC, Mechanical, Ceiling and Lighting renovation, which required all of the furniture to be stored temporarily throughout the project.
Project coordinators at the school noted that one of the biggest benefits to using Go Mini's was the option to have the items stored on-site at the school. This allowed them to start moving items back into the spaces as they were completed, instead of holding all the furniture in off-site storage until the project was completed. In the past, Augusta Go Mini's has partnered with other local schools to offer convenient storage solutions during their construction or renovation projects, including Harlem High School and the newly constructed Harlem Middle School.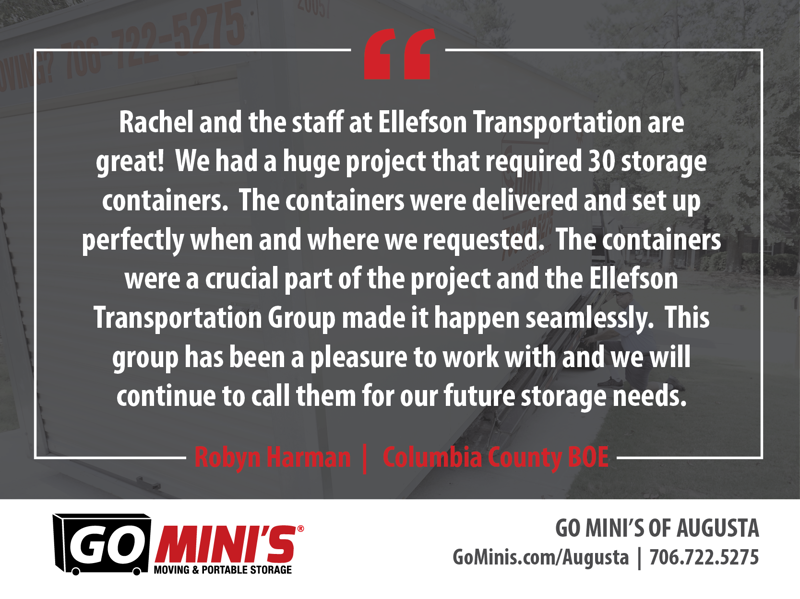 Why Go Mini's?
Augusta Go Mini's offers 3 convenient, on-site storage options to ensure we have a solution for your project storage needs, regardless of the size of your project. Our containers are durable, ventilated, and weatherproof with easy-to-load walk-in access. Using Go Mini's is as easy as 1-2-3. You Call. We deliver. You load. And when you're done, we'll pick-up your empty container as soon as you're ready!
If you're planning for your next home renovation, commercial space update, or just need convenient on-site storage for your business or home, contact us today to see which of our containers is the perfect fit for you!
Posted By
Ellefson Transportation Group
Categories: