6 Projects to complete BEFORE Moving into your Home
I think we can all agree that starting with a blank canvas makes a project much easier, and some home projects are no different. While you can always backtrack and complete projects after moving into your new home, some items are much easier to tackle without having the added stress of removing decor, covering furniture and relocating items to get the job done. If possible, plan to move in a few weeks after your closing date to give yourself time to cross a few of these major items off your to-do list. Trust us, you will be glad you did!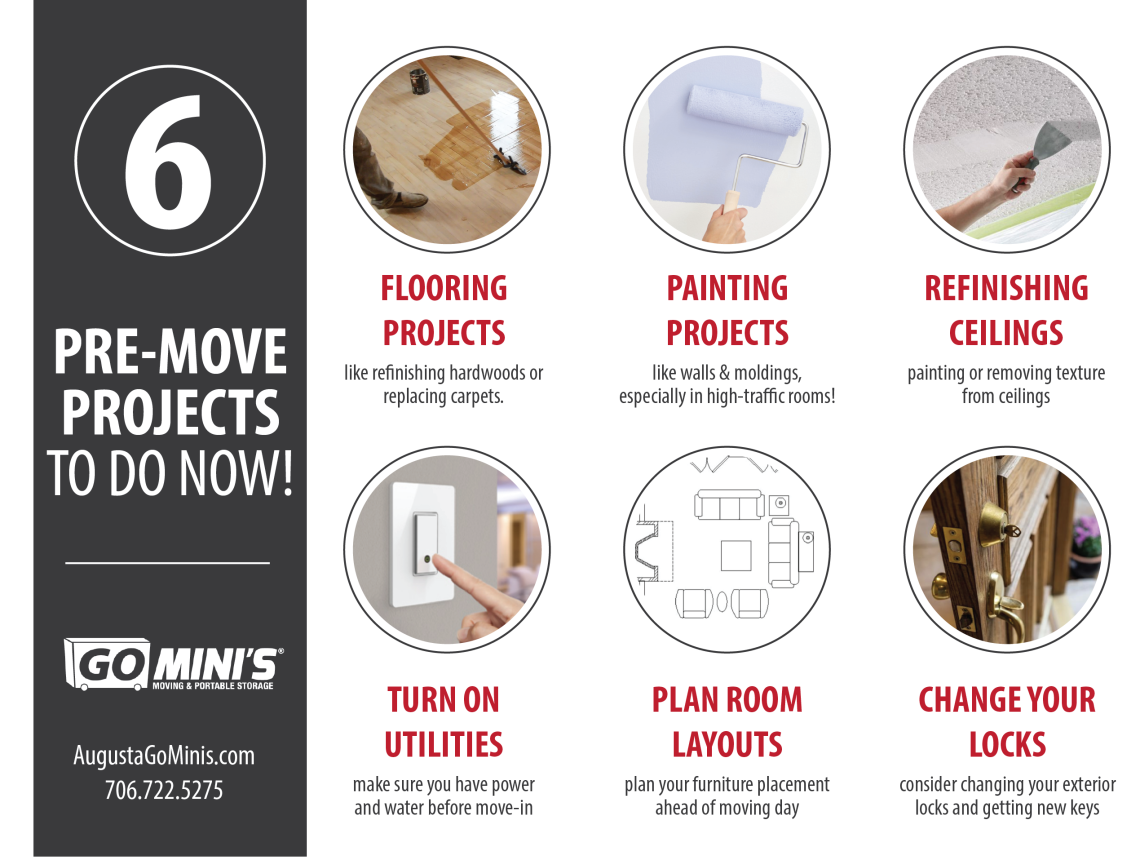 Flooring Projects
For many buyers, replacing the old and outdated flooring is one of the first items they want to complete when moving. Whether it's replacing that funky carpet or refinishing the floors, the task will be much easier to complete without having to play musical rooms with your furniture and boxes while you work to get the job done. If you're planning to hire this work out, your contractors will very much appreciate the lack of hazards and clutter to work around.
Painting Projects
Painting seems easy enough to complete any time, but we all know the struggle of piling all the furniture into the center of the room and covering it with tarps and blankets to protect it while you do a quick repainting job. It's disruptive to your space if you're living there and sometimes the fumes can be a bit much. Avoid the hassle by painting some of the major spaces in your home upfront. If you can't paint all the rooms at once, prioritize the spaces that are most commonly used by everyone in your household like the living room and kitchen.
Refinish the Ceilings
If you're purchasing a home with textured ceilings that you can't wait to refinish, the time to complete that messy project is definitely before bringing everything into your home. And, for those with smooth ceilings, if you're considering repainting those to freshen up the space, take advantage of less obstacles and cross it off your to-do list pre-furniture move in.
Turn On Utilities
Nothing is worse than moving into a house with no power or water, and in many places you have to have those items up and running before moving in, so make sure that you remember to get those services scheduled and running prior to your moving date to avoid bumps in the road.
Plan your Room Layouts
This isn't necessarily a project, but it will be a HUGE help on moving day. Knowing your space and how your furniture will fit in the rooms resolves multiple issues. First, it helps you identify pieces that might not work in your new space for size or scale reasons. Second, it helps you determine where everything goes so you can place furniture correctly during move in and you're not shuffling it around multiple times when you could be spending time unpacking and settling in.
Change your Locks
You never know who had keys to your home before you took ownership so experts always recommend taking the time to swap out the locks and get new keys before settling into your new home!
As you prepare for your upcoming move, consider giving Go-Mini's of Augusta a call. Our portable containers provide an affordable and convenient moving solution to help you relocate at your own pace! Contact us today for more information or to schedule your container delivery.
Posted By
Go Mini's of Augusta
Categories: