Portable Storage Units in San Fernando
Convenient Storage Containers for Moving or Remodeling
Are you moving, renovating your home, remodeling the business, or completing another project? A little storage can go a long way!
Rent a portable storage container for your move or residential or commercial project. Go Mini's of San Fernando Valley makes sure you get the most value for your time and money. Check out our reviews to see why our customers love our services.
Skip the moving trucks and traditional self-storage. Instead, opt-in for easy and convenient portable storage.
Get started with our storage units in San Fernando Valley by calling (818) 201-2799. Or get your free quote online!
Why Should I Pick a Storage Container over a Moving Truck?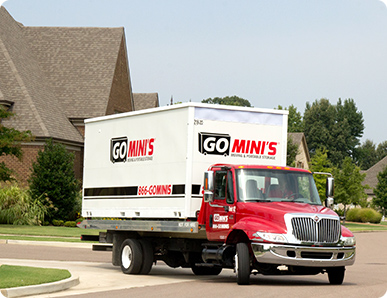 Go Mini's of San Fernando Valley's portable storage containers are the optimal storage solution. They are perfect for moving or providing some extra storage. From packing and loading to transporting, we make the process easy from beginning to end.
Some benefits of our San Fernando storage containers include:
Variety of Sizes – When renting a moving truck, you're often stuck with the size they have. This makes it hard to ensure everything is secure. At Go Mini's, we have three sizes to fit any business or home you need packed. We offer 12 feet, 16 feet, and 20 feet long containers, all with more space than our competitors!
Very Convenient – Don't worry about going to pick up your moving truck. Our team will bring the storage container straight to your door. Pick-up is a breeze too! Give us a call, and we'll take the unit where it needs to go, whether that is a new home or secure storage facility.
On Your Schedule – Portable storage containers let you pack on your schedule! You don't have to coordinate with the movers' timeframe. Pack at your own pace and enjoy the short walk from your front door to the storage container with ease.
Which Portable Moving Container is Right For Me?
At Go Mini's of San Fernando Valley, we offer containers in 3 lengths to suit your needs. Each of our containers is 8 feet high.
12-foot Container
Our 12' container is ideal if you're moving or storing a couple of rooms' worth of items.
16-foot Container
Do you have 3-4 rooms' worth of belongings to move or store? If so, our 16' container is for you.
20-foot Container
This is our largest container and we're one of the few that offer one this large. This is your container of choice if you have five to six rooms' worth of items to move.
STILL aren't sure which one you need? Check out our helpful storage calculator! Or just give us a call at (818) 201-2799 and we'll be happy to help.
One Container, Complete Convenience
Our storage and moving company in San Fernando makes any upcoming project easier f you!
Whether you know what size container you need or not, reach out to our team. We'll ask some questions to understand your needs. Then we'll recommend the best storage container for you.
Portable Moving and Storage Containers | FAQs
Are your containers waterproof?
Yes, our containers are waterproof. It doesn't rain too often these days in San Fernando. But if it rains on your moving day, your belongings will stay dry in our containers.
Do you charge per hour?
No, we do not charge per hour. Instead, we charge monthly for your convenience.
And all of our pricing is discussed with you upfront. With us, you'll never be surprised with hidden fees, mileage or fuel costs, or insurance prices.
Ready to get started? Call (818) 201-2799 to request your storage quote for our containers in San Fernando today!