Portable Moving Containers in Cincinnati
Moving Containers for Rent - Free, Instant Quotes
Are you planning a move? Here at Go Mini's of Cincinnati, we offer world-class customer service and bigger containers to offer you more storage and, more importantly, more savings.
Our flexible solutions make it easy to save time and money – without cutting corners. Every moving container is durable and designed to protect your belongings during your move. Best of all—when it comes time to transport, no truck rental fees are required because we deliver right to your door.
Moving locally within the Cincinnati area? Call us at (513) 972-4778 for safe, secure, and convenient moving containers. We offer free, instant quotes.
Why Choose Our Cincinnati Portable Moving Containers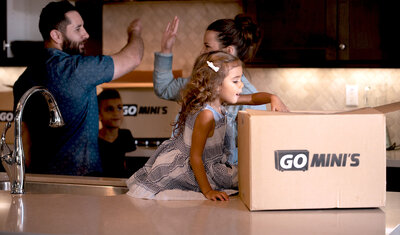 We care about you from the very beginning to the very end. Moving can be a stressful time but it doesn't have to be - especially with Go Mini's of Cincinnati.
We're here to offer convenient, portable moving containers to help make your move and transition that much easier.
Why choose Go Mini's of Cincinnati? Well - we:
Offer Bigger Storage, Bigger Savings. Our largest container is 20-feet long. Most of our competitors' largest offering is a 16-foot-long container. We're the only national portable moving container franchise that offers a container this large which means bigger storage and, most importantly, bigger savings for you.
Offer Flexible Moving & Storage Solutions. Our business model allows us to cater to your exact needs. Need us to store your belongings before moving? We can do that. Not sure how long you'll need the moving container? No problem! This is where our flexibility really helps.
Simplify the Moving Process. With us, you don't need to worry about rental trucks and everything that process entails. With us, the process is simple. We deliver the container, we pick it up, and deliver it.
Offer Up-Front Pricing. All pricing is discussed with you before we begin. We're transparent with you about everything so you know exactly what to expect. We won't surprise you with any hidden fees.
Have any questions or want a free, instant quote? Give our courteous team a call at (513) 972-4778 today. Or you can request your quote online.
Convenient Moving Containers & World-Call Customer Service
Our convenient moving containers are one thing. But it's another to offer convenient moving solutions and customer service. This is what helps set us apart. From start to finish, you goal is to go above and beyond for your needs.
We aren't a "corporate giant" so to speak. We're locally owned and operated right here in Cincinnati and that helps us deliver an amazing customer experience. Whether you're calling in for a quote, calling in with a question, and even from the moving container delivery,
Being locally owned and operated allows us to deliver a personalized experience. When you become a customer, you'll be known on your first and last name basis, not a number. Consider us your local "mom and pop" moving container company. The person you want to talk to is the person on the phone.