Pflugerville Portable Storage Containers
Mobile Storage Solutions in Travis County
There a countless reasons why you may need some extra storage space. You may be in the middle of a move. You may be renovating your home. Maybe you are trying to free up space in the garage for the winter months.
Whatever the case may be, our moving and storage containers in Pflugerville are a convenient solution at an affordable price. Are you concerned about scheduling?Go Mini's of Austin, TX allows you to use your container as long as you need it with no deadlines!
Get a free quote on mobile storage in Pflugerville by calling (512) 675-5517 today!
The Pflugerville Moving Company Alternative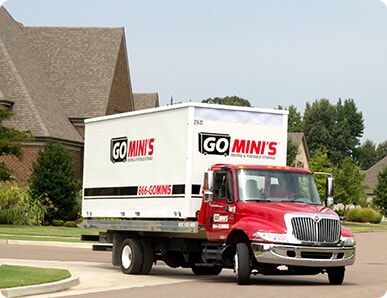 Everyone has their own story of working with a moving company. For some people, the moving truck didn't arrive on time. For others, they ended up paying large unexpected fees.
Some people will tell you about how fragile items were poorly packed and damaged during their move. The experience of frustration is unfortunately all too common when it comes to renting a moving truck or hiring a moving team.
One of the main reasons mobile storage containers in Pflugerville have become so popular is that they offer freedom from the normal hassles of a moving company.
Here are some more reasons why people prefer mobile storage:
Affordability & Pricing: For many people, a moving container is the most cost effective option. On top of this, Go Mini's provides straightforward pricing so that you are never caught off guard by strange fees when payment is due.
3 Sizes to Choose From: With moving and storage, we believe that one-size does not fit all. This is why we offer three different container sizes for you to choose from.
Functional Design: While shipping containers are designed for industrial purposes and mass production, Go Mini's containers are designed for home and business needs. They are easier to maneuver and position on home or business properties. They come with padded wheels to protect concrete and asphalt. They are vented to minimize humidity and moisture; and, hey are built from galvanized steel to keep your possessions safe from the elements.
Scheduling Convenience: Basically, you are in complete control of when you want the container dropped off and picked up. You just need to give us a call. You never have to worry about deadlines.
Go Mini's Is the Go-To Choice for Moving & Storage in Pflugerville
Not sure which size container would be the best fit for your move or home project? Check out our helpful and interactive sizing calculator. We offer 12-foot, 16-foot, and 20-foot options.
We can also help you make the best choice when you call us to schedule a drop-off. Find out why people love using on-site mobile storage by working with our team at Go Mini's of Austin, TX.
Frequently Asked Questions
Do you offer free quotes?
How do I know which size container I need?
We offer three different-sized moving containers:
Our 12' container is ideal for 2 rooms' worth of belongings
Our 16' container is great for 3-4 rooms' worth of belongings
Our 20' container is ideal for 5-6 rooms' worth of belongings
Need to visually see? Check out our helpful storage calculator!
Will you pick the container up?
Yes. As soon as you've loaded it, just give us a call and we'll pick it up for you.
Call (512) 675-5517 to learn more!