Staging and Preparing to List Your Home
When you're getting ready to list your home, the last thing you want is for it to sit on the market for months on end. By staging and preparing your home for sale, you can increase its chances of being sold quickly and for a higher price.
What is Staging?
So, what is staging? Staging is the process of preparing a home for sale by making it look its best. This means decluttering, deep cleaning, and adding or removing furniture and decor to make the space more appealing to buyers.
While it may seem like extra work, staging is worth it because it can help you sell your home faster and for more money. In fact, homes that are staged typically sell 88% faster and for 20% more than non-staged homes, according to the National Association of Realtors.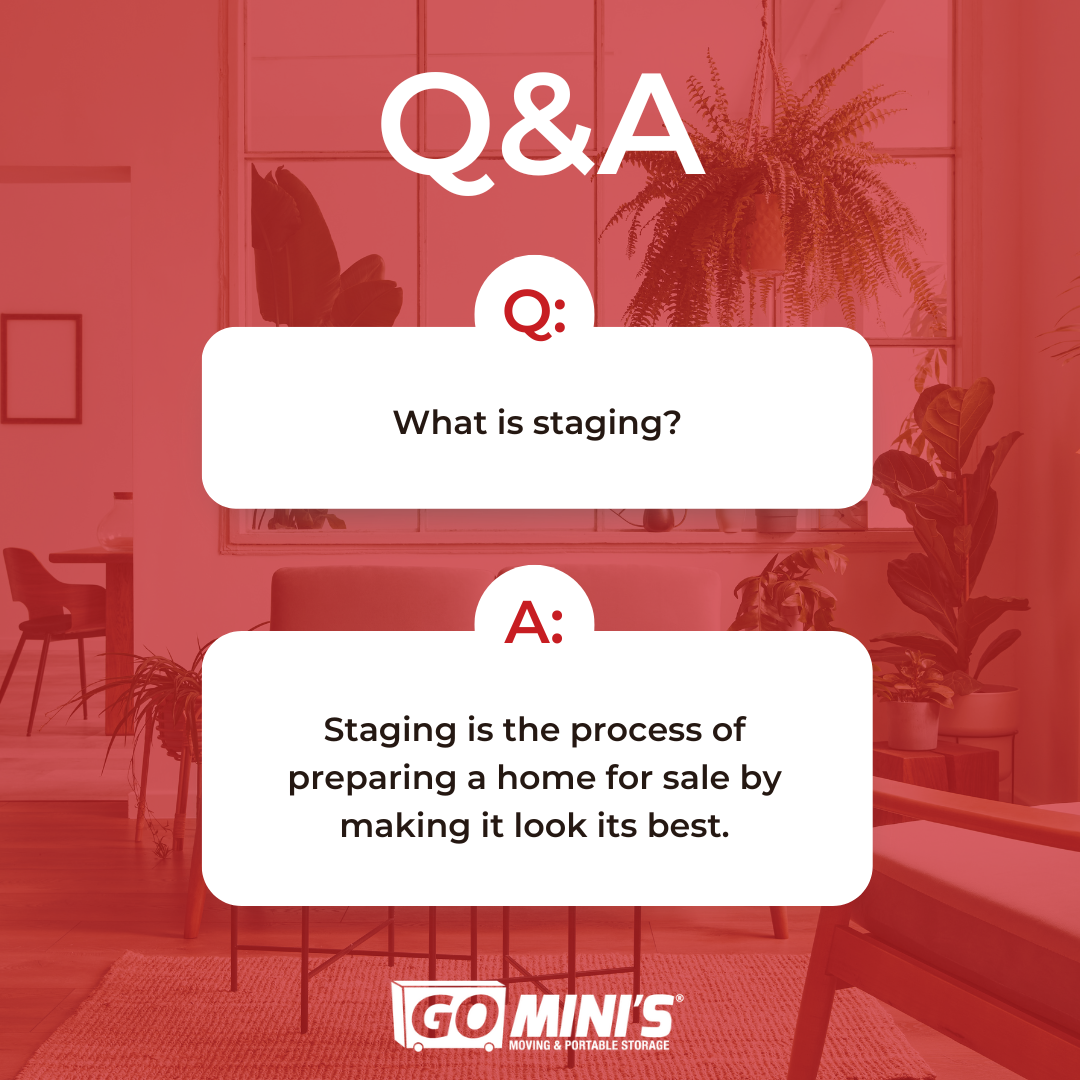 Why is Staging Important?
There are a few reasons why staging is so important.
First, buyers today are more discerning than ever before. They're looking for a move-in ready home that they don't have to put any work into. By staging your home, you're making it easier for buyers to see themselves living there.
Second, most buyers start their home search online. That means the first impression they get of your home is through photos. If your photos are cluttered, dark, or unappealing, buyers may move on to the next listing without giving yours a second thought.
Third, homes that are staged tend to sell faster than those that aren't. This is because staging makes your home more appealing to buyers, which leads to more showings and, ultimately, a higher chance of receiving a competitive offer.
Fourth, staging can help you get a higher price for your home. This is because staged homes tend to look larger, brighter, and more inviting than those that aren't staged. Buyers are willing to pay more for a home that they know is move-in ready.
How to Effectively Stage Your Home
Now that you know why staging is so important, let's take a look at how to do it effectively. Here are five tips from designers and home stagers:
- Start with a blank slate: The first step in staging your home is to declutter and remove all personal items, such as family photos and knick-knacks. This will help buyers see the home as their own and not be distracted by your personal belongings.
- Make sure each room has a purpose: Every room in your home should have a specific purpose that is clear to buyers. For example, the living room should be for relaxing and entertaining, while the home office should be a space for working.
- Stick to a neutral palette: When it comes to staging your home, less is more. Stick to a neutral color palette throughout the house so that buyers can easily envision their own belongings in the space.
- Add some greenery: Plants add life to any space, so be sure to include them in your staging. Opt for low-maintenance plants that won't require much care while your home is on the market.
- Let in the light: Bright, airy homes are more appealing to buyers, so make sure each room is well-lit. Open the curtains and turn on all the lights before buyers come for a showing.
The Most Important Rooms or Areas to Stage
While every room in your home should be staged, some are more valuable than others. Here are the most important rooms or areas to stage:
- The living room: This is one of the most important rooms in your home because it's where buyers will spend the majority of their time during a showing. Be sure to declutter, use a neutral color palette, and add some greenery to make it inviting.
- The kitchen: The kitchen is another key room in your home. Make sure it's sparkling clean and that all appliances are in working order.
- The master bedroom: The master bedroom should be a haven for buyers. Create a relaxing space with a neutral color palette and add some luxurious touches, such as plush bedding and soft lighting.
- The bathrooms: Bathrooms are often make-or-break rooms for buyers. Be sure to declutter, use a neutral color palette, and add some greenery to make them more appealing.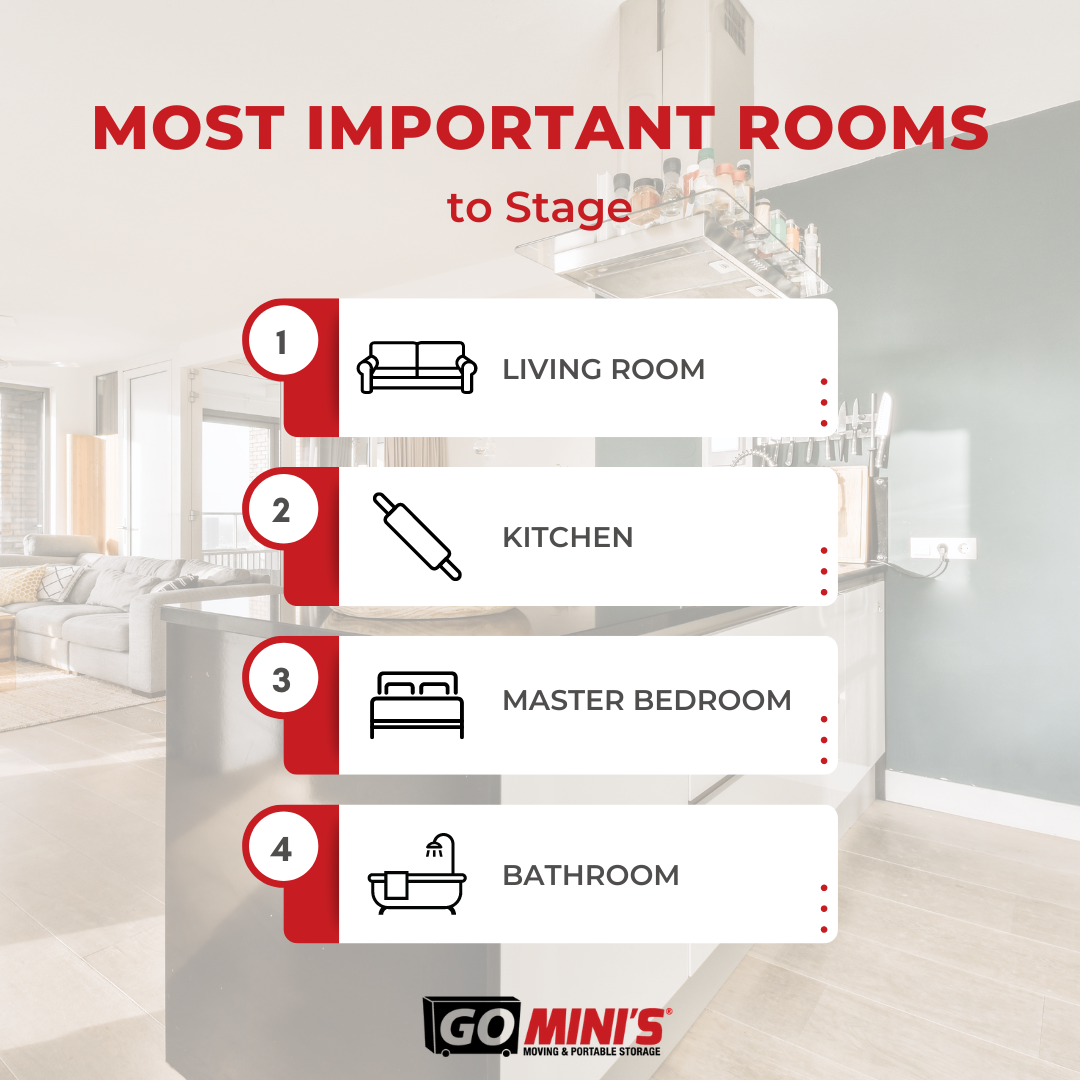 Temporary Storage for Your Home Staging Needs
If you're like most homeowners, you have a lot of stuff. And when it comes time to stage your home, you'll need to find somewhere to store your personal belongings. That's where Go Mini's comes into play.
Go Mini's specializes in providing storage solutions for homeowners during the home-selling process. We have a variety of sizes and options to choose from, so you can find the perfect solution for your needs. Plus, we offer delivery and pick-up so you don't have to worry about anything.
Go Mini's for Professional Home Stagers
If you are in the staging business, Go Mini's make a great option for storing your decor items in between jobs. We offer flexibility through the convenience of allowing our customers to store their containers both on and off-site. Go Mini's will drop off your container to the home that you are staging so there is no going back and forth to a storage facility during your process.
If you're selling your home and need some extra storage, contact us today. We'll be happy to help you find the perfect solution for your needs. Happy Staging!
Posted By
Categories: