Mobile Moving & Storage Industry Trends
It's always interesting to keep a pulse on what is happening in your industry, it's especially interesting when your industry is a part of some of the largest decisions and changes people make in their lives: relocating their homes and families. Did you know that in 2017 11% of Americans relocated (1)? This is actually down a bit from the historical average, but still pretty on pace for what we see annually. So, where are the bulk of these relocations coming from? The largest percentages of the population represented are Baby Boomers, Gen X, and Millennials. In 2017 alone, 20% of millennials found themselves relocating while roughly 26% of those in Gen X and the Baby Boomer Generation were putting down roots in a new home (2).
Now that we know WHO is moving, let's take a look at HOW they are moving. As far as relocations are concerned, there are a few pretty common options for how to get the job done. A full-service relocation offers a pretty hands-off approach, where crews come in, pack your belongings, load and unload the truck and help you unpack. There are also options to do all the packing and unpacking yourself but have your items transported by a relocation company. In 2016, the Moving industry as a whole was an $85 billion industry, with 22% of that revenue coming from professional movers, 33% through rent-a-truck or portable storage options, and 45% done completely unassisted.
When it comes to D.I.Y. or rent-a truck segment, in 2017, self-storage and relocation was a $36 billion industry (3) and the demand for that industry is expected to increase over 4% per year by 2020, making it a $72 Billion industry (4). Which means that more and more people are choosing to utilize the more flexible and affordable do-it-yourself relocation options. If you want to break the numbers down further, 650,000 moves were completed by professionals, while over 1 million were completed with assistance through a rent-a-truck or container storage option in 2017.
As the job market and economic climate continue to change and the millennials become more of a constant, (making up 46% of the workforce by 2020 (5)) we expect that their relocation patterns will begin to dictate more and more how our industry will evolve. We suspect they will continue to push for affordable, no frills solutions in the moving industry, just as they have in every other facet of their lives (2). This generation has continued to prove that unnecessary expenses are avoided when a less-pricey option is available, likely due to the housing crash and subsequent recession of 2008 combined with their high levels of student debt. Luckily, this is great news for the budget-friendly moving services, like Augusta Go Mini's, who strive to provide the same quality of customer service and ease-of-use as our full-service counter-part at a much more affordable rate. Give us a call today to schedule a container for your next move.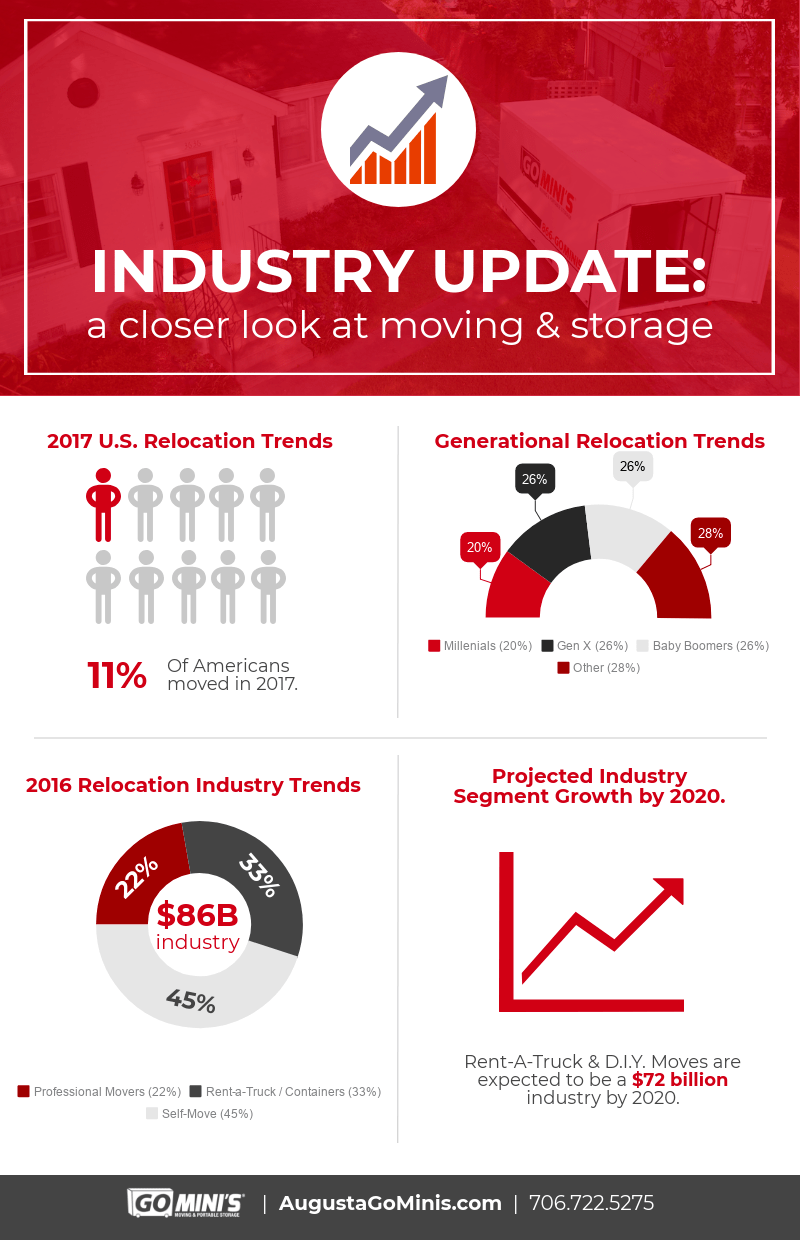 SOURCES
American Moving and Storage Association: About our Industry. [https://www.moving.org/newsroom/data-research/about-our-industry/]
Americans are moving at historically low rates, Richard Fry, Pew Research Center.[http://www.pewresearch.org/fact-tank/2017/02/13/americans-are-moving-at-historically-low-rates-in-part-because-millennials-are-staying-put/]
35 interesting Moving Industry statistics, SimplySS, October 2017.[https://www.simplyss.com/blog/moving-statistics/]
Self-Storage & Moving Services Demand and Sales Forecast, Freedonia.[https://www.freedoniagroup.com/Self-storage-Moving-Services.html]
Millennials by Zara Kessler, Bloomberg View
[https://www.bloomberg.com/view/interactives/2015-millennials/]
Posted By
Go Mini's of Augusta
Categories: