Moving Container Company in Madison, WI
Affordable Moving Containers Near You
Moving is a significant task – even if you are relocating just a few miles away. Fortunately, Go Mini's of Madison is ready to help! Our portable containers are an excellent solution to make your move as convenient and hassle-free as possible.
Easy to rent and affordable to use, they offer a much-needed alternative to relying on professional movers and truck rentals. We can drop off our portable container at any spot and pick it up anytime that works for you.
For affordable moving containers near you, call us at (608) 560-5596 or get a quote online!
Need Storage Before Moving? We Have a Solution!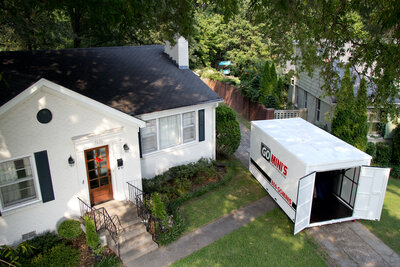 Do you need to load and store your belongings before the actual move-in date? Our moving storage containers are a game-changer when it comes to the moving process.
You won't need to find a separate storage facility before or after your move. Once filled, you can store the container at your home or have us store it for you. This eliminates the hassle of finding and signing up for a storage unit! With us, you can keep your moving and storage needs under one roof - saving you time and effort during an already busy time.
Looking for moving storage containers in Madison? Request your free quote online or call us at (608) 560-5596 today.
We Offer State-of-the-Art Portable Moving Containers
At Go Mini's of Madison, we offer state-of-the-art portable moving containers that are designed to meet your moving needs. Our containers are equipped with a range of features that ensure the safety and protection of your belongings.
You can rest assured knowing our portable containers are:
Protected by industrial-grade locks.
Spacious & insulated.
Moisture-proof.
Bolstered by steel-welded frames.
Equipped with tie-down rails.
Easy to access, sitting just 8 inches above the ground on padded wheels.
With our portable moving containers, you can trust that your items will be protected and easily accessible throughout your move. We strive to provide you with the highest quality containers, giving you peace of mind during your relocation process.
Which Size Moving Container Should I Rent?
Our secure portable containers come in three distinct sizes: 12-foot, 16-foot, and 20-foot units.
Continue reading to see which size is right for your local move.
12-Foot Container. If you're only moving a couple of rooms worth of belongings, our 12' container will be perfect.
16-Foot Container. Do you need to move three to four rooms' worth of belongings? We recommend renting our 16' moving container.
20-Foot Container. Our 20' container is large enough to comfortably fit five to six rooms' worth of belongings. Our 20-foot-long unit is the largest container in the industry – offering enough extra space to fit an entire room of furniture. You won't need to rent two smaller containers!
If you still aren't sure which container is right for you, use our online storage calculator. Or call us at (608) 560-5596 to determine the best size container for you!
3 Benefits of Our Moving Containers for a Local Move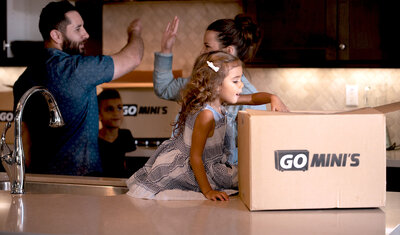 When it comes to local moves, our moving containers offer a range of benefits that make the process smooth and hassle-free. With their portable and flexible design, these containers provide a convenient and efficient way to move.
Below are three benefits of our portable moving containers:
Flexible Moving Options. By renting a portable container, you will also enjoy the benefits of moving at your pace. Our team will promptly deliver and transfer your portable container to its new location at your request. You can keep it on-site or store in our Madison storage facility for the length of time you need.
We Deliver, Pick Up, and Do all the Driving. Driving a moving truck across town on busy city streets is unnerving. Skip this step altogether by relying on Go Mini's of Madison to transport your portable container for you. We will move your container safely and quickly to your new residence.
Secure & Moisture-Resistant. The containers are also designed with security in mind. Made from galvanized steel, they provide a safe and weather-resistant environment for your items. They'll be protected from any potential water damage during transit.
With us, you can enjoy the convenience of a local move without the constraints of traditional methods. Their flexibility, security, and door-to-door service make them an excellent choice for a stress-free move.
Want a free quote? Dial (608) 560-5596 or request your free quote online from your dependable moving container company in Madison!
Why Choose Us for Your Local Move?
At Go Mini's of Madison, we prioritize your satisfaction and aim to provide an exceptional moving experience.
Why choose our local moving container company? A few reasons include:
Our Customer Service
We value our customers and believe in delivering top-notch customer service. You aren't a number to us! We're locally owned and operated so when you call, you're speaking with our team members - not a call center. Our friendly team is always ready to assist you throughout the entire moving process. We are here to address your questions and concerns.
No Hidden Fees
With Go Mini's of Madison, what you see is what you get. We believe in transparency, and that's why we provide upfront pricing with no hidden fees. The price you're quoted is the price you'll pay, allowing you to plan your budget with confidence.
More Space, More Savings
Our portable moving containers offer ample space to accommodate all your belongings. You won't have to worry about running out of room or making multiple trips. Our containers provide you with the extra space you need for a stress-free move.
With our cost-effective solutions, you'll save both time and money. You won't need to rent expensive moving trucks or hire multiple movers. You can pack and load at your own pace, reducing labor costs for an affordable move.
Get your free, instant quote today by calling us at (608) 560-5596. Or request your quote online. We look forward to helping with your move!