Compare Go Mini's of Houston, TX to Moving Companies
Getting ready for a local move in Houston? If so, you may be researching for the easiest and most cost-effective way to move. From moving companies to moving containers, you've got options when it comes to moving. So how exactly do our moving containers compare to a moving company? To help you determine the best option, we'll review some differences between each.
Differences Between Moving Containers & Moving Companies
When deciding between hiring movers or renting a moving container, it's helpful to know the differences between each. Here, we'll review 3 major differences: costs, storage, and flexibility.
Cost: Is It Cheaper to Use Our Moving Containers or a Moving Company?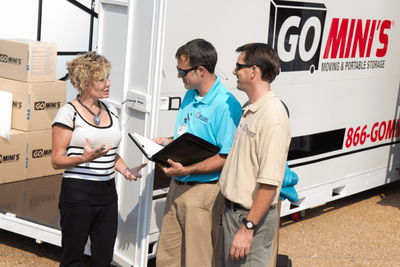 Generally speaking - it is cheaper to use our moving containers than hiring a moving company.
Local moving costs are typically calculated based on the distance of the move, the amount of labor needed, and other potential fees.
Distance. The distance factor is usually calculated by determining the total number of miles that the movers need to travel in order to complete the move.
Labor. Additionally, the amount of labor and materials that are needed to complete the move affects the overall cost. This includes loading and unloading the truck, packing supplies, loading materials, elevators or stair fees, gas or toll fees, insurance premiums, etc.
Other Fees. Other fees may include surcharges for stairs, cleaning charges or special services such as piano moving or storage
With our moving containers, all you pay for is the moving container rental, the mileage distance, and how long you'd need the moving container for. We also provide a helpful online storage calculator so you can begin to budget for your move now.
Storage: Do Local Movers Offering Storage?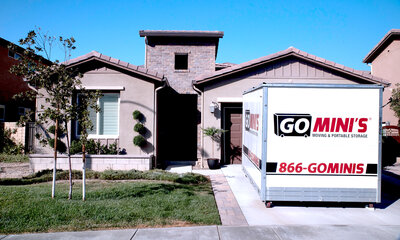 Need to have your belongs stored before moving into your new home? Most local movers don't offer storage services.
If you go with a moving company, they'd need to deliver and unload your belongings to a storage facility. Then, you'd need to do it all over when you're ready to moving into your home.
At Go Mini's of Houston, TX, our moving containers also serve as portable storage containers. And we can even store your belongings for you. When you're ready to move in, simple call us and let us know the date and address of the final move. It's that simple and easy.
Flexibility & Ease: Which Is Easier to Use?
One significant advantage of using our moving containers is the ease of access provided.
With us, you can load, unload, and arrange your belongings on your own schedule. With a traditional mover, you'll need to plan your packing schedule around the moving company's availability.
Moreover, you'll also have the risk of the movers' packing and unloading speed, causing extra charges for time and labor. There may also be hidden fees associated with the traditional moving company, such as charges for fuel, tolls, or equipment rental.
However, with us, you get a single package that includes everything you need, so you know upfront what the total cost will be.
Why Choose Go Mini's of Houston, TX?
We will make your move easy. From packing and unloading to the actual move, it's can be a stressful time. But we try to make the move that much easier by taking care of the heavy-lifting for you. We make the rental process a breeze and you save money, especially over hiring a moving company.
With our moving containers:
You get the container delivered to you,
You load at your leisure, and
We pick it up and deliver to your new home
You're welcome to check out our reviews to see why others in our community love our moving containers and services.
If you'd like to learn more about us and our options, give us a call at (713) 766-1620. Or, if you're ready to move forward, get your free, instant quote now.