Portable Storage Containers for Rent in Maysville
Storage Unit Rentals Near You
Go Mini's of Eastern North Carolina provides storage containers for families and businesses in need of extra storage space. We're proud of our storage units, which are cost-effective and of a higher quality than those of our competitors.
Whether you need storage for a remodeling project or need extra space to store your belongings, we offer customer solutions for your exact need. Our portable storage containers are perfect if you don't want to stress about lugging all your stuff to a storage facility - because we bring the unit to you.
Looking for a portable storage unit near you? give us a call at (757) 530-4569 or get an instant quote online today!
Why Choose Go Mini's of Eastern North Carolina?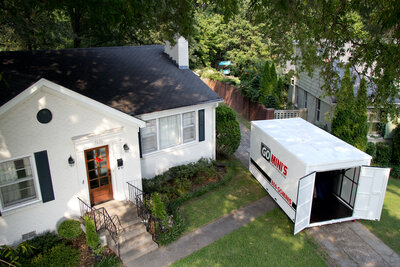 When it comes to portable storage, we've pulled out all the stops to create solutions tailored to your exact needs.
Most of the time, there's no knowing how long you'll need to store your belongings. We make the process easy by allowing you to rent the unit for as long as you need and charge on a monthly basis.
Why choose our portable storage containers? A few reasons include:
Our Storage Container Sizes. Our storage containers come in three lengths: 12 feet, 16 feet, and 20 feet. In fact, we're the only national portable storage franchise to offer a 20 foot container! Perfect for storing your larger items, you don't have to worry about the cost and hassle of loading up two separate storage units.
Our Uniquely-Engineered Containers. Our storage containers are designed to keep water, moisture, and mold out. Additionally, our containers rest on polyurethane wheels to help avoid damaging your driveway and property.
Our Stress-Free System. We'll deliver the portable storage container when you need it, to your home or place of work. You can load the container at whatever pace you prefer, and keep it for as long as you'd like. Once you're ready, we'll pick up the container. It's that easy!
Searching for stress-free storage containers near you? Get your free, instant quote online or give us a call at (757) 530-4569 today. We look forward to serving you!
What Are the Sizes of Portable Storage Containers?
Our storage come in three sizes for your convenience. Each container is 8' high to help make loading and unloading as easy as possible for you.
Below we list our three containers and roughly how much they can store:
12' Storage Container. If you're only looking to store a couple room's worth of items, our 12-foot container is the one for you.
16' Storage Container. Do you have 3-4 rooms' worth of belongings to store? If so, our 16-foot container is ideal.
20' Storage Container. Our 20-footer is perfect if you need to store 5-6 rooms' worth of belongings.
Still aren't sure which storage container you need? You're welcome to play around with our online storage calculator. Or, simply give our team a call at (757) 530-4569.