Portable Storage and Moving Containers in Lancaster, OH
Easy, Secure Moving & Storage Containers for Rent
Getting ready to move or looking for storage options? At Go Mini's of Columbus, OH, we offer a stress and hassle-free solution to your storage and moving needs. With no truck rental fees, mileage charges, or other hidden fees, you can relax knowing your precious belongings will be easily transported and stored safely. Our top-rated customer service team provides professional advice and support to guarantee a smooth move or storage process regardless of how large or small!
Get your free, instant quote today by calling us at (614) 502-6821. Or you can get your free quote online. We look forward to serving you!
Why Choose Our Lancaster Mobile Storage and Moving Containers?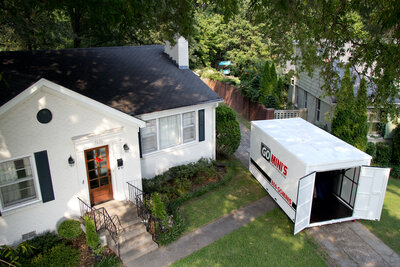 As homeowners like you, we know how stressful storage and moving can be.
That's why we engineered our unique portable storage and moving containers. At Go Mini's of Columbus, OH, our mission is to help make your move or storage needs as simple, safe, and easy as possible.
How exactly do we do this? At Go Mini's of Columbus, OH, we:
Offer Three Containers
Our containers come in three different lengths: 12-foot, 16-foot, and 20-foot. Each is 8-feet high. Whether you're moving or storing a couple of rooms worth or five to six rooms worth of items, we have a solution for you.
We're also the only moving and storage container franchise to offer a 20-foot-long container. This means more storage savings!
Offer Storage & Moving Options
If you're moving, we'll deliver and pick up the container for you. If you're storing, we'll deliver the container and you can either keep it at your property or have us store it for you.
Or, maybe your moving but need a place to store your things before moving into your new place. We offer solutions for this scenario as well to help you avoid needing to find a self-storage facility.
At Go Mini's of Columbus, OH, we deliver, you load, and we pick up. The process is literally that easy.
Offer Uniquely Engineered Containers
To help protect your driveway and property, our containers rest of 8" polyurethane wheels - not directly on the ground. Our containers are also well ventilated to help protect your items from water or weather damage.
Offer Free, Instant Quotes
Part of what makes moving and storage stressful is figuring out how much it all costs and waiting for answers. We offer free, instant quotes so you can get answers and options right away.
Want to learn more or need a free quote? Simply dial (614) 502-6821 to speak with a team member or request your free, instant quote online.