Portable Moving & Storage Containers in Murfreesboro
Storage & Moving Container Rental Near You
Ready to move without the hassle of a traditional mover? Or need a hassle-free option for storing your belongings? Go Mini's of Columbia, TN has exactly what you need! We offer portable storage and moving containers so you can experience a stress-free move or de-clutter your home.
Our containers come with convenient features like padded wheels to protect your property and ventilation to protect your belongings. But perhaps best of all, we bring the container to you and we pick it up when you're ready. We proudly simplify your moving and storage needs.
Searching for portable storage or moving units in Murfreesboro? For your free, instant quote, give us a call at (931) 259-4710 or get your quote online today.
The Benefits of Our Portable Moving & Storage Units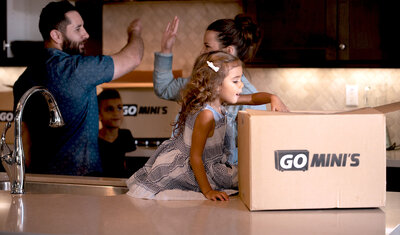 Planning and executing any type of relocation can be tricky even in the best conditions. That's why our solution is perfect if you value your time and safety.
We provide convenient access points (8-feet high, to be exact) that are just the right height for efficient packing and unpacking. This means more room for creativity when organizing your storage space. With Go Mini's of Columbia, TN, we help make your personal storage or moving experience a breeze.
What are some other reasons to choose our moving and storage containers? A few reasons include:
Our Custom Solutions. Our units come in three lengths: 12-feet, 16-feet, and 20-feet. We're the only portable moving and storage franchise to offer a 20-foot-long container.
We Do the Driving. You don't need to worry about where and when to deliver the container. We drop it off, you load it at your leisure, and we'll pick it up. Or if you need it for storage, you can rent it for as long as you need. Moving and storage is that simple.
No Hidden Fees. We provide transparent pricing. We won't tack on fuel charges, tolls, extra mileage, etc. Our pricing is up-front, so you know exactly what you're paying for.
Flexible Moving & Storage Options. Need a place to store your belongings before moving into your new place? No problem! You can keep our safe, secure container at your new home, or we can store it for you. Then let us know when you're ready to move in and we'll deliver the unit.
Looking for an easy moving and storage option? You can count on us. Get your free, instant quote online or by dialing (931) 259-4710 today.