Summer Storage for Your College Student
Moving your student out of their college dorm or apartment can often be as difficult as moving them in. Use these moving tips and checklists to make the process a little easier.
Moving checklist
Moving can be stressful, especially on college campuses. Here are some tips to get you started.
The month before: Determine what will need to go into storage and what will be going home with you
Start packing before finals - waiting until after will only maximize your stress
Send stuff home beforehand (if possible)
Make a plan for old schoolwork and textbooks - sell, toss, or keep - think about whether or not you will use those notes again.
Separate items into three categories: things you need over the summer, things you won't touch until next fall, and things you can get rid of (discard, donate, sell)
Pack essentials last - items you need until the day you move such as toiletries and a change of clothes.
MOVING TIMELINE
These timelines can help get everything packed and reduce stress the days before your move.
2-4 Weeks Before Your Move:
Wall decorations
Winter clothes and heavy jackets
Extra linens
Non-essentials
1 Week Before your Move
Dishes and utensils
Clothes - leave out the weeks worth of clothes and pack the rest
Electronics you don't use often
School materials not needed for finals
Morning of Move-Out
Bedsheets and pillows
Toiletries
Cleaning supplies - after you clean
School materials from finals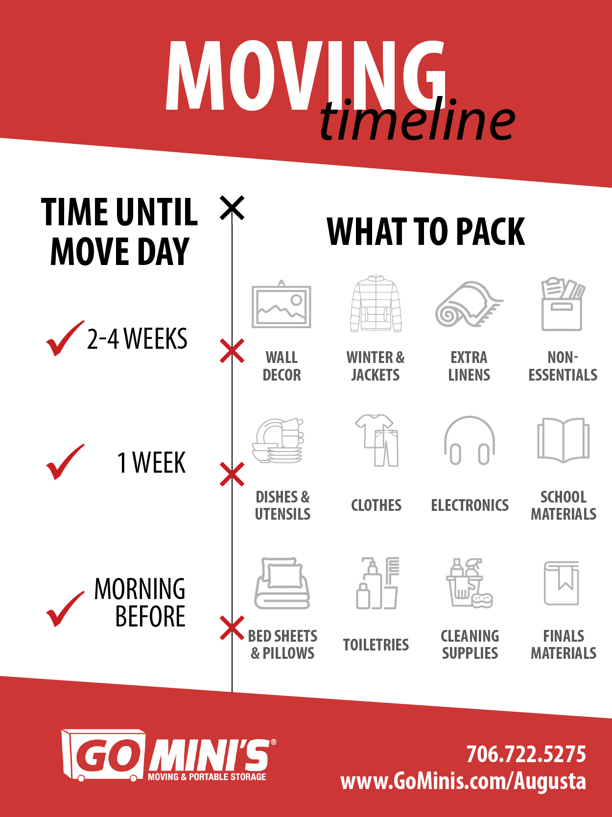 WHAT NOT TO STORE
When packing items for storage or transport during the hot summer months, it's important to consider how extreme heat can impact your items. Most furniture, clothing, and other household goods can withstand short term exposure to these conditions, but other items are susceptible to damage from heat exposure.
Be sure to remove the following items from your "storage" pile and prep them separately for safekeeping inside your home or for transport in your vehicle during your relocation:
Temperature Sensitive Items: This includes things like candles, some plastic items, cosmetics and more.
Fine art, antiques and collectibles: Take extra steps to protect your fine art, antiques, and other collectibles. Be sure to wrap them appropriately and for maximum protection, do not store these items inside your container
Electronic Devices: Most electronic devices cannot withstand extreme heat for extended periods of time and are not ideal for long-term storage in a Go Mini's container. If you must transport those items during your relocation, consider loading them at the last minute and take extra steps to wrap and protect them during transit.
Vinyl Records: Vinyl Records are highly susceptible to heat damage. If you are a collector of vinyl, we recommend carrying those with you in your car and storing them in a cool place in your home.
Photos: Heat can cause photos to "melt" and stick together. If at all possible, avoid packing photo albums and photo boxes inside your container.
Combustibles: Any hazardous or flammable items should not be stored or transported inside your container
REMINDER: Check our list of non-allowables for additional items that should not be stored or transported in your Go Mini's container.
STORAGE TIPS
As you are packing and preparing items for storage and/or transportation, here are a few pro tips you will want to keep in mind.
Label Items
The items you are planning to store should be securely packed. Make sure to use sturdy boxes, seal them with quality tape, and label everything.
Example:
SARAH - DORM
sheets, towels, and blankets
Packing Materials:
Be sure to source packing materials from a reliable source. While it may be more affordable to pick up extras from local stores and markets, residual moisture and critters can wreak havoc on items in your container in a short period of time.
News Print and Blankets
If you're planning to use paper to pad wrap your items, remember that the ink on newsprint can easily rub off and stain items. If possible use blank newsprint paper to wrap your items.
If you have extra blankets, use them to cover and protect large furniture pieces to lower the risk of scratches and dings while you're loading, transporting, and unloading your items.
Straps, Bungee Cords, and Rope:
Don't forget to your straps, bungee cords, and rope to keep your items in place. Use our interior tie-down points to secure your items as you load them into the container.

Pro packing tip: Think of it like Tetris! Make the layers as flat and square as possible and secure them as often as possible!
If you need extra materials, check out our full materials supply list here and reach out to our team for additional information on having packing supplies delivered with your container.
WHY GO MINI'S?
If your summer move-out has you looking for short-term storage for larger items over the summer, consider Go Minis!
Why should you choose Go Mini's storage containers? Go mini's portable storage containers offer 29% more cubic feet of storage than our competitors. Not only do we offer more storage space, but we offer more savings! You can save on rental, storage, and delivery fees while paying less per cubic foot of storage.
Not sure how much storage you will need? Use our convenient storage space calculator! For more tips on how much your Go Mini's container will hold, and tips on how to best load your storage container, read here. storage container, read here.
Need storage space to hold items until next fall? Contact us today to get a free quote!
Posted By
Categories: