What to Look for In a D.I.Y. Moving Solution
Moving can be an overwhelming process, especially if you've never done it before. In addition to researching different neighborhoods, checking out school districts, and taking tours of your potential new home, you also have to pack all of your current belongings and figure out how you'll move everything to your new place. If you're moving locally, you might be leaning towards packing your belongings into a portable storage unit yourself and having it delivered to your destination.
So, how do you choose a storage company that will make the process go as smoothly and efficiently as possible? Keep reading to find out!
3 THINGS TO PAY ATTENTION TO WHEN SELECTING A STORAGE COMPANY GOOD REVIEWS AND RECOMMENDATIONS
It can be tempting to choose the first company that pops up on your Google search, but doing a deeper dive into each company and comparing reviews is always recommended. Reviews are typically left when customers have a great experience or a poor one, so narrow down your options by choosing the companies that customers expressed having a great experience with.
Additionally, if you have friends or family whose opinions you trust and they recommend a storage company to you, it won't hurt to research the company and see if they will meet your needs.
MEETS YOUR INDIVIDUAL NEEDS
Speaking of meeting your needs, it's always a good idea to make sure the storage company will meet your specific requirements when moving. Does the company offer storage units that will fit all of your belongings? Does the company load your storage unit onto their truck and move it to your new location? These are all things you have to consider before choosing a storage company.
At Go Minis of Augusta, we make the process easy for you! We drop off the portable storage unit at your current home, you pack it at your own pace, and when you're ready to move, all you have to do is give us a call at (706) 659-9747 and we'll drive the unit over to your new home.
FAIR RATES
Oftentimes, it can seem like storage and moving companies cost an arm and a leg to use their services. Always make sure you are receiving an estimate of the services you will need prior to booking with a company. At Go Minis of Augusta, we offer free quotes to ensure no costly surprises are thrown at you during your move.
MOVING TRUCK VS. STORAGE CONTAINER
How do you know if you'll need a moving truck or a storage container for your move? If you are making a move within the same state or even the same city, a storage container is a great option. You can save time and money by renting a storage container with Go Mini's.
How it Works
We will drop off your container to your home. Once you have loaded it and it's ready to go, Go Mini's will pick your container up and take it to your new destination. Then, take time unloading and settling in. When you're ready to return the container, just give us a call to schedule the final pickup.
GO MINI'S VS. OTHER CONTAINER COMPANIES
How does Go Mini's compare to competitors like PODS?
Go Mini's is the only portable storage company to offer 20-foot containers. This means that our largest container offers 29% more storage than a PODS container. For every two PODS containers that's one Go Mini!
In addition to our 20-foot container, we also offer a 16-foot and 12-foot option. When designing our containers we made sure to include tons of value-add features including:
Easy-close doors

Additional interior tie-down points

8inch ground clearance for easy loading

Ventilation to help protect items during warmer weather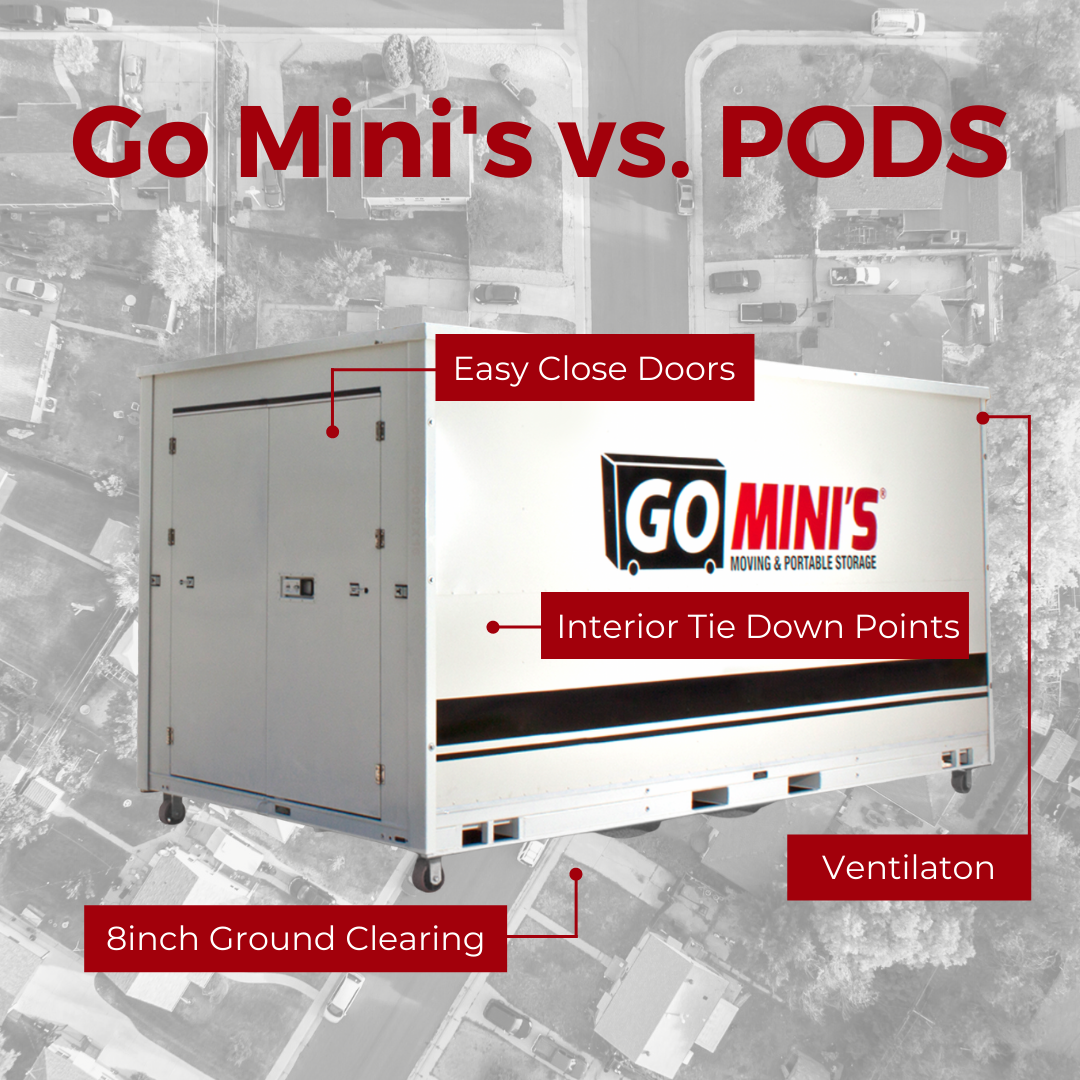 DIY MOVE VS. HIRING PROFESSIONALS
Are you struggling between choosing a DIY move or hiring professionals? Let's draw out a pro's and con's list to see which option might be best for you.
DIY MOVE
Pros: Saves Money
Cons: Most Labor, Most Responsibility, Most Driving
HIRING PROFESSIONALS
Pros: Least Labor, Least Responsibility, Least Driving
Cons: More Expensive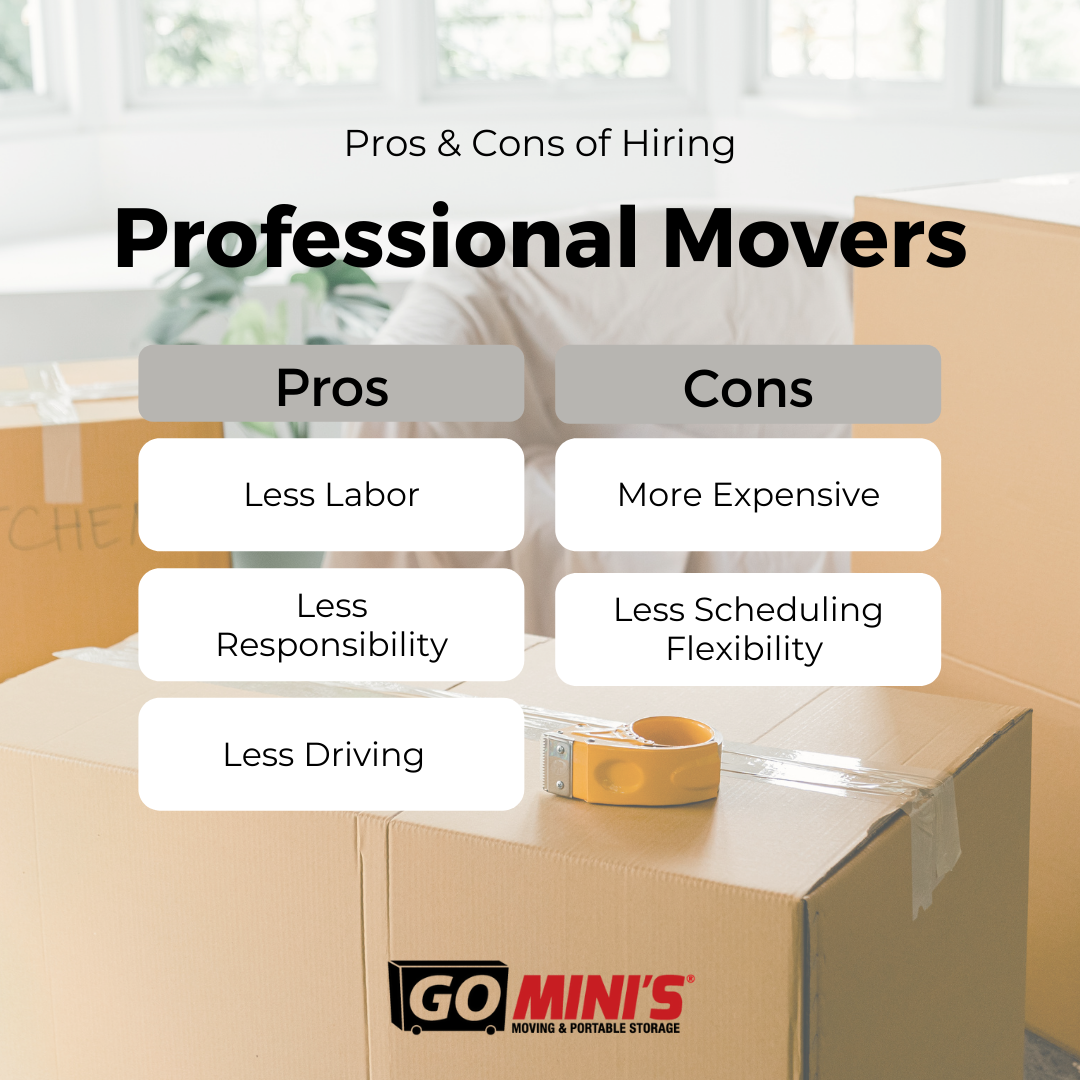 Hiring a full service moving company takes away the stress of packing, moving, and cleaning up afterwards. Although it is a more expensive option, it could help you and your family have an easier time adjusting to your new surroundings.
If you're in the process of moving and haven't decided on a storage company yet, give us a call at (706) 659-9747 today! We're here to answer any questions you might have to make your moving process seamless
Posted By
Categories: