Why We Are Better Than The Competition
When choosing the right portable storage company for your move, renovation, or extra storage needs, you want to make sure you choose the best. Going with the biggest name brand might seem like the easy choice, but there's more to container storage than meets the eye.
What makes Go Mini's stand out from the rest? We're sharing the full scoop below.
Self-Storage Units vs. Go Mini's
What's the difference between a self storage unit and Go Mini's? A self-storage unit is located at an indoor/outdoor facility where you can store your items. These units are typically in a row of hundreds, side by side with locks on them.
Go Mini's is a portable storage unit. That means that our containers can be placed right where you need them so you have quick and easy access to your items, 24/7.. The containers aren't just stationary, once you have packed up your portable container we can transport it to your new location or our local storage facility.
Now that we have discussed the difference between a self-storage unit and a portable storage container, let's weigh the pros and cons of each.
Self-Storage Units
Pros:
Same monthly fee no matter how long you need it
No wait time
High level of security
Cons:
Multiple trips to pack and unpack your unit
Truck rental
Entry hours vary
Portable Storage Units
Pros:
Delivery to and from your location
Different size options
No truck rental
Take your time
Store on and offsite
Cons:
Giving notice before getting your items out
Having to store onsite if there isn't enough space on your property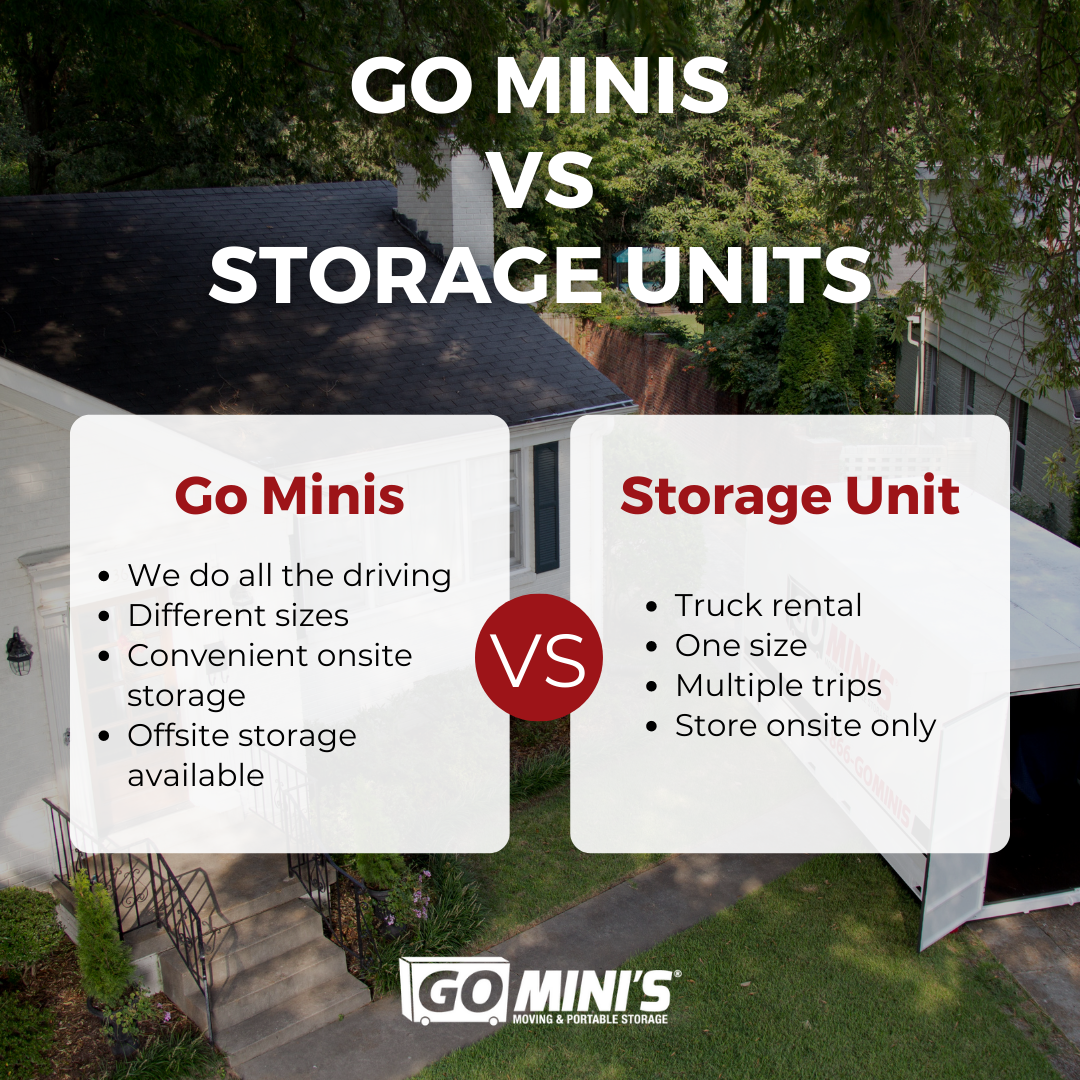 Compared to PODS and UNITS
When comparing Go Mini's to PODS®, one of the biggest things we like to point out is the size difference. Our biggest container is 20 feet which is 29% larger than the largest container PODS® has to offer. This allows you to enjoy 235 more cubic feet of storage when you choose Go Mini's. If you went with PODS® you would need to rent two containers and in this instance, two is not better than one.
Not only do we offer our 20 foot container but we also offer a 16' and 12' option. Let's break it down and see the difference between Go Mini's 16' and 12' container sizes compared to PODS® 16' and 12' containers.
Our 16' container is 31 more cubic feet than a PODS® 16' container.
Our 12' container is 17 more cubic feet than a PODS® 12' container.
We ensure that every detail of our containers are made perfectly for your storage needs.
Compared to UNITS
Now let's compare Go Mini's to UNITS, what's the difference?
Size
Like PODS®, UNITS only offers two sized containers, 12' and 16'. Go Mini's can offer up to 5 different sizes: 20', 16', 12', 7', and 8' (7' and 8' found in select stores, ask your store if they offer these sizes).
Features
Go Mini's offers features such as:
Ventilation
Multiple sized units
Railing and tie-down mounts
Raised 8 inches off the ground
Customer Experience Section
What makes our customer service stand out from the rest? Here at Go Mini's of Augusta we:
Have a local team
Offer a single point of contact for your entire rental process
Making booking and digital contract signing easy
Offer touch-free delivery (you don't even need to be home)
Offer options to rent and purchase packing materials and supplies
Have a 4.9 / 5rating on Google
Here's what our customers have to say about working with Go Mini's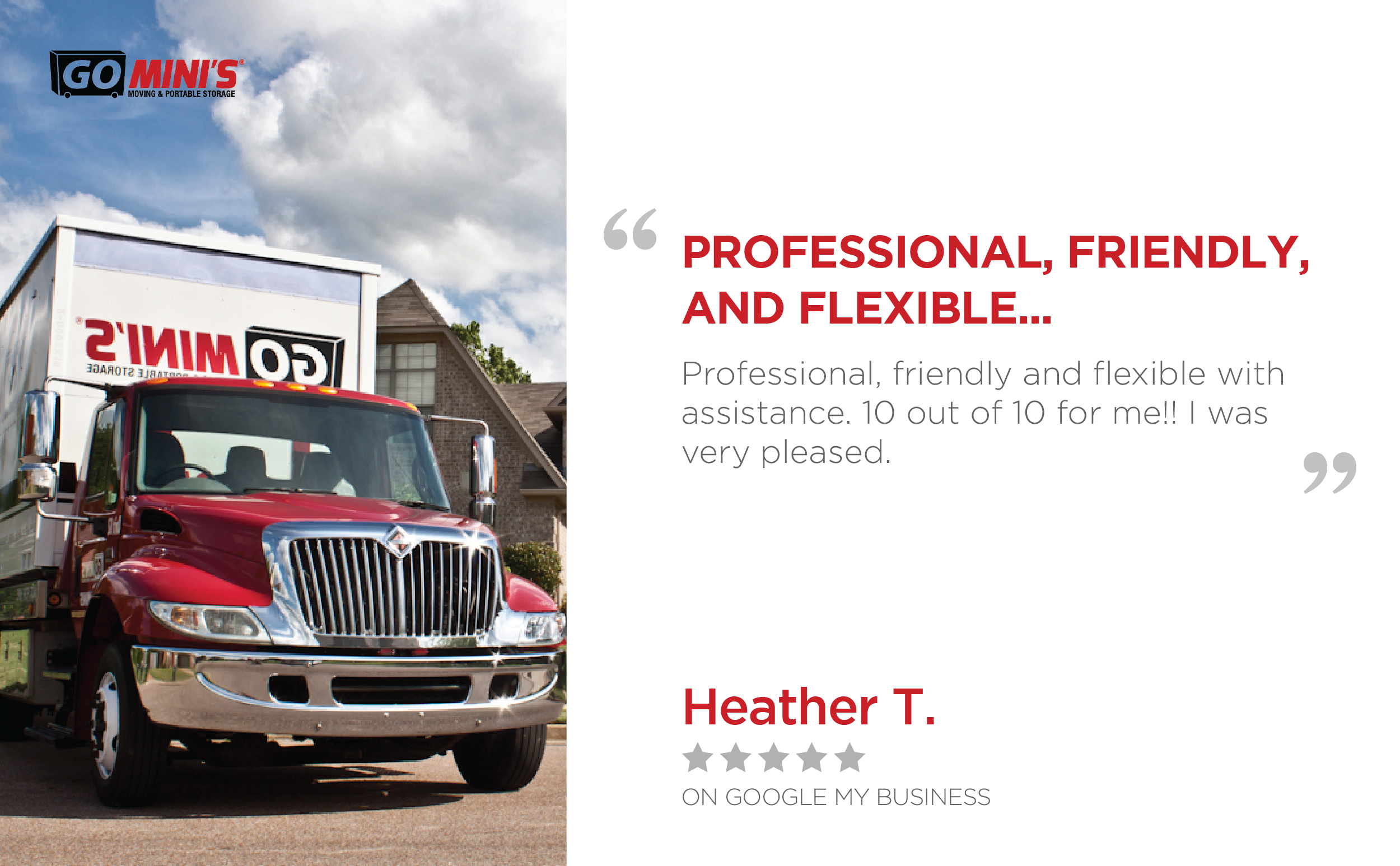 Whether you are moving or storing excess items, Go Mini's is here to help. Contact us today by visiting our website or calling us at 706. 659. 9747.
Posted By
Categories: