New Year, New Home Projects
It's a new year and what better way to kick it off then new home projects? If you are like us then you love a good DIY project. So, here are a few of the top home trends we're tracking for 2022.
Functionality in your home is a major must-have this year. That's why we have gathered upgrades and changes that make your home work better for you and your family.
Home Resolutions
Before you get into upgrades and updates - start with the basics.
Get Organized
There's no better time than the new year to get organized. This is one of the easiest ways to update a space in your home. When getting rid of the clutter we always ask that you consider donating gently used items to your local consignment stores. There are two simple ways to keep your space clean and clutter free.
Periodically get rid of things you don't want or need
Only bring in items you NEED
Finance
It's always smart to create a yearly budget, especially when it comes to updating your home. A budget will help you know how much to spend and will help you avoid over spending. Some tips to help you save some money when budgeting:
Turn your lights out when you're not using them
Turn your AC off when you leave
Turn your heat down at night
Take shorter showers
Need Extra space while you declutter?
Sometimes the easiest way to declutter is to remove everything and just add back the items that you need. If you are in need of space to help you tackle the task of home organization, Go Mini's portable storage containers are the perfect option.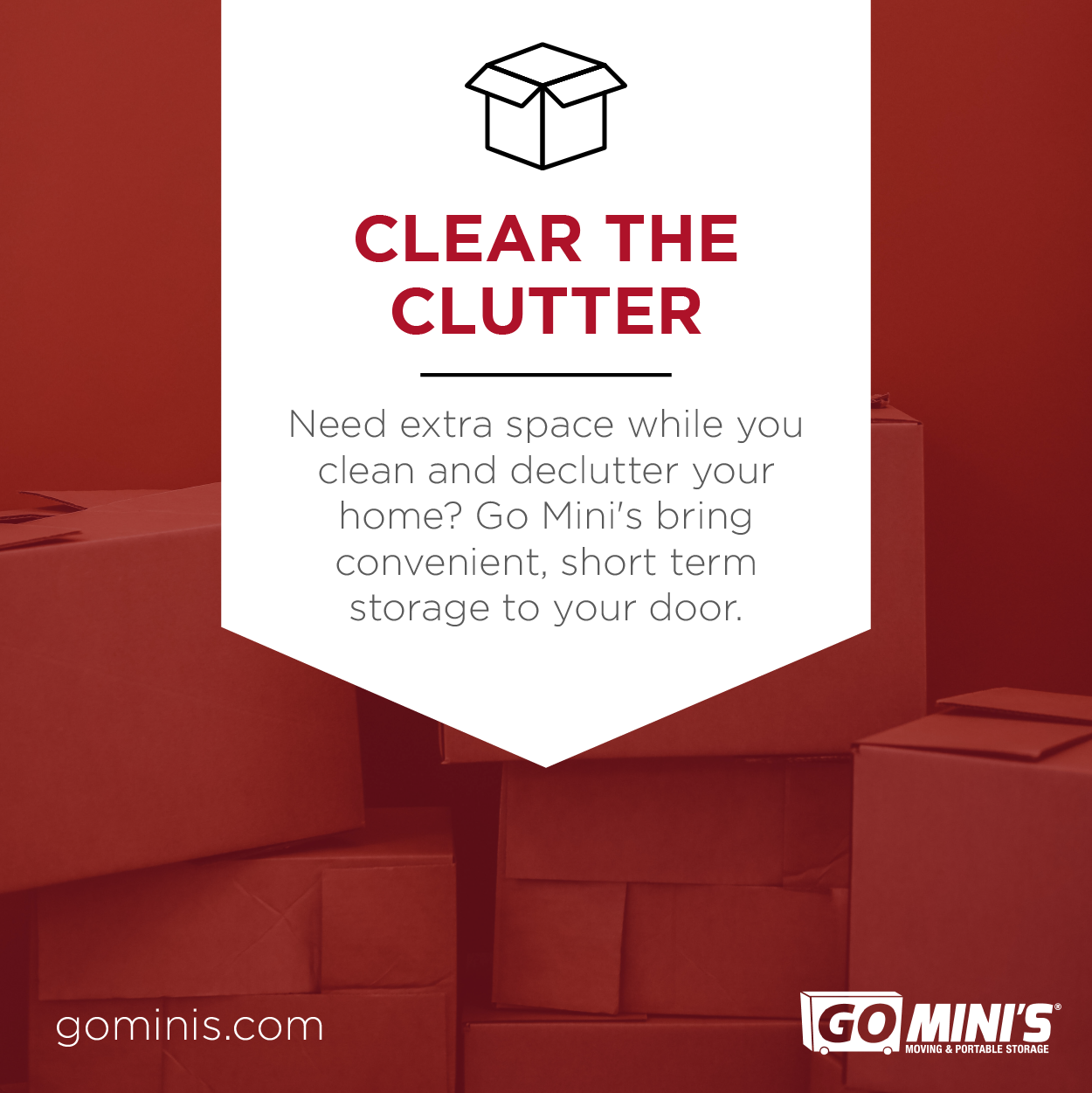 DIY Projects
Now it's time for the fun part. Updating and upgrading your spaces can not only improve your quality of life now, but also make you money down the road. When you are ready to sell your, many home upgrades can boost selling prices.
Bathroom Remodeling
When updating your bathroom some simple changes you can make are:
Adding in tile
Upgrading fixtures
Update old and inefficient pipes
Curb Appeal
Curb appeal is often overlooked but this can be one of the most important things when selling your home. If you aren't in the market to sell, curb appeal is a nice touch for guests to see when they arrive. Here are some updates you can make to create your curb appeal:
Replace or repaint your front door
Add a fresh coat of paint to window frames
Upgrade your windows
Rake fallen leaves
Keep lawn cut
Kitchen Remodel
Remodeling your kitchen can be a bit of a bigger task. Depending on how much money you are willing to spend you can either choose a whole kitchen remodel or updates to your kitchen. If you are planning to add a few updates:
New cabinets
New appliances
A new coat of paint
Creating more space in your kitchen
If you are planning to go all in, remodeling your kitchen can provide a great ROI. When it comes to boosting the resale value on your home, updated kitchens and bathrooms are typically at the top of buyers' lists.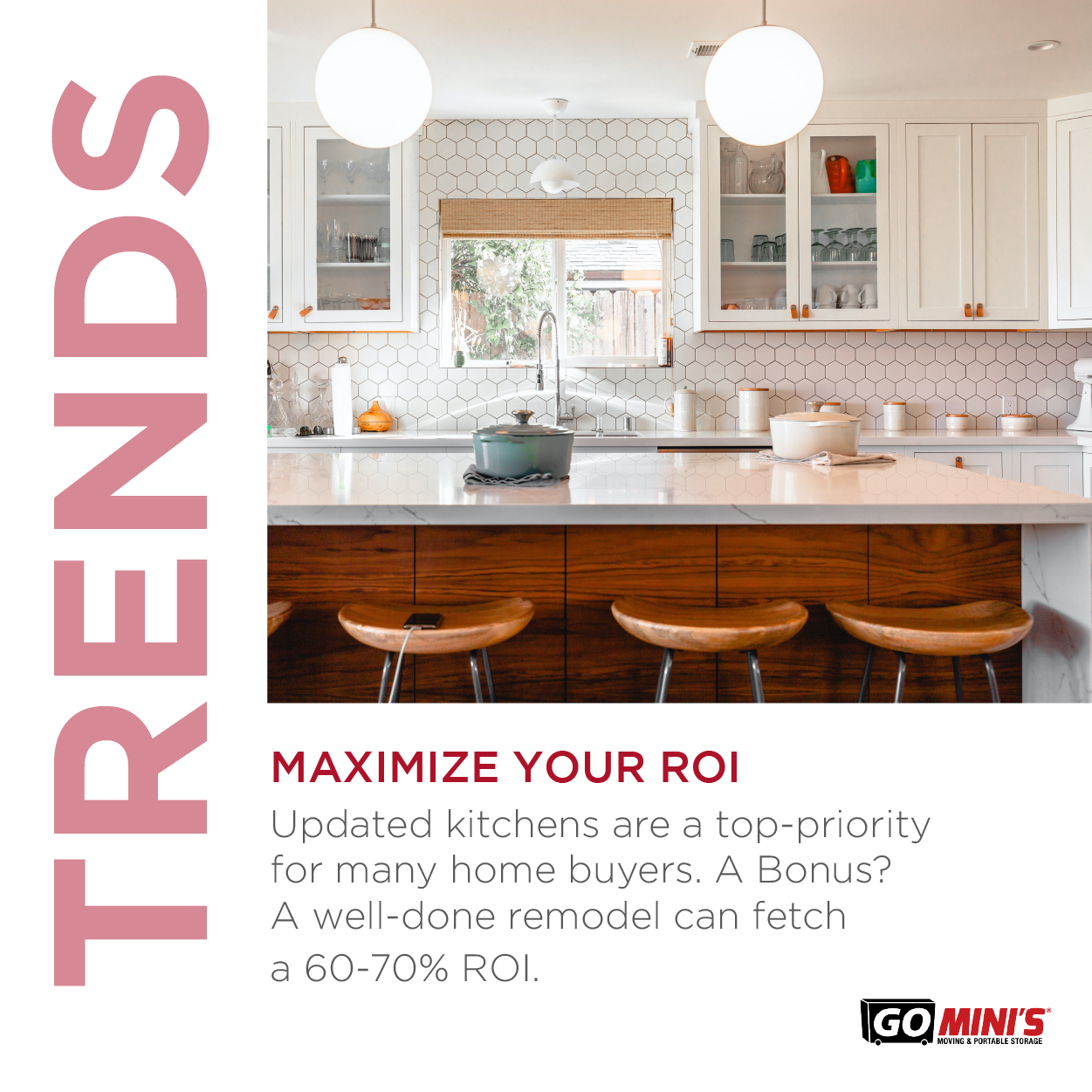 A DIY kitchen remodel is a big commitment. From tools and supplies to materials and finishes, your "extra space" can fill up fast. Don't crowd your garage when trying to keep your project must-haves safe and secure. Go Mini's offers safe and secure portable storage in 3 different sizes. Depending on how much equipment you have, our units come in 12, 16, or 20 feet. If you choose to keep your Go Mini in your driveway, our units are equipped with padded wheeling to protect your driveway.
Ready to get started planning your D.I.Y. projects? Get a free quote or get in touch with our team to schedule a container delivery today.
Posted By
Categories: