How to Determine the Right Size Container for Your Move
When packing up for a move, no one wants to fall just a few inches short of having enough space or rent a unit that's two times bigger than what they actually need. Especially if this is your first time moving in a while, it can be hard to pinpoint what size moving container is right for your home.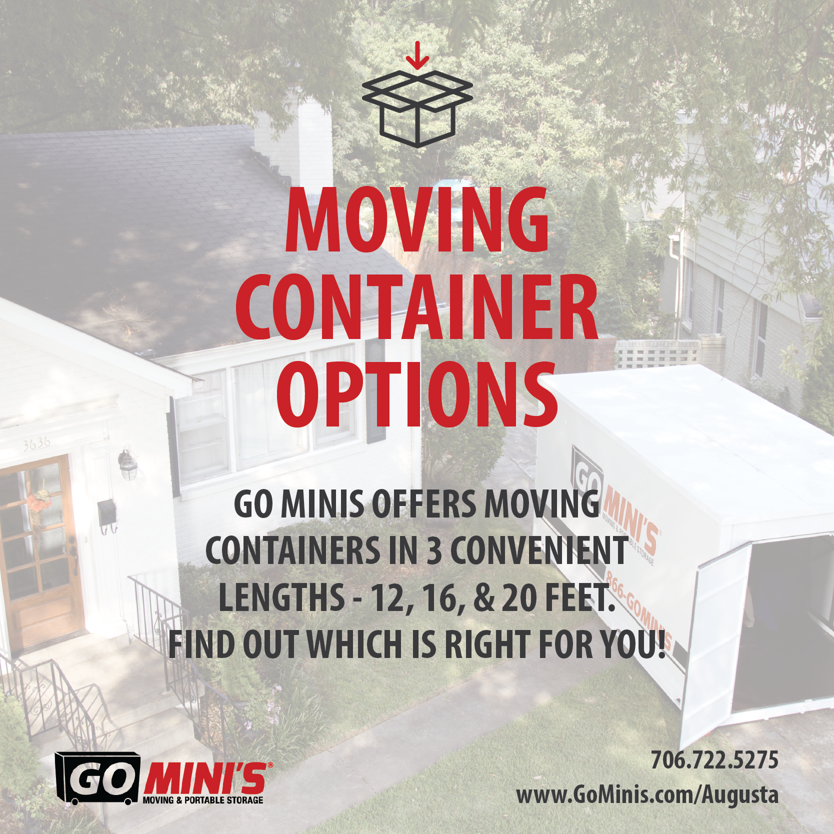 GO MINI'S OFFERS MULTIPLE MOVING CONTAINER SIZES
Whether you're moving out of your one-bedroom apartment or five-bedroom home, Go Mini's. has the moving container to fit your needs. We currently offer containers in three lengths — 12, 16, and 20 feet; Go Mini's is the only national portable storage franchise to offer 20-foot containers.
And no matter which size is best for you, each and every container is also:
Eight feet tall

Designed with padded wheels that protect your driveway

Complete with flooring that's sealed and pressure-treated to be moisture-resistant

Outfitted with interior railings perfect for clothes hangers and tie-downs

Protected by locking roll-up doors or swing doors
DETERMINING WHICH LENGTH IS RIGHT FOR YOU
Before looking into a Go Minis ® Franchising, LLC. moving container, ask yourself:
"What am I moving?" - If you're moving furniture like couches, beds, and tables, there's a good chance you'll need our largest unit. But if you just need to move a few boxes of clothing or small pieces, like end tables, a small unit will probably be sufficient.

"Where am I moving from?" - How large your dorm, apartment, or home is will also play a big role in what length of the container you need.
HOW MUCH CAN A GO MINI'S CONTAINER HOLD?
Go Minis ® Franchising, LLC. can help you determine the ideal storage container for your needs. Our unique 20 ft. storage units can easily hold larger items like bed mattresses, dining tables, sofa, and couches. Check out the details for each container size:
12 Foot Container: Typically fits 1-2 rooms
16 Foot Container: Typically fits 3-4 rooms
20 Foot Container: Typically fits 5-6 rooms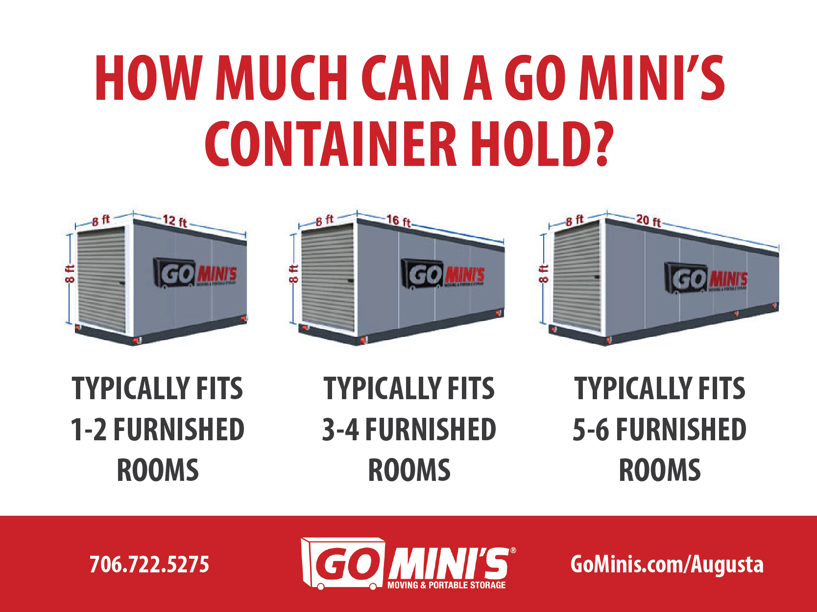 Our portable storage containers offer a cost-effective and high-quality solution for your storage needs. From personal relocations to on-site storage during a renovation, Go Mini's containers provide the space you need when and where you need it. Wondering why customers love Go Mini's? Check out these options and benefits.
We've collected some tips for you to consider if you have a move coming up and want to enjoy all the convenience that our portable storage solutions have to offer, even if you have a condensed window of time.
Still not sure what's the best option for you? Just ask our experts! Go Minis ® Franchising, LLC. is committed to minimizing your worries and maximizing your storage space. We can work with your needs and your schedule to ensure you have the best storage experience.
Give us a call at (706) 666-4986 to reserve your unit today, or get an instant quote online.
Posted By
Categories: